BF Inaugural Mitramorphosis - Dhammaduta Program 2014 Enrolment (**Fee: by donation)

Sunday, 5 January 2014 from 12:30 to 16:00 (Singapore Standard Time Singapore Time)
Event Details
Go forth, o bhikkhus, for the good of the many, for the happiness of the many, out of compassion for the world, for the benefit, for the good, for the happiness of gods and men. Let not two go by one way. Preach the doctrine that is beautiful in its beginning, beautiful in its middle, and beautiful in its ending. Declare the holy life in its purity, completely both in the spirit and the letter.
~ Mahavagga, Vinaya Pitaka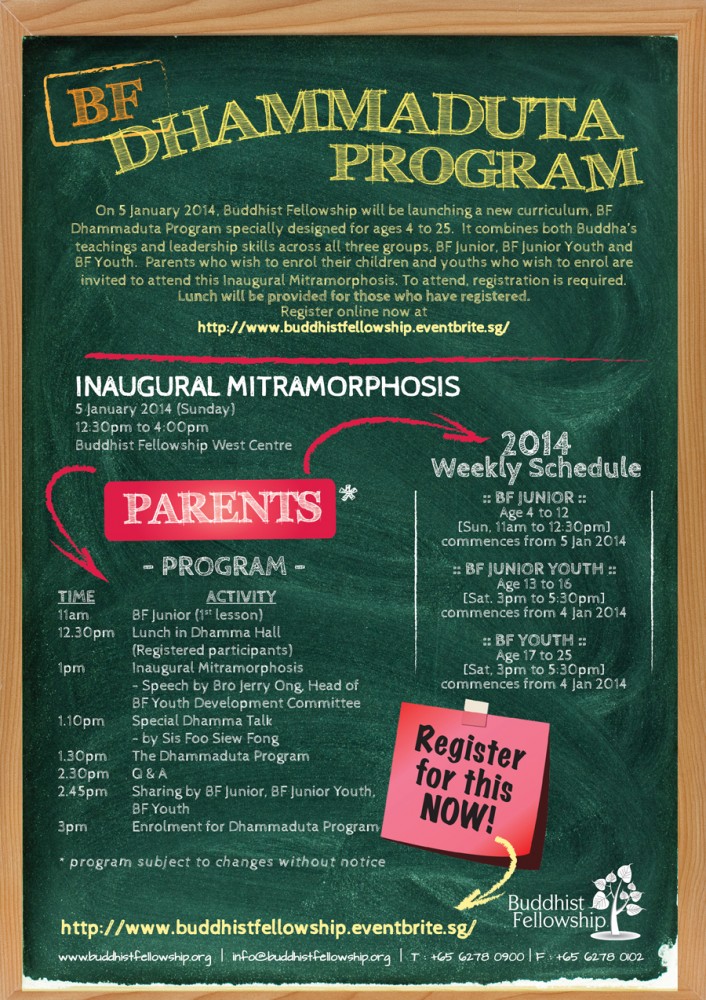 BF DHAMMADUTA PROGRAM ENROLMENT
INAUGURAL MITRAMORPHOSIS
 
dhamma: [n] Buddha's teachings
dūta: [n] a messenger; envoy
Buddhist Fellowship will be launching a new curriculum, BF Dhammaduta Program, in 2014.  The program is for ages 4 to 25.  It combines both Buddha's teachings and leadership skills.
2014 Weekly Schedule
Junior :: 4 to 12 [Sun, 11am to 12.30pm] commence from 5 Jan 2014
Junior Youth :: 13 to 16 [Sat, 3pm to 5.30pm] commence from 4 Jan 2014
Youth :: 17 to 25 [Sat, 3pm to 5.30pm] commence from 4 Jan 2014
Inaugural Mitramorphosis on 5 January 2014 
We have revamped our Dhamma program for the young!  The Buddhist Fellowship Dhammaduta Programme is a year-long Dhamma program designed to nurture the young with Buddhist values and leadership skills through engaging activities and strong fellowship.
The programme focuses on the teaching of Buddhist knowledge and nurturing leadership competencies for the following groups of learners:
BF Junior  [ages 4 to 6 (Nursery), 7 to 9 (Lower Primary), 10 to 12 (Upper Primary)]

BF Junior Youth [13 to 16 year old]

BF Youth [17 to 25 year old]
Through sharing Dhamma knowledge and Buddhist practices, the leadership competencies are inculcated in an integrated manner through suitable, engaging lesson processes, activities and routines. Experiential learning opportunities such as outdoor learning and visits to social welfare organisations are planned to enrich the Dhammaduta program experience. Please see poster for more information.
Spend a wonderful afternoon with fellow parents and volunteer teachers and together we can reinforce the Dhammaduta program beyond our classrooms and into your homes. We invite you, the parents and your children to attend our "Inaugural Mitramorporphosis", enrolment day for BF Junior, BF Junior Youth and BF Youth on Sun 5 Jan at 12.30pm at BF West to register your children for the Dhammaduta program. 
There are limited spaces for 2014 intake, on a first come first serve basis. It is compulsory to register your attendance for the Inaugural Mitramorphosis at www.buddhistfellowship.eventbrite.sg as we will need to do headcount for food catering. 
If you need more information, kindly email info@buddhistfellowship.org or call 6278 0900.
Program on 5 January 2014
11.00am    BF Junior (1st Lesson)
12.30pm    Lunch in Dhamma Hall (registered participants)
13.00pm    Inaugural Mitramorphosis
                  - Speech by Bro Jerry Ong, Head of BF Youth Development Committee
13.10pm   Special Dhamma Talk by Sis Foo Siew Fong
13.30pm   The Dhammaduta Program
14.30pm   Q & A
14.45pm   Sharing by BF Junior, BF Junior Youth, BF Youth
15.00pm   Enrolment for Dhammaduta Program
Who is eligible to enrol their children?
The Dhammaduta program is open only to Buddhist Fellowship members (parent) who have valid membership in 2014.  Membership for adults is S$50 a year and the Dhammaduta program fee for each child (up to 25 years old) is S$50 per year.  Each child under 18 years old must be accompanied by a parent with valid membership.
Do I need to pay to attend the Inaugural Mitramorphosis on 5 January 2014?
No, but we welcome donations.
Must I register to attend the Inaugural Mitramosphosis on 5 January 2014?
Yes, please register and state whether you require lunch to be provided
Do you have questions about BF Inaugural Mitramorphosis - Dhammaduta Program 2014 Enrolment (**Fee: by donation)?
Contact Buddhist Fellowship
When & Where

BF West
2 Telok Blangah Street 31
#02-00 Yeo's Building
Singapore, 108942
Singapore

Sunday, 5 January 2014 from 12:30 to 16:00 (Singapore Standard Time Singapore Time)
Add to my calendar
Organiser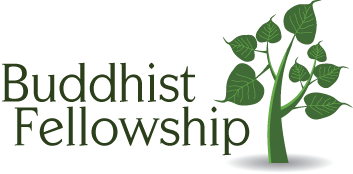 BUDDHIST FELLOWSHIP (BF) is a non-sectarian Buddhist organisation. Our membership consists of like-minded Buddhists from various traditions who share the Buddha Dhamma to promote the path of higher happiness and spiritual fellowship.
DHAMMA
Recognising how the world has changed and yet the Dhamma remains relevant, Buddhist Fellowship strives to ensure that the Dhamma is propagated in contemporary language and forms.
COMMUNITY
Buddhist Fellowship prides itself in being an organisation that dares to be different, embarking on new, revoluntionary projects and activities that benefit the community and constantly striving to meet the needs of its members.
LEADERSHIP
Recognising the need to start Dhamma education from young, Buddhist Fellowship has three programs to cater from pre-school to 25 years. The programs are led by Exco members and volunteers.
CONTACT US
1. Buddhist Fellowship West Centre (main centre)
2 Telok Blangah Street 31
#02-00 Yeo's Building
Singapore 108942
Email: info@buddhistfellowship.org | Tel: +65 6278 0900 | Fax: +65 6278 0102
Office Opening Hours:
Mon: closed
Tue-Fri: 10am to 8pm
Sat-Sun: 10 am to 5.00pm
2. Buddhist Fellowship East Centre @ Mitra
160 Paya Lebar Road
#08-03 Orion Building
Singapore 409022
BF East Centre is open whenever there is program in session.
IMPORTANT: Buddhist Fellowship uses Eventbrite portal to manage registrations. Whilst all events are listed as "free" in Eventbrite, please refer to program description to check whether a program/course/class is payable or free.