BF Meditation and Sutta Retreat with Ajahn Brahmali in Surabaya

Tuesday, 24 December 2013 at 19:00

-

Sunday, 29 December 2013 at 11:00 (Singapore Standard Time Singapore Time)
Event Details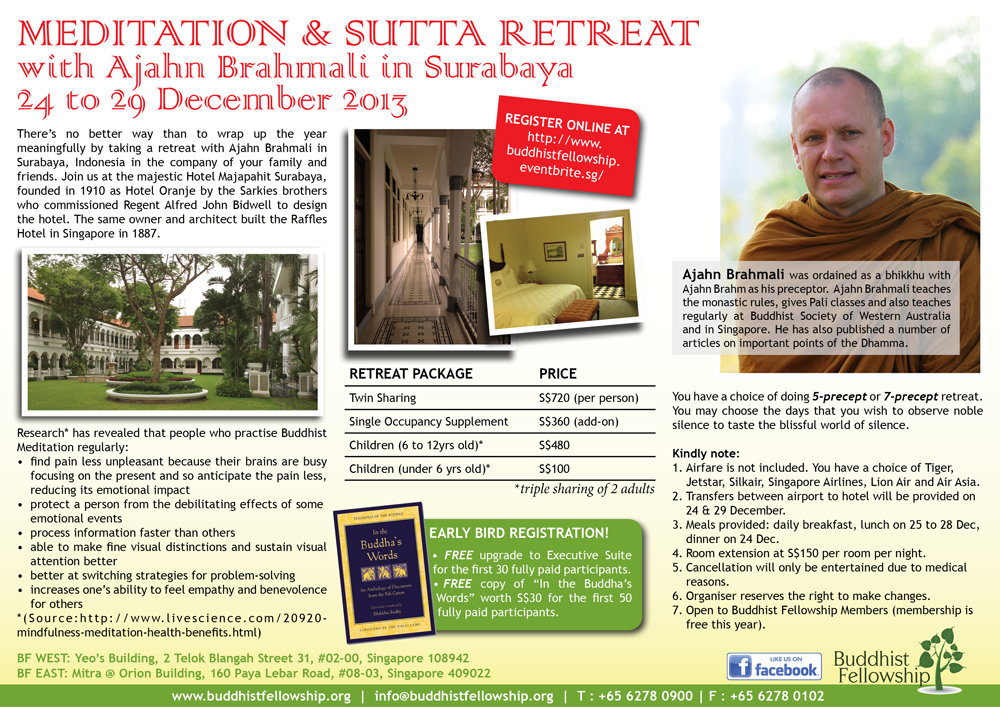 REGISTRATION CLOSED!
Meditation & Sutta Retreat with Ajahn Brahmali in Surabaya
Date: 24 to 29 December 2013
Venue: Hotel Majapahit, Surabaya
There's no better way than to wrap up the year meaningfully by taking a retreat with Ajahn Brahmali in Surabaya, Indonesia in the company of your family and friends.
Dhamma Teacher
Ajahn Brahmali was ordained as a bhikku with Ajahn Brahm as his preceptor. Ajahn Brahmali teaches the monastic rules, gives Pali classes and teaches regularly at Buddhist Society of Western Australia and in Singapore. He has also published a number of articles on important points of the Dhamma.
The Retreat
You have a choice of doing 5-precept or 7-precept retreat. You may choose the days that you wish to observe noble silence to taste the blissful world of silence.
Research* has revealed people who practise Buddhist Meditation regularly:

find pain less unpleasant because their brains are busy focusing on the present and so anticipate the pain less, blunting its emotional impact,

protect a person from the debilitating effects of some emotional events

process information faster than others

able to make fine visual distinctions and sustain visual attention better

better at switching strategies for problem-solving

increases one's ability to feel empathy and benevolence for others
*Source: http://www.livescience.com/20920-mindfulness-meditation-health-benefits.html
The Hotel Majapahit
Originally built in 1910 by the famous Sarkies brothers, the Hotel Majapahit is a classic landmark institution filled with national pride, where history blends with romance and elegance. Its graceful colonial architecture with immaculate landscaped gardens, combined with modern facilities and its famous Spa makes the Majapahit the preferred choice for the most discerning travellers. The same owner and architect built the Raffles Hotel in Singapore in 1887.
Early Bird Registration
a. Free upgrade to Executive Suite for the first 30 fully paid participants.
b. Free copy of "In The Buddha's Words translated and introduced by Bhikkhu Bodhi" worth $30 for the first 50 fully paid participants
Retreat Package:
Twin Sharing - S$720 per person
Single Occupancy Supplement - S$360 (add-on)
Children (6 to 12 years)* - S$480
Chidren (under 6 years)* - S$100
* triple sharing with 2 adults
- For one adult and a child under 6 years, single occupancy supplement applies in addition to the S$100.
- For one adult and a child between 6 to 12 years, adult rate of S$720 applies to the child.
Terms & Conditions: 
1. Airfare is not included. You have a choice of Tiger, Jetstar, Silkair, Singapore Airlines, Lion Air and Air Asia.
2. Transfer between airport to hotel will be provided on 24 & 29 December (you are advised to arrive on 24th Dec before 4pm; check-in at hotel from 2pm onwards and early check-in is subject to room availability).
3. Meals provided: daily breakfast, lunch on 25 to 28 Dec, dinner on 24 Dec.
4. Room extension at S$150 per room per night.
5. Cancellation will only be entertained due to medical reasons.
6. Organiser reserves the right to make changes.
7. Open to Buddhist Fellowship Members (membership is free this year).
FAQ
How do I book?
Please use the online registration form.
How do I make payment?
You are required to make payment in full within one week after making registration. Please send a cheque issued to Buddhist Fellowship and mail it to: 2 Telok Blangah Street 31, #02-00 Yeo's Building, Singapore 108942. Please state your name, email, address, hp number and code "MSR". Alternatively, you can also make payment in person.
What else do I need to fill in other than the online registration?
You will be required to sign an Indeminity Form. Please download the form here.
When do I make airticket reservation?
After you have fully paid for your registration, you make make airticket reservation. Please arrange for flights that arrive on 24th December before 4pm local time and arrange for flight that depart on 29th December after 12pm local time.
Do I have to inform you of my flight details?
Yes, you need to inform us of your flight details. We will inform you later how to provide this information to us.
When & Where

Hotel Majapahit
65 Jalan Tunjungan
Surabaya, Jawa Timur 60275
Indonesia

Tuesday, 24 December 2013 at 19:00

-

Sunday, 29 December 2013 at 11:00 (Singapore Standard Time Singapore Time)
Add to my calendar
Organiser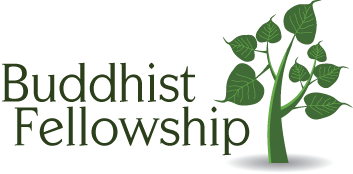 BUDDHIST FELLOWSHIP (BF) is a non-sectarian Buddhist organisation. Our membership consists of like-minded Buddhists from various traditions who share the Buddha Dhamma to promote the path of higher happiness and spiritual fellowship.
DHAMMA
Recognising how the world has changed and yet the Dhamma remains relevant, Buddhist Fellowship strives to ensure that the Dhamma is propagated in contemporary language and forms.
COMMUNITY
Buddhist Fellowship prides itself in being an organisation that dares to be different, embarking on new, revoluntionary projects and activities that benefit the community and constantly striving to meet the needs of its members.
LEADERSHIP
Recognising the need to start Dhamma education from young, Buddhist Fellowship has three programs to cater from pre-school to 25 years. The programs are led by Exco members and volunteers.
CONTACT US
1. Buddhist Fellowship West Centre (main centre)
2 Telok Blangah Street 31
#02-00 Yeo's Building
Singapore 108942
Email: info@buddhistfellowship.org | Tel: +65 6278 0900 | Fax: +65 6278 0102
Office Opening Hours:
Mon: closed
Tue-Fri: 10am to 8pm
Sat-Sun: 10 am to 5.00pm
2. Buddhist Fellowship East Centre @ Mitra
160 Paya Lebar Road
#08-03 Orion Building
Singapore 409022
BF East Centre is open whenever there is program in session.
IMPORTANT: Buddhist Fellowship uses Eventbrite portal to manage registrations. Whilst all events are listed as "free" in Eventbrite, please refer to program description to check whether a program/course/class is payable or free.