BF West - Ajahn Sujato One Day Retreat on Loving Kindness (*Fee: BF Member $15, Non-BF Member $20)

Sunday, 17 November 2013 from 09:00 to 17:00 (Singapore Standard Time Singapore Time)
Event Details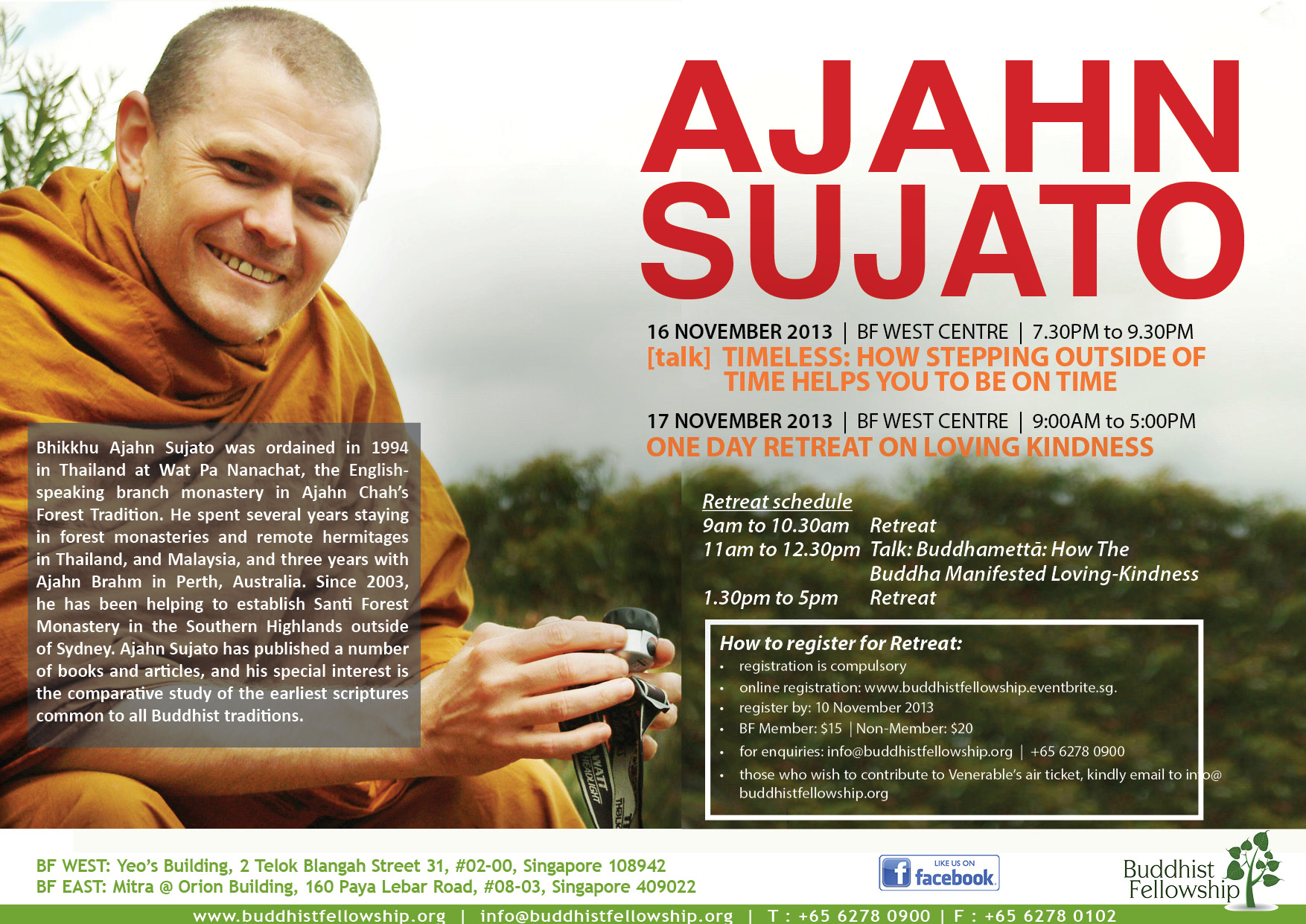 AJAHN SUJATO ONE DAY RETREAT
ONE DAY RETREAT ON LOVING KINDNESS
Date: Sun, 17 November 2013
Time: 9am to 5pm (Dhamma talk at 11am to 12.30pm: Buddhametta - How the Buddha Manifested Loving-Kindness)
Venue: Buddhist Fellowship West Centre
**Fee:  BF Member $25 | Non-BF Member $30 
Registration is required 
 METTA in Pali or Maithri in Sanskrit language means "loving-kindness" or "boundless love" i.e. love without boundaries. It is the wish for all sentient beings to be well and happy. It is the basis for the cultivation of other great virtues such as compassion, altruistic joy and equanimity.
 METTA is a powerful healing force which will transform us into a more compassionate, caring and resilient community, transmuting all negative energies and entities into light, love and harmony.
According to the first verse of Dhammapada "The Sayings of the Buddha":
MANO PUBBANGAMĀ DHAMMĀ (Dh1)
Mind is the forerunner of all phenomena…
As such, we need to harness all our positive mental energies to bring about peace, harmony and stability for the nation and for the world we live in.
ABOUT AJAHN SUJATO
Bhante Sujato (1966-) was born in Perth and raised in a liberal Catholic family. After dropping out of University he played music, notably in the indie folk-pop band Martha's Vineyard. In 1992 he travelled to Thailand, ostensibly as a tourist, but actually in search of a new direction. He entered an intensive vipassana retreat at Wat Ram Poeng in Chieng Mai, after which he knew that this would be his path.
A year later, he ended up at Wat Nanachat, where he took novice (samanera) ordination and, on 5/5/1994, full ordination as a bhikkhu. In Thailand, he stayed mainly at Poo Jorm Gorm, a remote hermitage attached to Wat Nanachat. From the little-known Thai monk Ajahn Maha Chatchai he learnt the practice of Metta or loving-kindness meditation, which still forms the backbone of his own meditation and teaching. In 1996 he returned to Perth, and sent three years at Bodhinyana Monastery practising under Ajahn Brahm, who he considers his primary teacher. He left Bodhinyana in 1999 and spent three years in isolated hermitages in Malaysia and Thailand.
In 2003, Bhante Sujato came to the Coalmines Road property, where he established Santi Forest Monastery and has overseen its development.
As well as being a meditator and teacher, Bhante Sujato is a scholar of early Buddhism, with several books and essays of original and often groundbreaking research. He contributes to Buddhism in Australia through a wide variety of forums and organizations, including the Australian Sangha Association, Federation of Australian Buddhist Councils, Australian Partnership of Religious Organizations, Australian Association of Buddhist Councillors and Psychotherapists, Australasian Association of Buddhist Studies, and Australian Religious Response to Climate Change.
REGISTRATION FOR THE ONE DAY RETREAT
registration is compulsory 

registration fee: S$15 (BF Member) and S$20 (non-BF Member) by cheque 

online registration at www.buddhistfellowship.eventbrite.sg

or call the office at +65 6278 0900

registration opens on 18 October 2013 and closes on 14 November 2013

priority is given to BF members for registration
PAYMENT
Upon registration, please make payment within a week.  You may either pay in person or send a cheque with your full name, hp, email, address and code "AS Retreat" and mail it to:

Buddhist Fellowship 
2 Telok Blangah Street 31
#02-00 Yeo's Building
Singapore 108942
FAQs
Where can I contact the organiser with any questions?
Contact Buddhist Fellowship at register@buddhistfellowship.org or +65 6278 0900.
Do I have to bring my printed registration confirmation to the class?
Yes, you need to bring your printed registration confirmation to the class. Attendence will be recorded.
What is the refund policy?
There is no refund, however, registration is transferable.
Do you have questions about BF West - Ajahn Sujato One Day Retreat on Loving Kindness (*Fee: BF Member $15, Non-BF Member $20)?
Contact Buddhist Fellowship
When & Where

BF West
2 Telok Blangah Street 31
#02-00 Yeo's Building
108942


Sunday, 17 November 2013 from 09:00 to 17:00 (Singapore Standard Time Singapore Time)
Add to my calendar
Organiser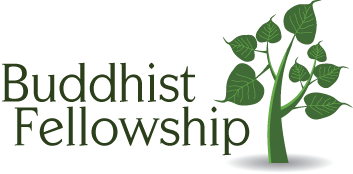 BUDDHIST FELLOWSHIP (BF) is a non-sectarian Buddhist organisation. Our membership consists of like-minded Buddhists from various traditions who share the Buddha Dhamma to promote the path of higher happiness and spiritual fellowship.
DHAMMA
Recognising how the world has changed and yet the Dhamma remains relevant, Buddhist Fellowship strives to ensure that the Dhamma is propagated in contemporary language and forms.
COMMUNITY
Buddhist Fellowship prides itself in being an organisation that dares to be different, embarking on new, revoluntionary projects and activities that benefit the community and constantly striving to meet the needs of its members.
LEADERSHIP
Recognising the need to start Dhamma education from young, Buddhist Fellowship has three programs to cater from pre-school to 25 years. The programs are led by Exco members and volunteers.
CONTACT US
1. Buddhist Fellowship West Centre (main centre)
2 Telok Blangah Street 31
#02-00 Yeo's Building
Singapore 108942
Email: info@buddhistfellowship.org | Tel: +65 6278 0900 | Fax: +65 6278 0102
Office Opening Hours:
Mon: closed
Tue-Fri: 10am to 8pm
Sat-Sun: 10 am to 5.00pm
2. Buddhist Fellowship East Centre @ Mitra
160 Paya Lebar Road
#08-03 Orion Building
Singapore 409022
BF East Centre is open whenever there is program in session.
IMPORTANT: Buddhist Fellowship uses Eventbrite portal to manage registrations. Whilst all events are listed as "free" in Eventbrite, please refer to program description to check whether a program/course/class is payable or free.