BF West Qigong Fundamentals (**Registration Fee: S$30)

Saturday, 9 November 2013 from 13:45 to 14:45 (Singapore Standard Time Singapore Time)
Event Details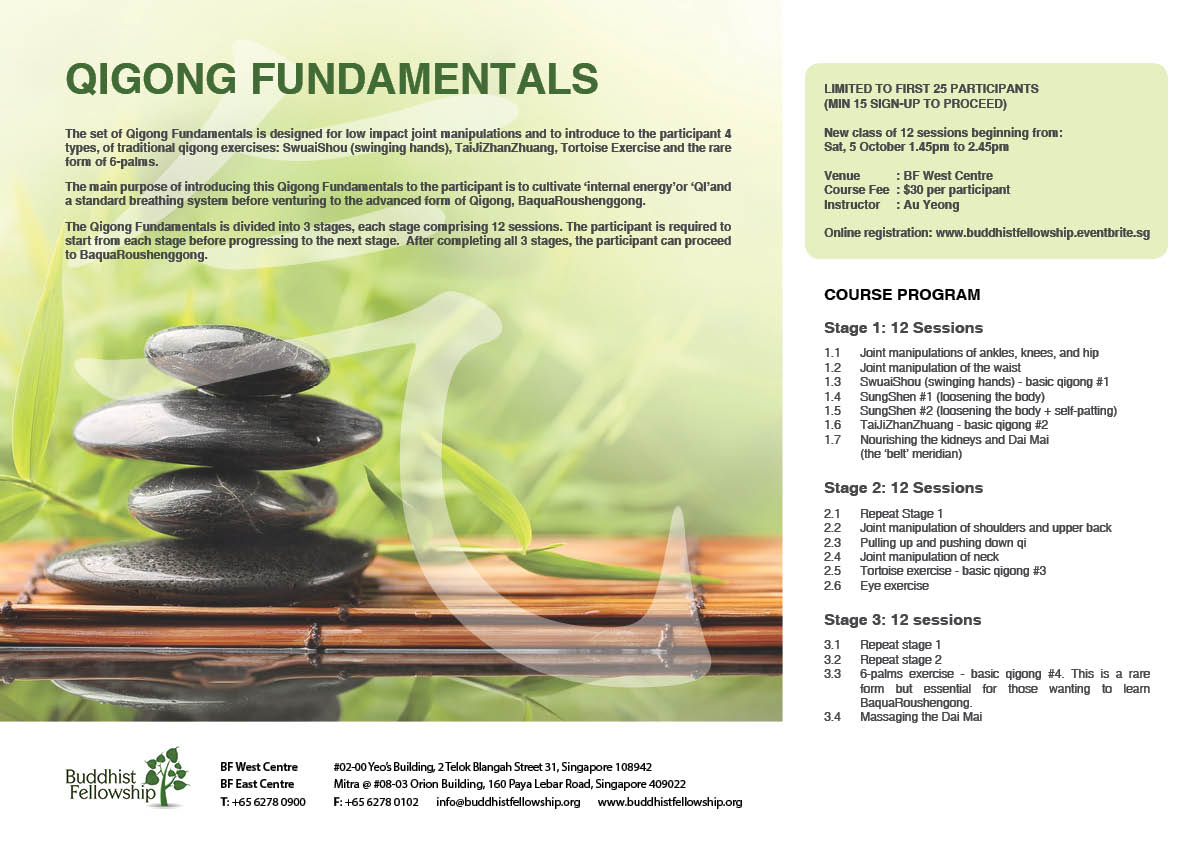 Qigong Fundamentals
Suitable for Beginners and Intermediate
Commencing from: Saturday, 5 October 2013 at 1.45pm
Duration: 1 hour
No. of Sessions: 12 
Max Class Size: 25 (min of 15 sign-ups for class to proceed) 
Venue: Buddhist Fellowship West Centre
**Fee: S$30 for 12 sessions
The set of Qigong Fundamentals is designed for low impact joint manipulations and to introduce to the participant 4 types of traditional qigong exercises : Swuai Shou (swinging hands), TaiJi ZhanZhuang, Tortoise Exercise and the rare form of 6-palms.
The main purpose of introducing this Qigong Fundamentals to the participant is to cultivate 'internal energy' or 'QI'and a standard breathing system before venturing to the advanced form of Qigong, Baqua Roushenggong.
The Qigong Fundamentals is divided into 3 stages, each stage comprising 12 sessions. The participant is required to start from each stage before progressing to the next stage. After completing all 3 stages, the participant can proceed to Baqua Roushenggong.
Course Instructor:  Au Yeong
Course Program
Stage 1: 12 Sessions
1.1 Joint manipulations of ankles, knees, and hip
1.2 Joint manipulation of the waist
1.3 Swuai Shou (swinging hands) - basic qigong #1
1.4 Sung Shen #1 (loosening the body)
1.5 Sung Shen #2 (loosening the body + self-patting)
1.6 TaiJi ZhanZhuang - basic qigong #2
1.7 Nourishing the kidneys and Dai Mai (the 'belt' meridian)
Stage 2: 12 Sessions
2.1 Repeat Stage 1
2.2 Joint-manipulation of shoulders and upper back
2.3 Pulling up and pushing down qi
2.4 Joint-manipulation of neck
2.5 Tortoise exercise - basic qigong #3
2.6 Eye exercise
Stage 3: 12 sessions
3.1 Repeat stage 1
3.2 Repeat stage 2
3.3 6-palms exercise - basic qigong #4. This is a rare form but essential for those wanting to learn Baqua Roushengong.
3.4 Massaging the Dai Mai.
Kindly note:
1. Course is open to Buddhist Fellowship Member (membership is free this year)
2. Course will start when there are 15 fully paid signups.
3. Participants are required to make health declarations as per the online registration form and the organiser reserves the right to reject applications on medical reasons.
4. The Organiser reserves the right to make changes to the course. 
FAQ
How do I book? 
Please use the online registration form: www.bf-qigong1.eventbrite.sg.  Kindly refrain entering fictitious data as we may need to contact you in the event there are any changes.
How do I make payment? 
You are required to make payment in full within one week after making registration. Please send a cheque issued to Buddhist Fellowship and mail it to: 2 Telok Blangah Street 31, #02-00 Yeo's Building, Singapore 108942. Please state your name, email, address, hp number and code "qigong1". Alternatively, you can also make payment in person.
When & Where

BF West
2 Telok Blangah Street 31
#02-00 Yeo's Building
Singapore, Singapore 409022
Singapore

Saturday, 9 November 2013 from 13:45 to 14:45 (Singapore Standard Time Singapore Time)
Add to my calendar
Organiser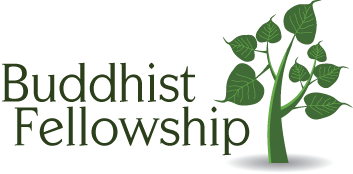 BUDDHIST FELLOWSHIP (BF) is a non-sectarian Buddhist organisation. Our membership consists of like-minded Buddhists from various traditions who share the Buddha Dhamma to promote the path of higher happiness and spiritual fellowship.
DHAMMA
Recognising how the world has changed and yet the Dhamma remains relevant, Buddhist Fellowship strives to ensure that the Dhamma is propagated in contemporary language and forms.
COMMUNITY
Buddhist Fellowship prides itself in being an organisation that dares to be different, embarking on new, revoluntionary projects and activities that benefit the community and constantly striving to meet the needs of its members.
LEADERSHIP
Recognising the need to start Dhamma education from young, Buddhist Fellowship has three programs to cater from pre-school to 25 years. The programs are led by Exco members and volunteers.
CONTACT US
1. Buddhist Fellowship West Centre (main centre)
2 Telok Blangah Street 31
#02-00 Yeo's Building
Singapore 108942
Email: info@buddhistfellowship.org | Tel: +65 6278 0900 | Fax: +65 6278 0102
Office Opening Hours:
Mon: closed
Tue-Fri: 10am to 8pm
Sat-Sun: 10 am to 5.00pm
2. Buddhist Fellowship East Centre @ Mitra
160 Paya Lebar Road
#08-03 Orion Building
Singapore 409022
BF East Centre is open whenever there is program in session.
IMPORTANT: Buddhist Fellowship uses Eventbrite portal to manage registrations. Whilst all events are listed as "free" in Eventbrite, please refer to program description to check whether a program/course/class is payable or free.