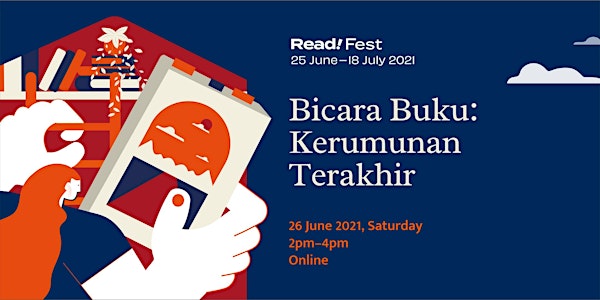 Bicara Buku: Kerumunan Terakhir | Read! Fest
Sertai Okky Madasari yang akan berkongsi pemikiran dan pengalaman peribadinya dalam menghasilkan Kerumunan Terakhir.
About this event
Synopsis
Sertai Okky Madasari yang akan berkongsi pemikiran dan pengalaman peribadinya dalam menghasilkan Kerumunan Terakhir. Ahli panel akan turut berkongsi pandangan mereka tentang karya ini daripada perspektif kesusasteraan dan sosiologi yang akan dijawab oleh penulisnya sendiri.
About the Speakers
OKKY MADASARI adalah seorang novelis, esais, dan kandidat PhD di National University of Singapore. Ia dikenal sebagai penulis dengan karya-karya kritis yang selalu menyuarakan persoalan dalam masyarakat. Ia telah menulis sembilan karya fiksi yang telah mendapatkan berbagai penghargaan dan telah diterjemahkan dalam berbagai bahasa, diantaranya Bahasa Inggris, Jerman, Arab dan Melayu. Di bidang akademik, Okky berfokus pada relasi antara kekuasaan dan produksi ilmu pengetahuan. Pada tahun 2019 ia menerbitkan sebuah buku non-fiksi berjudul Genealogi Sastra Indonesia: Kapitalisme, Islam dan Sastra Perlawanan.
AHMAD UBAIDILLAH adalah seorang pelajar tahun empat di Yarmouk University, Jordan, kuliah Fiqh. Beliau berminat di dalam bidang sastera tempatan dan serantau, atas sebab kepercayaanya bahawa sastera mempunyai peranan penting dalam hidup manusia. Beliau juga penulis artikel di laman Muslim.sg dan telah menulis tentang pelbagai topik agama.
AISYAH LYANA pernah diundang untuk menghasilkan karya, "Genggaman Sayang" sempena Pesta Penulis Singapura 2016. Cerpen-cerpennya "Impian Harimau" dan "Taman Tembok" pernah memenangi anugerah "Sebutan Khas" di Anugerah Pena Emas 2013 dan 2017. Dipilih untuk mengikuti program penulisan cerpen Mencari Kristal 2016 dan 2019, Aisyah juga telah berpeluang  menghadiri MASTERA Pantun di Brunei Darussalam dan MASTERA Cerpen di Jakarta, Indonesia.  Kini, Aisyah menuntut pelajarannya dalam Pengajian Antarabangsa dan Pengajian Melayu di Universiti Kebangsaan Singapura (NUS).
Title Tie-up
This programme is based on Kerumunan Terakhir, a featured title of Read! Fest 2021.
Borrow the title here: catalogue.nlb.gov.sg/cgi-bin/spydus.exe/ENQ/WPAC/BIBENQ?SETLVL=1&BRN=204069504
For other programmes related to this title, visit go.gov.sg/rfkerumunan.
For the listing of Read! Fest Malay language programmes, visit go.gov.sg/rfmalay.
For the full listing of Read! Fest programmes, visit go.gov.sg/readfest21.
About Read! Fest 2021
Read! Fest 2021 invites you on a forward-looking journey of self-discovery. With the theme of Reboot, take a moment to re-examine and refresh your lenses on day-to-day aspects that shape our lives.
Anchored by 12 key books and topics, Read! Fest will host over 60 programmes – from talks by world-renowned authors to workshops and experiences – each curated to immerse you in a world of thoughtful ideas for our time.
From myths and minimalism to work and womanhood, stretch out to explore new worlds and perspectives. Where will you find yourself?
For more info, visit go.gov.sg/nrm-readfest21.
Online Programme/Event Administrative Information
This programme is conducted entirely online. You may access Zoom via the app or using a web browser.
Please ensure that you enter a valid email address as you will receive an email with the link to the online programme/event near the day of the programme/event.
The link of the programme should not be shared with others.
Do ensure you have a strong internet connection. Using your mobile data is not recommended.
The National Library Board, Singapore (NLB) reserves the right in its absolute discretion to disqualify or refuse admission to any registrant without any reason and notice.