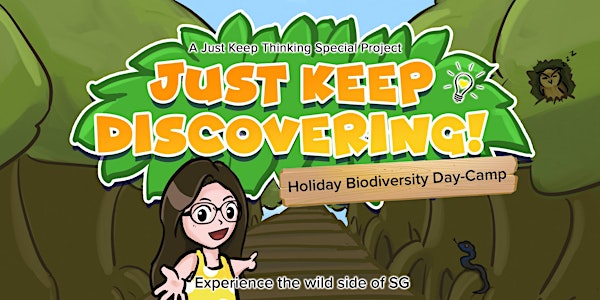 Biodiversity Day Camp with Biogirl MJ
SPECIAL HOLIDAY PROGRAMME: Join Biogirl MJ on a holiday day camp where we explore and learn about nature, wildlife, sustainability and more!
When and where
Location
Pasir Ris Town Park Pasir Ris Central Singapore, 519639 Singapore
About this event
Our special holiday day camp is FINALLY HERE!
Join Biogirl MJ for a full day of adventure starting off on land with the mangroves, and ending off under water with the ocean!
We shall start off the adventure in the morning by exploring and discovering the amazing wildlife we have right in our very own mangroves! Then, we will head off to a secret location to have a scrumptious meal together and get to know more about each other. Finally, we will have a whole afternoon of wildlife games, specimen showcase, animal crafts and more!
This is an exciting yet educational day camp where you will get to interact with Biogirl MJ as she shares fascinating facts and intriguing stories about the animals that live amongst us, and learn how we can better conserve and protect our environment.
This day camp will include lunch, transport, and a gift from us!
Details: Biodiversity Day Camp with Biogirl MJ
*Location & Time: 9.00am: Meet at Pasir Ris Park, 5.00pm: End at City Square Mall (lunch & transport are provided)
**Suitable for: Age 6 to 12
*More details and FAQs will be sent in a separate email by JKT two weeks before the scheduled date of adventure.
**Kindly note that participants will be split into groups of 5 to 10 pax.
COVID-19 Safety Precautions
All camps will only allow a maximum of 20 participants.
No "tagging along" is allowed during the morning tour and we reserve the rights to reject any additional participants who appear without prior notice.
Participants are free to choose if they wish to have their face masks worn or not throughout the entire programme.
Hand sanitisers will be provided at 2-hour intervals for the entire programme.
Cancellation Policies
As Just Keep Thinking would be holding the slot for you and turning down other potential customers, you won't be refunded should you decide to cancel after payment has been made.
In the event of an intense wet weather, we will have a wildlife specimen showcase under a sheltered pavilion before heading over to the next location.
In the event of other Covid-19 government regulations that affect your trip without it having to be cancelled (e.g. reduction in social gathering sizes, in the event of a lockdown), you may either get a full refund or reschedule your trip at no additional cost.
Just Keep Thinking reserves the rights to postpone or cancel the trip prior if there is less than 10 registered participants a week before the date.