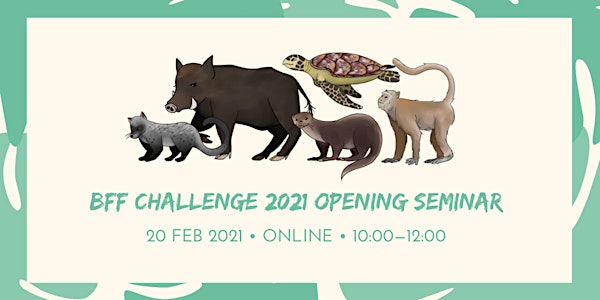 Biodiversity Friends Forum Opening Seminar 2021
Interested in the biodiversity around you?
About this event
If you have a budding interest in nature in Singapore, here is the right place for you! The 2021 Biodiversity Challenge by the Biodiversity Friends Forum is an annual challenge that exposes you to the different wildlife and the issues revolving around it. One can look forward to guided nature walks by experienced guiders, insightful talks and many other interesting activities to give your conservation journey a nudge.
To complete the Challenge, you will be involved in the three parts from February to June 2021:
1. Empower yourselves by attending the BFF Challenge workshops from the safety of your homes [Virtual, 4-6 hours over a few sessions]
2. Equip – Attend three curated field trips offered by seniors and log your experience in a shared field journal on WordPress [3 field trips, 10 hours]
3. Engage & Enable – Share about nature a wider audience through an Act for Nature [6 hours]
Still unsure? Read more about past year's BFF Challenges from the participants themselves here:
If this has been enticing enough, click on the "sign up" button and hear us out! Do sign up by 17 February 2020.
Should you have any inquiries, feel free to drop us a message at biodyouthsg@gmail.com.