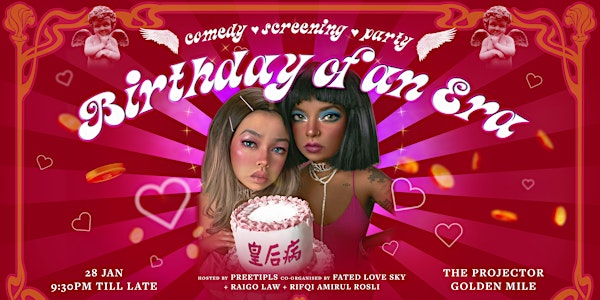 BIRTHDAY OF AN ERA
Comedy night, film screening and pop/camp music party all in one. Organised as part of Singapore Art Week 2023.
When and where
Location
The Projector 6001 Beach Road #05-00 Singapore, 199589 Singapore
Refund Policy
Contact the organiser to request a refund.
Eventbrite's fee is nonrefundable.
About this event
Luv, it's just art.
Celebrating the second year of fated love sky, a femme pop art group. It's our birthday and you're coming! Some people don't live past two, so come.
Curatorial art group fated love sky presents an exciting line-up to an all-in-one comedy night, film screening and party.
Hosted by SG's TOP comedy queen Preetipls - expect fun, joy, laughter and lots of love. This is your little entry into Singapore's RuPaul's Drag Race and America's Next Top Model. Netflix, you need to sign us up right now.
Starting with a screening of a four-episode art parody/mockumentary film (titled 'Luv, it's just art') directed by Feedbeng - starring 'multidisciplinariest' artists Howie Kim, Léann Herhily, Mithra Jeevananthan, Rifqi Amirul Rosli, Weixin Quek Chong, and co-curators Chand Chandramohan & Racy Lim. Guest starring Divaagar and Kansh. What are Singapore, Ireland and Madrid's TOP ARTISTS up to????
All characters and dialogues are purely fictitious, based on years of imagination and delusions. Any resemblance to real people and events are coincidental, with the exception of our queen Marina Abramović.
Everyone welcome. Racists, misogynists, homophobes and transphobes are not welcome. People who cannot respect boundaries are not welcome.
This night is created for the gorgeous and funsies. It is a celebration of friendship, femme joy and an ode to our queer friends. If you love art, come. If you hate art, come. If you don't know what art is, come. If you can take the heat and like a bit of spice, steam, cuteness and celestial madness, SHOW UP!
View teasers and more info: www.instagram.com/fatedlovesky
Doors open at 9.15pm. Film screening + comedy begins at 9.30pm. The theatre transitions into a hot camp party with live DJ sets after the film/comedy.
Dress up party - show up like BARBZ.
DJs:
howrøng - his deep dive into underground electronic music began in 2020 when he lived in Berlin. Since moving back to Singapore, he regularly djs for queer collective "Bussytemple", with the aim of bringing a safe rave space for queer people (especially for the femme and non-binary community) in Singapore. His style can be described as a journey through groovy and hard techno, tribal, queer pop, ghetto, featuring asian and LGBTQIA artists.
soyf§g - the dj moniker of visual artist Aki Hassan. They aim to play anything hard to get your hearts pumping. They appear on Clyde Built Radio bi-monthly, where they play banging tunes & share personal queer trans encounters in their life. They are a resident DJ and co-organiser in Bussy Temple, a queer party collective based in Singapore.
༄ XAETHERX ̀͛༄ (they/them) - @kanshhhhh 's DJ alter-ego - a shape-shifter. They are a multidisciplinary non-binary artist. Their sound encapsulates eclectic waves of sonic aesthetic that leads you through a journey. For Fated Love Sky, they will be incorporating the dramatique, the queer culture, the desi beats for this specially curated kunty set. They also run a multidiscplinary art platform @0rb__it
Music visuals:
Cybercesspool
--
This event is co-organised by fated love sky and artists Raigo Law + Rifqi Amirul Rosli.