Chongqing is seeking Singapore technologies to fuel the city next lap of growth.
About this event
About this Event
The logistic, smart city and manufacturing sectors are fast-growing sectors of Chongqing's economy. A renewed focus on sustainability businesses has also driven the growth of industry 4.0 in China. Today, Chongqing is exploring new initiatives to improve the city's overall business infrastructure and seeking new technologies to fuel its next lap of growth.
Organised in line with the IMDA-NUS Enterprise-BLOCK71 Chongqing Immersion Programme , join us at this virtual roadshow to learn about opportunities for your company in China.
Programme outline:
• Opening Addresses
• IMDA-NUS Enterprise BLOCK71 Chongqing Immersion Programme
• Presentation on Chongqing's economic plans
• Presentation on opportunities in Chongqing (in Mandarin)
• Question & answer session
Our curated panel of speakers include:
1. Kevin Chan, Senior Assistant Director, International Collaboration and Strategic Partnerships, IMDA
Kevin Chan is a Senior Assistant Director with IMDA. Under the Chongqing Connectivity Initiative , he assists Singapore ICT companies internationalise into Chongqing and Western China. In a similar capacity, Kevin was also IDA's Centre Director for Middle East from 2011 to 2016.
2. Hui Kwok Leong, Acting Director, Ecosystem Development, NUS Enterprise
Acting Director of Ecosystem Development at NUS Enterprise, Deputy Director in NUS Suzhou Research Institute (NUSRI Suzhou) and Senior Advisor at NUS Chongqing Research Institute (NUSRI Chongqing) on Entrepreneurship and Innovation . Kwok Leong oversees the entirely global BLOCK71 family of NUS incubators. He is responsible for global ecosystem development; innovation and commercialization in China. In NUSRI Suzhou, he has established BLOCK71 Suzhou, helped incubatees to raise more than 100 million yuan in equity funding, incubated more than 70 companies, and introduced 21 SIP Pioneer talents.
3. Liu Zhi Qing, Deputy Director, InfoComm Tech. Department China-Singapore (Chongqing) Demonstration Initiative on Strategic Connectivity Administrative Bureau
MPA of International Development, University of Manchester, now working as Deputy Director, InfoComm Project Promotion Division of China-Singapore (Chongqing) Demonstration Initiative on Strategic Connectivity Administrative Bureau (CCIB), engaged in the trade and investment promotion jobs for the Chongqing Municipal Government of People's Republic of China for many years, and experienced with International Cooperative Projects.
4. James Chen, Managing Director, Sino-Singapore Connectivity Private Equity Fund Management Co Ltd
Graduated from Tsinghua University, James Chen, a successful entrepreneur founded his own tech start-up at Beijing before working in the China financial investment industry. He specialized in merger and acquisition working for listed companies on the Shenzhen exchange. He also previously worked for China International Capital Corporation bank as a senior investment manager. Currently, he is the managing director for China-Singapore Internet Exchange Investment Fund Management Co., Ltd which manages 14 funds worth 8.462 billion yuan. The company focuses on investments in Chongqing, the "One Belt and One Road" and the Yangtze River Economic Belt.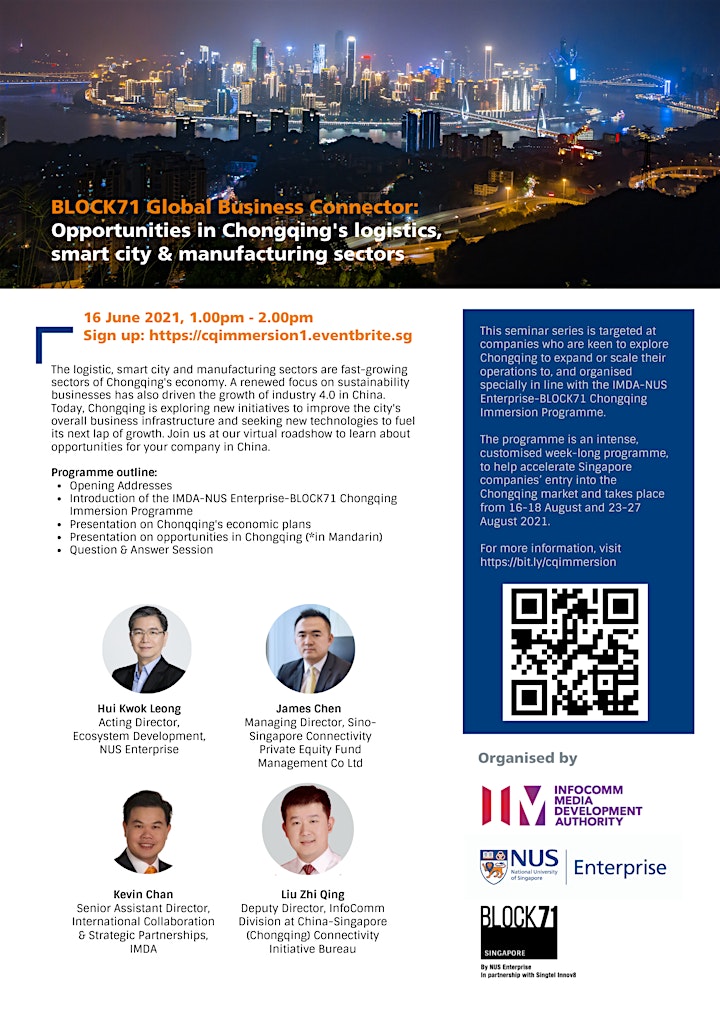 Organiser of BLOCK71 Global Business Connector: Opportunities in Chongqing
NUS Enterprise plays a pivotal role in advancing innovation and entrepreneurship at NUS and beyond. It actively promotes entrepreneurship and cultivates global mind-sets and talents through the synergies of experiential entrepreneurial education, active industry partnerships for technology and commercialisation, holistic entrepreneurship support and catalytic entrepreneurship outreach. Its initiatives and global connections support a range of entrepreneurial journeys and foster ecosystem...