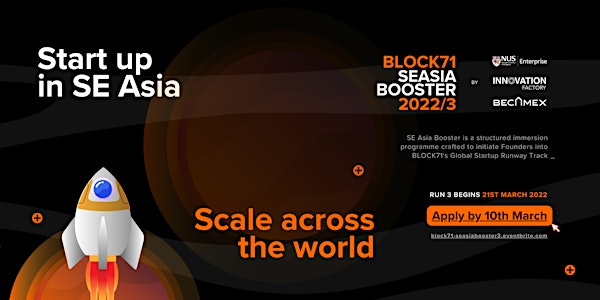 BLOCK71 SE Asia Booster Programme 2022 Cohort 3
Build smart, sustainable tech startups with BLOCK71
About this event
Applications are now closed for Cohort 3.
For more details and benefits of the BLOCK71 Global Startup Runway Track, check out the programme, speakers, mentors and past cohorts here bit.ly/block71-seasia3
---
BUILD BETTER.
BLOCK71's SE Asia Booster is a structured programme to initiate Founders into the global BLOCK71 incubation network. Through just the first 6 weeks with us, we empower you with the necessary skills and resources for:
Establishing a strong foundation of know-how to build a tech startup
Scaling a tech startup effectively to tackle regional markets
Securing connections with reputable VCs, corporates and governments across Asia
We're in it with you for the long haul.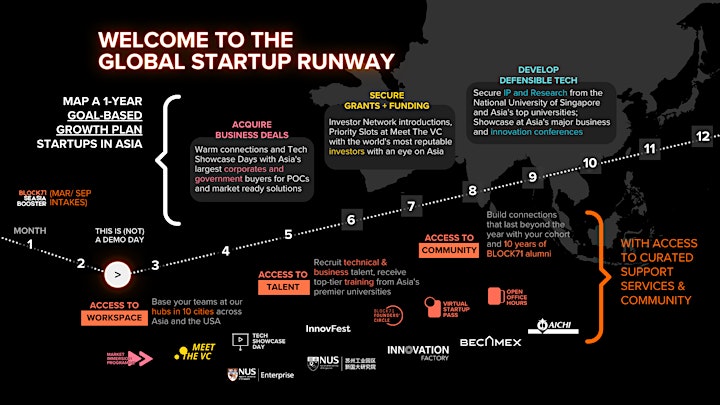 GET SYSTEMATIC SUPPORT.
During this journey, founders will receive mentorship and guidance from industry mentors and experienced entrepreneurs, connect with potential business partners, pitch in front of a panel of top-tier investors, and get plugged into a global community of Asian tech founders.
This is where the BLOCK71 Global Startup Runway begins.
For more details, please drop us a message at indonesia@block71.co or saigon@block71.co
------------------------------------
QUALIFYING CRITERIA
SOLVING REAL-WORLD PROBLEMS?
Apply now if your startup:
Addresses challenges and opportunities in Smart Environments, Future of Food, Health & Wellbeing, Industry 4.0 and/or Web 3.0
Incorporated Business (Valid Business ID)
Building an Early-Stage Technology Startup
Existing Customer Traction (Market Ready Solution)
Looking to scale across Southeast and East Asia in the next one year
*For startups joining the Indonesia and Saigon Cohorts, this is an equity-free programme for committed full-time founders.
Standard BLOCK71 Incubation Fees for incubation apply; please reach out to indonesia@block71.co or saigon@block71.co to find out more. To enjoy the full suite of benefits of the BLOCK71 Global Startup Runway Programme across Asia, we recommend that Founders stay with us for 1 year. Alumni may continue to receive selected benefits even beyond graduation.
------------------------------------
Powered by BLOCK71 Saigon and BLOCK71 Indonesia
Supported by NUS Enterprise, Becamex IDC and Salim Group's Innovation Factory
Keen to learn more? Join our Info Sessions:
Hosted by BLOCK71 Indonesia, Poreblock and Indogen: https://seasiabooster3id-ama.eventbrite.com/
Hosted by BLOCK71 Saigon and Antsomi: https://seasiabooster3vn-ama.eventbrite.com/