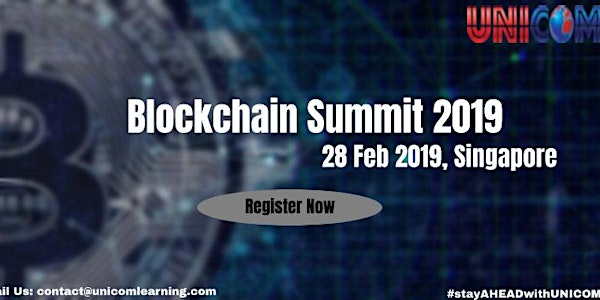 Blockchain Summit 2019 - Singapore
By UNICOM Training and Seminars Pvt Ltd
Date and time
Thu, 28 Feb 2019 09:00 - 16:40 +08
Location
Ramada by Wyndham Singapore At Zhongshan Park 16 Ah Hood Road Singapore, 329982 Singapore
Refund Policy
Contact the organiser to request a refund.
Description
National banks and regulators, exchanges and investment banks across the world are taking seriously the financial innovation of distributed ledger or block chain technology. The block chain, aka Trust Machine underpins "crypto currencies" such as Bitcoin; but it goes beyond digital money. It provides a shared, trusted, public ledger that everyone can inspect, but no single user controls. It is at the cusp of revolutionising international money transfers, trade finance, syndicated lending and collateral management, among other applications. As it allows for almost instantaneous payments and settlement, the potential impact on the role of traders, quants and other financial technologists cannot be underestimated.
This conference brings together Block Chain technologists in the finance sector, regulators, industry commentators, computer science researchers and others involved in financial innovation; these experts explore some of the technology and the many applications of Block chain in Financial Services in Singapore.
Confirmed Speakers

Blockchain and why you MUST incorporate psychology into crypto economics
Hayk Hakobyan, Business Managae - APAC , Nexmo
Blockchain & ML
Pranava Balakrishnan, Director, Credit Suisse
Data Ownership & Anonymity on The Blockchain
Ashok Venkateswaran, Director Sales & Product Development , Bluzelle
ICO: the good, the bad and the ugly
Stefano Virgilli, CEO, VOX.sg
Using the Blockchain for the Trading of Rights for Films and TV Shows
Ian Mckee, CEO, Vocanic
Solving the real education problem with Blockchain
Daniel Shen, Founder, Soqqle
The role of IoT sensors in maintaining a strong blockchain |
Alain Dupuis, Vice President, UnaBiz
What is the purpose of ICO, STO?
Rob Chong, Co-Founder, Radical Finance
Decentralisation of Legal Services: Blockchain and beyond
Pooja Sinha, Partner, Global Legal Solutions - GLS Laws
About the organiser
History
Established in 2010, UNICOM is a B2B2C platform for industry, specialising in the areas of Business, IT and Finance.
The company's products include conferences, contests, webinars, public and in-house training courses (including certified training) and networking events.
What we do
We are a team of professionals with passion and integrity, backed by years of research experience cognizant of our social responsibilities. We make best use of our resources and manage our diversities.
We create value in growing market of knowledge based services in Agile, Project Management, Process Improvement and Performance Management. We address evolving market requirements by overcoming competitions through co-operation.
Its core areas of specialisation include :
Analytics And Big Data
Cloud
Business Excellence
UX UI Design
IT Risk And Security
Agile
Software Testing
Sales And Marketing
Emerging Technology
IOT
Devops
Computer Wireless And Network
HR Summits
Finance Summits
Programming Day
Design
UNICOM's events take place in UK, mainland Europe and Asia. The company also has an office in Bangalore, India.