About this Event
You may have heard about blueprint for buildings, maps etc. What about blueprint for nurturing children?
If you have missed the recent radio interview with Dr Ng Meng Lek on Capital 95.8FM, this is a rare and great opportunity for you to meet him in person. Dr Ng, an eminent educational psychologist and parenting coach, will be spending the afternoon during the May holiday sharing his insights on effective parenting and addressing pressing concerns of parents on their children.
What parents can expect:
1) Understanding the effective blueprint for parenting from Dr Ng's 30 years of experiences
2) Open sharing on parenting issues that bother them for Dr Ng to address in this session
3) Valuable freebie for genuine parents who take time and effort to learn to be effective in parenting and to explore the tool that has benefitted many children
This event has been sponsored by Seacare NeuroLAT Pte Ltd so that you could enjoy the learning and networking session with other parents at $10 only. Share and bring a friend or come with your spouse, both of you get to enjoy the 1+1 privilege while it lasts by 12 May 2019. It is your commitment that we are asking.
We look forward to having you with us. Contact Ms Andrea now at +659068 4368 to be the first 20 to get the valuable freebie (worth $80) .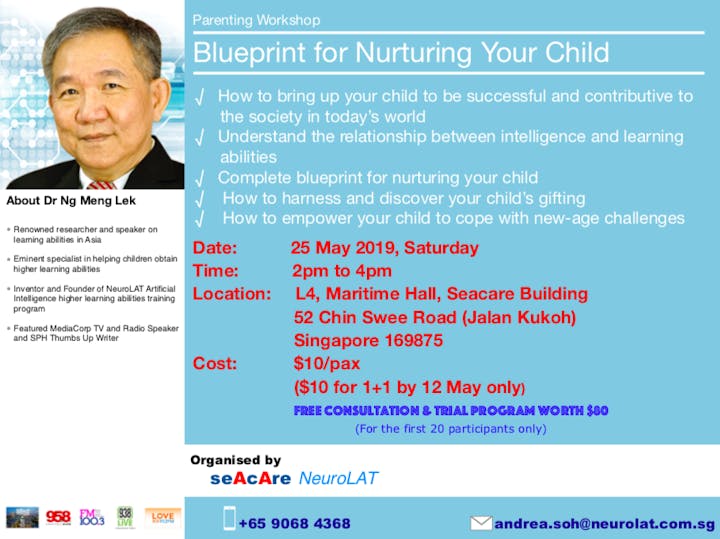 Seacare NeuroLAT Pte Ltd
Leveraging on the potential and capabilities of NeuroLAT to address the needs of children's cognitive development, Seacare NeuroLAT Pte Ltd was set up as a Joint Venture under Seacare Cooperative and NeuroLAT Artificial Intelligence cognitive programs - designed and developed in Singapore.
Seacare works experts and trainers on effective approaches to parenting methods to enhance children's learning and handles NeuroLAT Artificial Intelligence cognitive programs, both diagnostic and therapeutic, as well as bridging curriculum for preschools, primary and secondary schools.