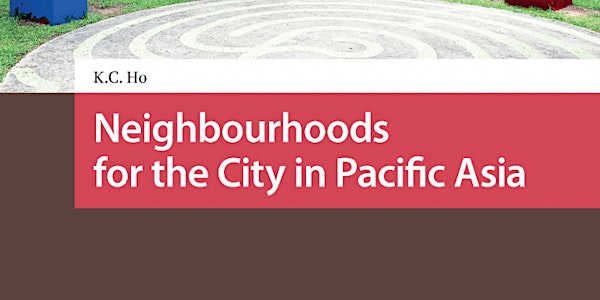 BOOK DISCUSSION - Neighbourhoods for the City in Pacific Asia
Neighbourhoods for the City in Pacific Asia looks at local collective action & city government responses & its impact on community & city.
When and where
Location
The Pod NLB 100 Victoria St Singapore, 188064 Singapore
About this event
BOOK DISCUSSION - Neighbourhoods for the City in Pacific Asia
Programme
6:00 pm
Registration and Refreshments
6:30 pm
Welcome Remarks by FASS Vice-Dean of Research, Associate Professor Elaine Ho Lynn-Ee
6:35 pm
Opening Remarks by Chair, Associate Professor T.C. Chang
6:40 pm
Presentation by Discussant, Associate Professor Vincent Chua
7:10 pm
Presentation by Author, Associate Professor Ho Kong Chong
7:40 pm
Q & A Session, moderated by Chair, Associate Professor T.C. Chang
8:10 pm
 Refreshments and End of Event
About the Author
Ho Kong Chong is Associate Professor in the Department of Sociology and Anthropology at NUS FASS and Head of Urban Studies at Yale-NUS College. Trained as an urban sociologist at the University of Chicago, A/P Ho's research interests are in the political economy of cities, housing, neighbourhood, community, youth and international education. He is an editorial board member of Pacific Affairs and the International Journal of Comparative Sociology. Much of his published work is on East Asian (Hong Kong, Seoul, and Taipei) and Southeast Asian (Bangkok and Singapore) cities. A/P Ho is author of Neighbourhoods for the City in Pacific Asia (2020), co-author of City-States in the Global Economy: Industrial Restructuring in Hong Kong and Singapore (1997), and co-editor of Service Industries, Cities and Development Trajectories in the Asia-Pacific (2005), Globalization, the City and Civil Society in Pacific Asia (2008), New Economic Spaces in Asian Cities (2012), and Post-politics and Civil Society in Asian Cities: Spaces of Depoliticisation (2020). His active research projects include: the Ministry of National Development (MND) funded "Study of Mixed Housing Typologies" (Lead Researcher), MOE funded Tier 2 Project Belt and Road Initiative and Student Mobilities in China-Southeast Asia, MOE funded SSRTG grant "In Work Poverty and Challenges of Getting by among the Young" (Co-Lead), USPC_NUS grant "Governing Diverse Cities in Europe and Asia", and MOE SSHR grant "Fostering Positive Community Behaviour" (Co-Lead).
About the Discussant
Vincent Chua is Associate Professor in the Department of Sociology and Anthropology at NUS. He received his PhD in Sociology from the University of Toronto in November 2010. His research interests are in social networks and social capital – primarily how institutional factors such as labour markets and education affect the job search and networking practices of people. He also researches social support, education, neighbourhoods, and ethnic stratification.
About the Chair
T.C. Chang is Associate Professor in the Department of Geography at NUS FASS. He is a tourism geographer by training, and has research interests in Asian tourism, as well as urban, social-cultural, and tourism geographies in Asia. He received his Ph.D. from McGill University (Montreal, Canada) in 1997 and has been an Associate Professor at NUS since 2003.  A/P Chang has worked with A/P Ho on an edited book titled Interconnected Worlds: Tourism in Southeast Asia (Pergamon, 2001).
About the Book
The largest cities in East Asia are the engines of their countries' economic growth, seats of national and regional political power, and repositories of the nation's culture and heritage.  The economic changes impacting large cities interact with political forces along with social-cultural concerns, and in the process also impact the neighbourhoods of the city.
Neighbourhoods for the City in Pacific Asia (Amsterdam University Press, 2020), looks at local collective action and city government responses and its impact on the community and the city. By adopting a multi-sited comparative approach in studying local action in five important cities (Bangkok, Hong Kong, Seoul, Singapore, and Taipei) in East Asia, the book enables comparisons across a number of key issues confronting the city: heritage (Bangkok and Taipei), community involved provisioning of amenities in a number of different contexts (Hong Kong, Seoul, Singapore), place making versus place marketing (Hong Kong). The collaborative efforts city governments establish with local communities becomes an important way to address the livability of cities.
You can order Neighbourhoods for the City in Pacific Asia in hardback or ebook here: https://www.aup.nl/en/book/9789462983885/neighbourhoods-for-the-city-in-pacific-asia
About the Organizer
The Singapore Research Nexus (SRN), launched in 2011, is a research initiative from the Faculty of Arts and Social Sciences (FASS) at the National University of Singapore. Much of our researchers' arts, humanities, and social science work covers the Southeast Asian region and beyond, and yet still a significant portion focuses on Singapore itself. We have thus created the SRN to serve as a showcase for past research, a resource for current research, and a platform for future research on Singapore. The aim is to provide a useful tool for academics, policy makers, and those with a general interest in how research has helped shape the story of Singapore.
Thousands of academic publications have been collated, and many already have full text versions for browsing via NUS Scholarbank. What has emerged in the process of putting together the SRN is that we have realized the vast wealth and potential of the project. We have also added an archive of Singapore-related creative work, which encompasses novels, poems, plays, and short films – all written by FASS Faculty and students, past and present, as well as our SG Photobank containing photographs of Singapore by the FASS community.
SRN publishes weekly highlights of FASS research pertaining to Singapore and organizes regular events to present faculty research and publications. We have also put together collections of our researchers' grant-funded projects on Singapore. We envision the SRN as a vital resource for scholars interested in work on Singapore and hope you can share our enthusiasm for this exciting and worthwhile project which offers users a studied view of Singapore in all its diversity and complexity.