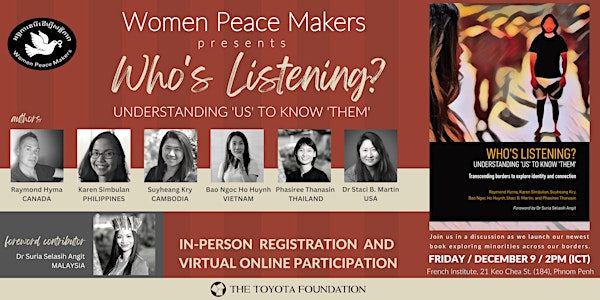 Book Launch: Who's Listening? Understanding 'Us' to know 'Them'
Join the in-person launch for Women Peace Maker's latest book, "Who's Listening? Understanding 'Us' to know 'Them'
When and where
Location
Institut français du Cambodge (French Institute of Cambodia) No. 218, Keo Chea (St. 184) Phnom Penh, Phnom Penh 12211 Cambodia
About this event
JOIN THE LAUNCH!
A new book exploring conceptions of home and identity in the Mekong Region has just been published that takes readers into a three year initiative with minority groups across Cambodia, Vietnam, and Thailand. Funded by the Toyota Foundation in Japan, the regional team employed an innovative community research methodology known as Facilitative Listening Design (FLD) to better understand how minority groups live in their countries and what connects them across borders to others.
The book shares findings and elaborates on the journey of ethnic minority groups and migrant communities who conducted their own research and gathered information on sense of place and identity. Ethnic Khmer in Vietnam, ethnic Vietnamese in Cambodia, ethnic Khmer Surin in Thailand, and Cambodian migrants living in Thailand made up the 120 participants who shared their stories
One of the most important goals of the publication is to get people to really think about how they see people as 'the Other' and how our own identities are so intertwined in being part of a group that ultimately causes us to differentiate from others. According to the authors, who hail from seven countries, it is possible to transform that perception and find ourselves in others, even when we believe they are so different from our own group.
What? Book Launch: Who's Listening? Understanding 'Us' to know 'Them'
When? Friday, 9 December 2022, at 2pm
Where? French Institute of Cambodia, No. 218, Keo Chea (St. 184), Phnom Penh
Online An online option via Zoom will be offered to those who register for virtual
*Note - refreshments will be served and you are also invited to join a subsequent event later in the evening for the first screening of a new regional short film on the topic.