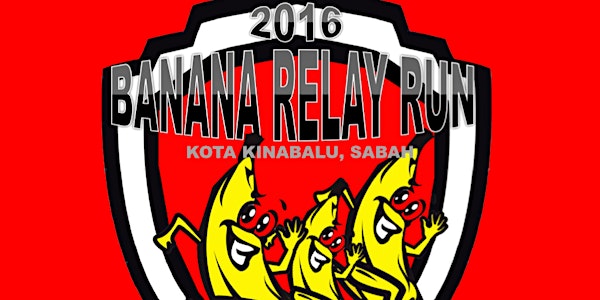 BORNEO BANANA RUN 2016 (5 JUNE, 2016 @ LIKAS)
When and where
Location
Tanjung Lipat Kota Kinabalu, Sabah 88400 Malaysia
Description
This is the 1st Banana Relay Run in Kota Kinabalu Sabah, aims to promote friendship, teamwork & bonding, regardless of pace. Height or gender. Participants can register individually or as a group, and be randomly assigned to Teams of 4 by the organizer, OR register as a Family (Man, Women and Children (Below 7 years)).
The run category includes
(i) 10 Km (Family Catergory)
Relay - Three Runners : Daddy, Mummy and Son/Daughter (Below 7 years old)
(ii) 15 Km (Open)
Relay - Three Runners : all runners need to register individual and the organiser will form a banana team for you randomly.
What is Banana Day
If we could get a dollar for every time that question is asked..... Anyway...
First and foremost "Banana Day" is a day of FUN! it is a day to take things less serious, and enjoy your environment. By focusing our attention on bananas for just one day, we have come to realize that people enjoy themselves, they meet new people, share a laugh, and go about their business on a happier note. On the grand scheme of things however, "Banana Day" serves a bigger purpose, stated in our proclamation.
History of Banana Day
The idea of Banana Day was conceived by a West Chester University student named Rodolfo P. Tellez, (Rudy) during his Senior year in 1996. After some planning and many confused looks the first Banana Day became reality and 3,000 bananas were distributed campus wide and over 50 hours of community serviced were completed.
In 1997, another student by the name of Robert Perino took on the project of organizing Banana Day. After months of planning and many confused looks, the Second Banana Day came to life.
1n 1999 Banana Day came back to West Chester University, and for the past 4 years now it has provided tons and tons of laughs! over 28,500 bananas have been given out (Free of Charge). Over 300 hours of community service have been completed, over 500 t-shirts have been giving out (Free of Charge), and millions of people in the tri-state area have heard or seen via radio magazines, newspapers and television about this day.
In 2000 "Nana" and "Nanner" were introduced as the official mascots of Banana Day. Students are selected from a group of volunteers to greet and get people excited about Banana Day. There is not a single face that does not light up with a smile the moment they see these two characters.
For Banana Day 2002 and 2003, Chairman Judd Strauss did an amazing job getting people organizations together and distributing over 10,000 bananas!!!! For Banana 2003, "Anna Banana" visited us from Delaware, and we also had a surprise visit by Jolly Ol' Santa! Make sure to check out the pictures! 

For 2004, and 2005 Co-Chairs Karen Arnold, and Anthony Maalouf did a great job with the help of Michael Weaver in making sure that thousands of people enjoy a banana or more on a wonderful weather day!
For 2006, Stephanie Schrader and Jim Simpkins plan to make the festivities even more interesting and fun!! We have also learned that Cindy Williams will be organizing Banana Day in her company in Iowa!! We are very happy to see that the joy of the Banana Day message is growing!!!
In 2007, Stephanie Schrader put her committee to work hard again and they were able to deliver 10,000 bananas to the University and the Borough of West Chester! Also the very coveted Banana Day T-shirts were given out to 400 people! This year, Kanga, the Village Roo joined the mascots. It was also very nice to see Anna Banana back in action!
When Exactly is Banana Day?
You too can help us celebrate Banana Day! The "official date" is: The Third Wednesday of April. It officially starts at 11:50AM (US Eastern Standard Time) since that is the time that bananas are being distributed campus wide at West Chester University.