Description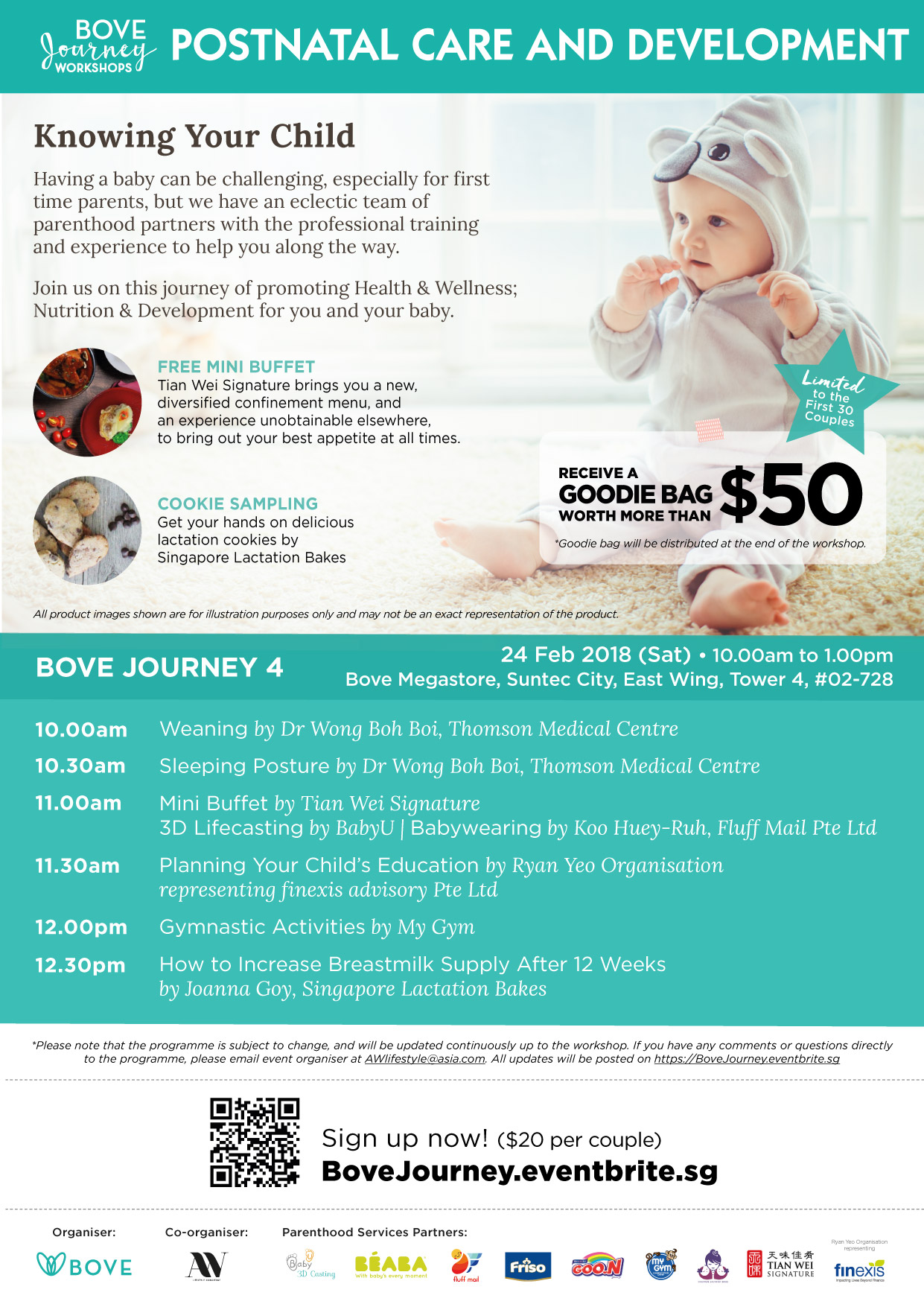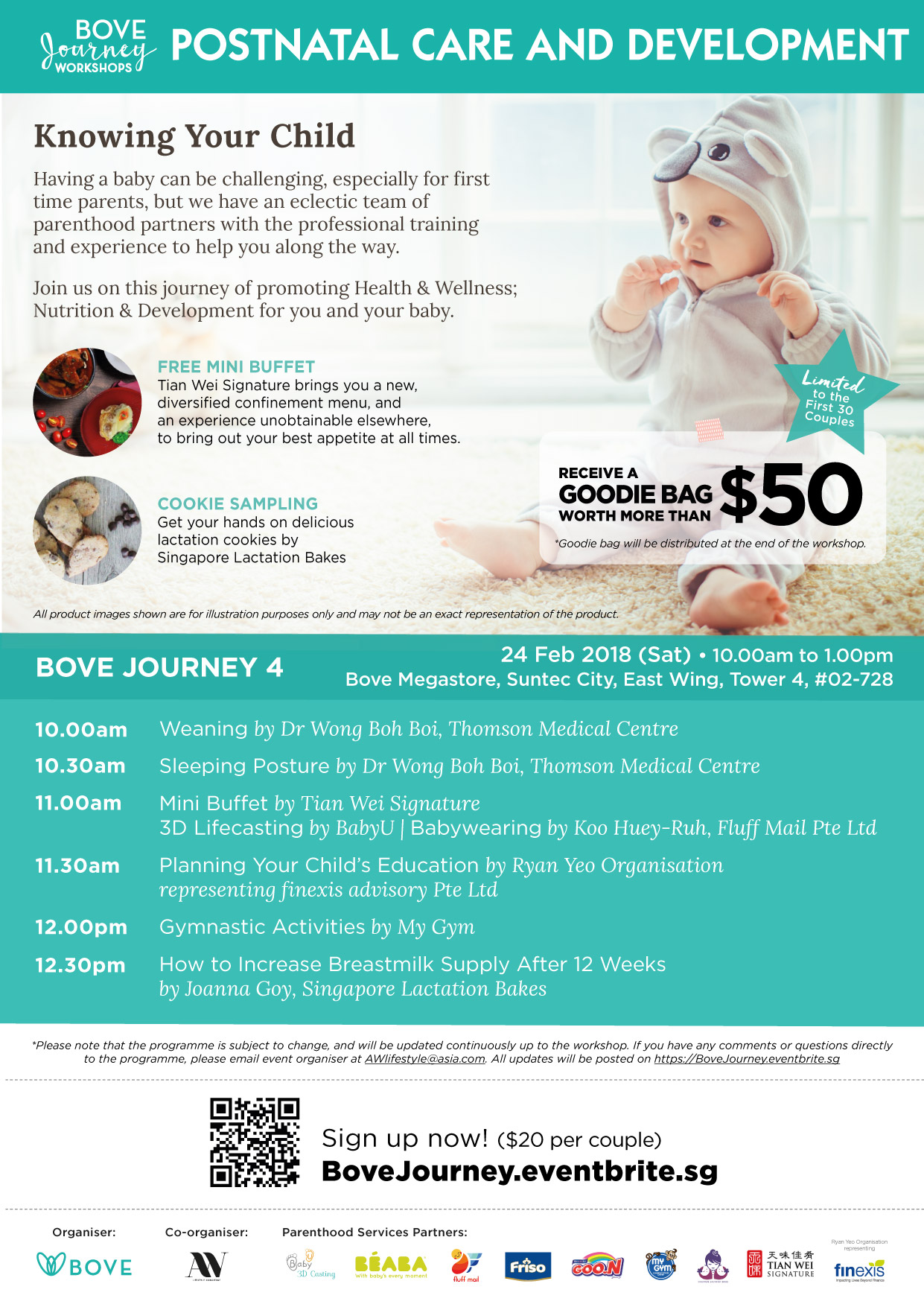 Sign up now!

Receive A GOODIE BAG* worth more than $50!




*Limited to the first 30 couples.
About Our Speakers
Weaning & Sleeping Posture by Dr Wong Boh Boi
Senior ParentCraft Educator
Thomson ParentCraft Centre
Dr Wong Boh Boi joined Thomson Medical Centre (TMC) in 1989. She headed the nursing education and ParentCraft department in 1999 and put in place a structured Childbirth Education (CBE) programme for the hospital, which she still teaches till today. She established the Thomson ParentCraft Centre in 1999 to educate and build confidence of young parents in Singapore. Renowned for skill in settling a crying baby, many know Dr Wong as the "Baby Whisperer".
As an experienced Lactation Consultant, Dr Wong has educated many young parents on how to provide better care for their newborn child. She pioneered the popular baby and children massage as a tool for parents to soothe agitated babies. She also conceptualised the "Thomson Dad's Enrichment Programme" to equip fathers with the basic necessary information to support their wives during pregnancy, and through to childbirth.
Dr Wong graduated with a Bachelor of Health Science (Nursing) from the University of Sydney with distinction. She later went on to obtain a Master of Education (Early Childhood Education). She recently received her Doctor of Philosophy (Nursing) from the National University of Singapore. She is a professional member of the International Board of Certified Lactation Consultation (IBCLC), a committee member of SIFECS (Sales of Infant Foods Ethics Committee, Singapore), and ABAS (Association for Breastfeeding Advocacy, Singapore).
Dr Wong frequently speaks about issues on pregnancy, childbirth and breastfeeding at public seminars and over broadcast media. Besides contributing articles to various parenting magazines, she has also written three books (Celebrating Life: Childbirth, Childcare and Breastfeeding) available for sale at all Singapore bookstores. She has co-written a fourth book (Pregnancy to Childbirth) with Dr TC Chang and has plans to write two more books.
Babywearing by Koo Huey-Ruh
Fluff Mail Pte Ltd
Huey-Ruh started her babywearing journey 8 years ago when her first child was born. Now a mother of 3 boys, Huey-Ruh is one of the very few babywearing consultants in Singapore double-certified by the prestigious Die Trageschule Dresden (Germany) and School of Babywearing (UK).
As an avid baby wearer and passionate educator, Huey-Ruh has generously shared her knowledge in various forums and helped many parents in their babywearing needs. Huey-Ruh is also the Managing Director responsible for distributing Kokadi baby carriers and other good quality baby carriers in Singapore.
Apart from her pursuits in babywearing, Huey-Ruh runs her own full-time data analytic consultancy firm. She is a double-degree holder in International Finance and Japanese studies and a Master degree holder in International Business.
Planning Your Child's Education by Ryan Yeo
finexis advisory Pte Ltd

Securing your children's future begins with you today!
There is no better gift than the gift of "Quality Education".
With the security of an education fund, your children will have a valuable advantage in achieving a brighter future. Have an added peace of mind and make sure that their education plans are well protected even if something unexpected were to happen to you.
Advisory Director, Ryan Yeo embarked on his journey as a Financial Consultant in 2007 with finexis advisory Pte Ltd. Currently, he is managing more than 300 financial portfolios of families and clients in Singapore.
He has attained the designation of ChFC®/S and CLU®/S by The American College of Financial Services, and he also holds the AEPP® designation awarded by Estate Planning Practitioners Ltd.
He is known to be an engaging and informative speaker with a simple presentation style that makes learning enjoyable, yet providing the audience with a wealth of knowledge and information.
How to Increase Breastmilk Supply After 12 Weeks by Joanna Goy
Singapore Lactation Bakes
Singapore Lactation Bakes is the brainchild of founder Joanna Goy and specialises in the creation of lactation cookies and muffins.
Inspired by her own personal breastfeeding experience and driven by her desire to aid mothers in their breastfeeding journey, Joanna came up with a huge variety of flavours to suit different palates of nursing mummies.
Singapore Lactation Bakes knows how tough the initial weeks of nursing can be and to help lighten the load, they too offer door-to-door delivery services for mummies who are looking to boost their milk supply!
My Gym
Trainers from My Gym will be conducting a preview session on some age-appropriate activities.
My Gym has developed an extraordinary program and facilities devised to help children 3 months thru 8 years of age develop physically, cognitively and emotionally. We have over 500 locations in more than 30 countries offering structured, age-appropriate, weekly classes that incorporate music, dance, relays, games, special rides, gymnastics, sports and more.
Tian Wei Signature
FREE Mini Buffet
Tian Wei Signature provides catering services of Confinement Meals in Singapore. They believe in pampering new mothers during their time of recuperation, offering new, diversified confinement menu, and an experience unobtainable elsewhere. Their promise is to bring out your best appetite at all times.