Description
This workshop is supported by LearnSG Seed Fund.
Branding & Digital Marketing Essentials Workshop (Max. 20 Participants)
Workshop Fee: $22/pax (U.P. $125/pax)
Due to funding support from LearnSG Seed Fund for this workshop, tickets are $22/pax. Limited seats only.

Course Outline
1) What branding is, and the importance of having a brand
2) The difference between a brand and a logo
3) Identify elements that contribute to a brand
4) 5 Key Principles to have a versatile brand
5) Learn & Identify the importance of typography in brand identity
6) 3 fundamental digital tools every business needs (Website, Facebook and Email)
7) How you can get started with these digital tools
i.e. Facebook (For Digital Marketing and Advertising), Email Marketing (MailChimp), WordPress for Websites (Tools, Apps and MailChimp Integration)
8) MailChimp Pop-Up Forms (Lead Collection Strategy)
9) Mapping out your very own digital marketing strategy, and measure the desired outcomes: i.e. Facebook, MailChimp
You should attend the workshop if you are:
• Business Owner, Marketer, Trainer, Coach who are interested to learn about branding
• If you are looking into re-branding, this workshop will help you understand the elements of a good brand
• Business Owner, Marketer, Trainer, Coach who wants to start with digital marketing, to understand how a digital marketing strategy works
• Get more results with your digital marketing efforts
What to Bring
Please bring along a laptop and charger for this hands-on session.
Bring along the questions you have about branding and digital marketing!


Trainers for the Branding & Digital Marketing Tools for Entrepreneurs



Liyana Ahmad is the Founder of Lookeesan Designs, she is also an ACTA Certified Trainer.
She has been helping other solo-preneurs and entrepreneurs with their branding efforts, and occasionally managing their digital accounts.
She hopes to share some insights and tools to branding that will give both solo-preneurs and entrepreneurs a head start to branding themselves visually and online.
Follow Lookeesan Designs on Instagram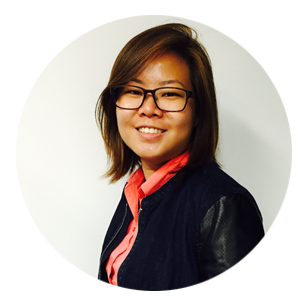 Charmaine is the Creative Director of Sky Digital Agency and The Good Designers.
She has been conducting training since 2015, equipping her clients in Facebook Marketing, Search Engine Optimization (SEO) & Email Marketing, and other key digital marketing topics. Till date, she has conducted more than 1,000 hours training. Charmaine is also an ACTA Certified Trainer.

Charmaine makes learning interactive, practical and fun. She enjoys breaking down complex topics to help participants gain better understanding on Facebook Marketing, SEO & SEM, Infographics Design and more!
She strongly believes that the training industry needs more courses and training with smaller group of participants that allows them a more conducive environment to learn, ask questions, and have more 1-to-1 time with the trainer.

Follow @skydigitalagency on Instagram
Follow @thegooddesigners on Instagram

Other SkillsFuture Credit Eligible Courses under Sky Digital Agency
✓ MailChimp Email Marketing for Beginners
✓ Grow your business with Facebook Marketing
✓ Advanced Facebook Ad Manager Tool Course
✓ Instagram Marketing for Beginners + Social Media Graphic Designing with PowerPoint
✓ Content Marketing Strategies for Startups & SMEs
✓ SEO Internet Marketing for Beginners
✓ Integrated Facebook Marketing for Business and E-commerce Owners
✓ Integrated MailChimp Email Marketing for Business and E-commerce Owners
✓ Google Analytics Course for Business and WordPress Website Owners

Enquire with us at workshops@skycrm.asia

Connect with us on:
Facebook | Instagram | YouTube | Website
You can also read even more testimonials on our courses on our Facebook Page
FAQs
1. Who can i contact should i have questions?
You may e-mail us at workshops@skycrm.asia


2. Is there a minimum class size to proceed?
Yes. We require a minimum class size of 20 people to proceed with the class.
In the event that there are insufficient participants, we reserve the right to reschedule the class. Under such circumstances, we will inform you no later than 3 working days before the event.

3. Where is the venue of the workshop?
6 Raffles Quay, #15-00, Singapore 048580

Nearest MRT: Raffles Place, take exit "i". Rain proof location from Raffles Place MRT.
The building 6 Raffles Quay is just beside Ascott at Raffles Place.

Our office is also 3 min walk from Downtown Line Exit A, just after Hong Leong Building.

4. I'm driving, where can I park?
There is parking space at the building 6 Raffles Quay itself at $2.50 per 30 min block.
For weekend classes, we recommend our participants to park at SGX Centre, at $3 per entry.

For Corporate Training Enquiries, please email us at trainings@skycrm.asia on your requirements, and we will be in touch with you within 2 working days.