Event Information
Location
Billy Kueek International
Unit 3A02, Level 3A, Lift Lobby 1, Block C
Damansara Intan, No 1, Jalan SS20/27
Petaling Jaya, Selangor 47400
Malaysia
Description

A POWER-PACKED Workshop That Combines Proven Techniques From NLP + Hypnosis + Time Line TherapyTM
"We are products of our past, but we do not have to be prisoners of our future." ~ Dr. Billy Kueek
How is it that as grown adults - with abilities to resolve, rationalize and reason - we still sometimes end up acting in ways that we later regret?
That said, there are also times when we are proud of ourselves for successfully having dealt with situations with appropriate actions and thereby, achieving desired results. So, how is it that we are sometimes able to take control of situations while other times we end up with regret and frustration?
The mind is made up of two parts - the conscious and the unconscious mind (some called it Subconscious while others call it Super Conscious). The conscious mind does the thinking and analyzing, and it is the unconscious mind that keeps track of everything about you and is responsible for actions and behaviors. Given ad-hoc situations, we react and respond unconsciously and only do the thinking after that. That explains why we sometimes think, talk and act undesirably.
Now, NLP Master Trainer & Hypnotherapy Trainer Lim Kit Wan combines her years of experience conducting corporate & public trainings, across cultures and industries on topics such as Neuro Linguistic Programming (NLP), Hypnosis, Time-Line Therapy™ and behavioral sciences, into a power-packed one-day workshop.
This BREAK THROUGH! Workshop utilizes breakthrough combination strategies to empower you to unleash resources within you with the right technique and programming. You will:
Learn techniques for better state management and mental relaxation

Liberate yourself from limiting beliefs & learn success principles

Tap on your inner wisdom for problem resolutions

Discover your inner values that drives you

Recognize destructive patterns that hold you back

Experience hypnotherapy to release inner negativity & unleash your maximum potential

Resolve conflicts & make better decisions by tapping into your inner oracle

Learn how to set & attain your goals, be it for professional and personal matters
NLP states that if you do what you have always done, you will get what you have always gotten.
Activate your resources now and Live By Design, Not By Default!
*HOW TO REGISTER & MAKE PAYMENT*
To register: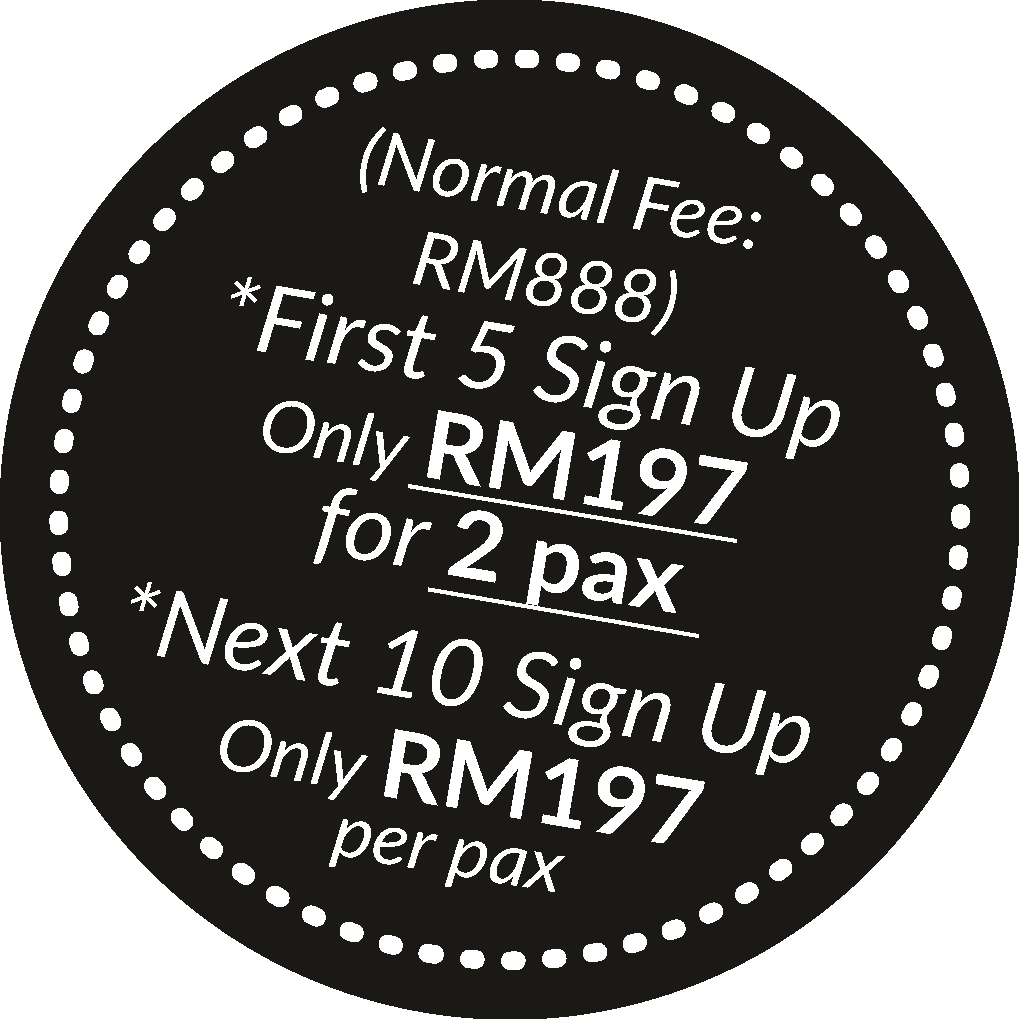 1) Complete registration details here
** Registration is free. Once payment is made then registration is considered confirmed.
To make payment:
2) Then make payment via online transfer/ cash deposit
Bank account details for payments:
Name: Billy Kueek International Sdn Bhd
Bank: Maybank
Account number: 5-14440-11623-1
3) Attach receipt/ proof of payment & email to: cindy@billykueek.com (Subject: BreakThru! registration/ payment)
4) Include these details of participant(s) in email:
-- Full name
-- Mobile number
-- Email address

Billy Kueek International is a training company that specializes in talent enhancement training for corporate & public programs and offers NLP & Hypnotherapy certification programs at all levels - from Practitioner, Master Practitioner and all the way to NLP Trainer & Hypnotherapy Trainer level.
Numerous soft skills programs are also available, such as Applied NLP in Sales, Applied NLP in Leadership and Coaching, and MasterClass Train The Trainer programs.
By now, as you are reading this, know that you are in charge of your own happiness and success. Personal enhancement and development are now within your grasp; take action now!
Date and time
Location
Billy Kueek International
Unit 3A02, Level 3A, Lift Lobby 1, Block C
Damansara Intan, No 1, Jalan SS20/27
Petaling Jaya, Selangor 47400
Malaysia
Organizer of BREAK THROUGH! Workshop
At Billy Kueek International, we take P.R.I.D.E. as a premier provider of excellent HR & Management Consulting and Training Solutions to Inspire, Motivate and Strengthen our clients to reach their highest potential and improve their lives wholesomely.
Recogized as the premier training company in the region, Billy Kueek International is led by Billy Kueek himself. Our office in Malaysia is run by Country Director Lim Kit Wan. Billy is the first Hypnotherapy Master Trainer in South-East Asia, and both Billy & Kit are the only NLP Master Trainers certified by both the American Board of NLP (ABNLP) & NLP University (NLPU). 
Today, the company has a team of trainers, associate consultants and coaches from varied industries who are able to offer their expertise and knowledge to meet our clients' diversified needs. All our trainers are hand-picked certified MasterClass Trainers while our coaches are certified in Impact System© Coaching and/or NLP Coaching, backed by their certifications in Neuro-Linguistic Programming (NLP), Time Line Therapy™ and Hypnotherapy.
To date, we have trained over 1,500 trainers regionally and we are the largest ABNLP, TLTA and ABH approved NLP, TLT and Hypnotherapy Training Institute in Asia. With offices in Singapore and Kuala Lumpur, Malaysia, Billy Kueek International also has representations in Australia, China, Indonesia, Hong Kong/ China, Japan, Taiwan, Vietnam and Thailand.
We continuously empower ourselves so that you too can be empowered!
For more info:
Google map link to our KL office
+6012 434 9500 / +6012 495 9500 /+6012 649 6500 (KL) 
+65 8388 0500 (SG)