Description
Fund management is one of the world's hardest and most sought-after industries to break into - only those on the inner circle even become aware of vacancies, and having academic pedigree is not enough. Don't miss this rare opportunity to hear from industry insiders on what a career in PE, VC or hedge funds really entails - and how you can prime yourself for entry into this elusive industry even without a background in corporate finance.
Become the next generation leader in savvy deal-making!
IN A SHORT 2 HOURS, YOU WILL GET THE INSIDE SCOOP TO:
• PE vs. VC: what are the different job scopes and career paths?
• What's the big deal with PE and VC, and why it such a difficult industry to enter?
• What's in it for you - compensation and exit opportunities
• What does it take to get hired and how can you start planning your entry?
BONUS: Includes post-session networking with some of your "to-be" peers currently working in the space. They will give you first-hand insights into the day-in-the-life of an aspiring fund executive, and reveal what it takes to kick off your career in the most talked-about industry around.
AGENDA:
7:00-7:30 Registration & Dinner
7:30-9:00 Presentations and Speaker Sharing
How working in a funded start-up can prepare you for a transition to VC (Priscilla)
A Career in Fund Management: Altnerative Routes to Entry (Ayyaz)
Defining moments in my career & understanding what non-technical skills companies are looking out for? (Olzhas)
9:00-9:30 Networking & Cocktails
WHO SHOULD ATTEND:
• Postgraduate or MBA students who will be graduating within a year
• Mid-career switchers with a strong interest in investments
• High-potential candidates with a strong interest in investments
OUR EXPERTS: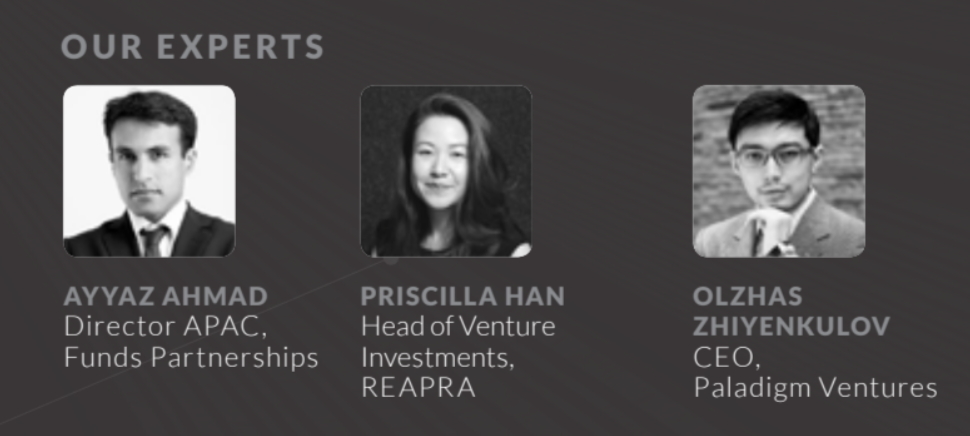 PRISCILLA HAN, Head of Venture Investments, REAPRA

Priscilla joined REAPRA in July 2017 and brings over 10 years of M&A, direct investment and start-up experience to the group. Prior to REAPRA, Priscilla was the Director and Investment Committee Member of North Base Media, a global digital media and technology fund. She was responsible for the sourcing, financial due diligence and portfolio management at North Base Media. She started her career at Goldman Sachs, then moved into a career in M&A. She successfully closed M&A deals valued over SGD 370M across Southeast Asia, Japan and NZ at Deloitte and PrimePartners.She also co-founded a mobile discovery app, WeWantSugar and owned a cafe in Singapore called, Cups N Canvas. Priscilla earned an Executive MSc from Baruch College, NY and Bachelor in Corporate Finance & Marketing from the University of Western Australia
OLZHAS ZHIYENKULOV, CEO, Paladigm Ventures
Olzhas Zhiyenkulov is the CEO of Paladigm Capital Pte Ltd. Mr. Zhiyenkulov has over 10 years of experience in the investment industry. He is a graduate of the prestigious Cass Business School in London. He started his professional career performing financial analysis and building international relations at one of the top brokerage and consultancy houses in Kazakhstan. As fund manager, he has worked with nearly all major banks in Singapore, started 3 funds and invested into a number of start-ups.

AYYAZ AHMAD, Director APAC, Funds Partnerships
Ayyaz is the APAC Managing Director of Funds Partnership. Having decided early in his career to switch from chemical engineering to recruitment, in 2005 he joined a leading recruitment firm in London to help build the asset management desk. After the firm listed on the AIM index, he exited along with Rana in order to co-found Funds Partnership in 2007. Following on from the establishment and fast growth of Fund Partnership's European business, in 2010 Ayyaz relocated to Singapore to extend Funds Partnership's reach across the globe. He is supported by a team of 7 staff across two offices, with the APAC seat being in Singapore. Funds Partnership has quickly built a strong reputation for excellent hires in Private Equity Funds in Asia, specifically in front office roles in Hong Kong and China.