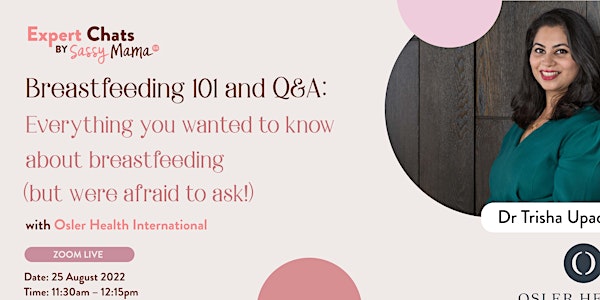 Breastfeeding 101: Sassy Mama Expert Chat with Osler Health International
Join us for Breastfeeding 101! Sign up for our FREE Sassy Mama Expert Chat with Osler Health International.
About this event
Whether you're expecting and thinking about breastfeeding or currently breastfeeding, this Sassy Mama Expert Chat is for you! In our live discussion and Q&A with Dr. Trisha Upadhyaya from Osler Health International, she'll discuss valuable pointers such as:
Nutritional benefits and current breastfeeding recommendations. The American Association of Paediatrics have recently updated its guidance and supported "continued breastfeeding until two years or beyond, as mutually desired by mother and child". Read what Dr. Upadhyaya has to say about this!
Tips to help empower you along your breastfeeding journey, including how to get that perfect (sometimes seemingly elusive) latch.
Troubleshooting common breastfeeding woes like low and oversupply, cracked nipples and pain, tongue and lip tie, blocked ducts, engorgement, mastitis and more. Breastfeeding isn't for the faint of heart!
When to seek support from a GP or a lactation consultants.
Want expert advice? You'll get to ask Dr. Upadhyaya any breastfeeding questions you may have after the webinar!
About The Speaker:
Dr Trisha Upadhyaya MB ChB (Birmingham, United Kingdom), GDFM (Singapore), MRCP (United Kingdom) - Dr Upadhyaya enjoys all aspects of Family Medicine. She has a keen interest in chronic diseases, including management of complex co-morbidities. She is an active advocate of preventative care for her patients, believing that prevention is the best way to protect patient health. She is passionate about women's health, especially breastfeeding medicine. She also sees children of all ages, including newborns.