| | |
| --- | --- |
| | |
Event Details
1 place, 2 days, 7 speakers!!
Get ready to bring your business and personal life from mediocre to significance!
Over 2 days, 7 speakers with different and powerful tips will guide and provide you with applicable tools and tips! Learn how to master influence over people, impact with your products and services and impart on your skills and knowledge!
All these absolutely complimentary! What are you waiting for? Register now as seats are limited! 
BRIM FESTIVAL 2019 - WORKSHOP SCHEDULE  

TOPICS & SPEAKERS DETAILS 
Shine in Your Career
Unhappy at work, but feel that you have "no choice"? Wanting to grow career but not knowing where to start?   Are you fearing being replaced by machines? You are not alone in this. Many people feel the same way too. It is indeed daunting to take that first step.
Our past education has prepared us for a job, not how to build a career or life! I was like this too; in fact I went to ITE and I thought "It's The End". In this workshop, I will share with you how I have transformed from Doom to Bloom, able to manage close to 100 staff in global MNC to being cited by our PM Lee in National Day Rally. Join me on a journey where I will help you find clarity, motivation and be a better empowered version of yourself than before!
Speaker : Brenda Tan
Brenda Tan was cited by the Prime Minister of Singapore in his National Day Rally Speech in 2008 as a story of excellence, she is dedicated to helping individuals and organisations maximise their capacity for success. Her story was featured in various  media. As author of "Regain Your Power", she share many important life-changing lessons on empowering oneself and living fully.
Brenda is also internationally accredited certified in Directive Communication Psychology, Colored Brain ™ Profiling and training methodology.
Brenda volunteers at the Singapore Prison Services, and is part of ITE mentoring programme. 
---
How Full is Your Container - Creative Stress Management for the Busy City Dweller
Are you taking in too much responsibility and not being aware of it? Are you feeling stressed and overwhelmed? Many of us struggle with stress on a daily basis. Relationship issues, physical illness, work, as well as financial concerns are some common stressors that can burden a person. While some stress is normal and even positive, excessive levels of stress can negatively one's physical, social and emotional well-being. Learning how to cope with stress is thus a crucial part of our daily life. How then, can we develop these important coping skills?
This experiential session aims to increase self-awareness and introduce participants to practical and creative stress management and self -care strategies to manage stress and cope effectively.
Speaker : Adelyn Lee 
Adelyn is an accredited Play Therapist with Play Therapy International (PTI) and the founder of Pandora Box Play Therapy. Adelyn strongly believes in the power of play not just in the lives of children but also in adults too. Her personal experiential learning from her play therapy training further reinforces her belief in the benefits of play for every individual. Adelyn conducts mental health related workshops in schools, corporate and community organisation, emphasizing on stress management and personal well-being with Creative Arts and pioneered the launch of a series of creative play workshops aimed at enhancing parent-child bonding in community organizations in Singapore.
---
Life on Your Terms - Healthy Boundaries for More Fulfilling Relationships
The workshop will focus on establishing personal boundaries and how boundaries in relationships keep the relationships safe. Poor boundary management leads to continual problems. Having too many personal boundaries creates isolation; having too few draws constant violation. Having a combination of too many boundaries in some areas and too few in other areas is a common variation that creates alternating isolation and violation.
Some areas we will touch on include: Insecurity about power issues in relationship and how to confront abusive patterns; How to fulfil the love in families while managing the craziness; Putting boundaries on one's own unhealthy behaviours; Finding 'who am I?' in situations and feeling clear and strong about it.
Healthy boundaries are only created and managed by one's choice and vigilance. They are not automatically bestowed by life or at birth. When present, they enable a life freer from negative patterns rooted in the past, allowing that past to stay in the past.
Speaker : Lisa Tan - Koh 
Lisa Tan-Koh is a "Love Whisperer" and the embodiment of the Sacred Feminine who knows how to balance the demands of being a mother, wife and Wild Woman. Her work has seen her help many women (and men) about facing the challenges of modern living on the work, home and personal fronts. Her speciality is in helping women rediscover their feminine selves and bring the essence of the Wild Woman into their lives through "slow living" and self-care. She runs her company, Maven Communications Pte Ltd, which she founded with her husband Lionel. Lisa has a Bachelor of Communications and is a Certified Professional Coach, Clearer, Trainer and Facilitator. 
---
Be Proud of Yourself 
Many people ask me these questions:
"Mel, will I have to spend a lot of money updating my wardrobe? Can I just dress according to what I have in my wardrobe without spending a lot of money?"
"Mel, How much do I need to renew my wardrobe to dress with impact? Can I do it without much accessories in my wardrobe?"
In my 1-1 experience with my clients, I would say, it is all about their beliefs in themselves, like
         - "Only wearing black makes me look slim"
- " I don't need to care about my image, I just wear things that are comfortable" 
- "Woman who wear stockings are feminine" 
- "Man don't need to dress up, it's for woman" 
- "Flare clothes can cover my big tummy and thighs"
This workshop is to help everyone man and woman to potentially create the look they have always wanted without spending a lot, so that they can bring out the REAL THEM.
Speaker : Melissa Chen 
Melissa Chen is a Certified Image Consultant and a Fashion Stylist & Personal Shopper with FSWM Academy. Her unique Image Transformation Process (ITP) has helped many of her clients to change their limiting self beliefs, find their true identity and thus enabling them to buy the kind of clothes that brings out their essence. Melissa's personal shopping and fashion styling methods has helped her clients to look good, maintain their wardrobe without breaking the bank and yet create different looks for different occasions. Melissa is a Certified Image Consultant, Fashion Stylist & Personal Shopper and has a Diploma in Industrial Design and Sales and Marketing. 
---
Purposeful Relationship 
Like fine perfume, you can maintain a sweet aroma long after the first spray. Perhaps some may have become stale after going through life's challenges or even become rancid due to repeated disappointments.
How can you tune yourself to your inner being so that the way you respond and speak brings life and the fragrance of authentic self with everyone and everywhere?
Discerning effectively requires understanding of two different voices which help us connect with others and with ourselves thus allowing us to be a positive influence in our life, family and vocation.
Living Intentionally, Identity, Purpose and Significance (LIPS) with Marie Ang
How do we achieve the P.R.I.M.E. of our life?
Let Marie, take you on a quick journey on discovering your purpose, maintain great relationship, having a solid identity as well as keeping positive mental attitude and healthy self esteem!
Get tips on overcoming your pain and gaining a new perspective and insights to handling them!
Speaker : Marie Ang 
Marie Ang is the Founder and Managing Director of Solomon's Guild and the Asia Pacific President of Academic Management Group, LLC, Marie is also a certified John C. Maxwell and ICF coach, mentor and serves on the advisory boards of several businesses in Australia, Hong Kong and Singapore.
Marie has over 30 years of overseas and local corporate management experience and in diverse industries such as education, banking, finance and aviation.
Marie is also an author and a sought-after speaker in various business, educational and professional fora. 
---
Leadership Patience in Business 
Leaders need to go fast to go far to succeed, right? WRONG!
Ask any successful business owners, leaders and investors what do they look for in a leader? It is the ability to start and sustain a business. The greatest attribute a business leader can have is the patience to allow progress to happen in its own time.
In today's "instant" world, leadership agility – the ability to balance multiple challenges calls for PATIENCE – an often-overlooked virtue in Leaders to avoid the instant need for success and to prevent leadership burnout.
You will discover how by practising patience with the 3Ps – Process, Product, People (and self) can help you become a more successful leader in your business.
Speaker : Cheng Meei Chiann
Meei Chiann is a certified practising management consultant and coach in business, people and leadership. She has led high performing teams in Total Rewards, Performance, and HR Operations in her past roles with large local corporations and multi-national corporations.
As a Consultant and Executive Coach, she helps companies create business excellence through growing people excellence. She continues to receive training from Dr John Maxwell and Dr Marshall Goldsmith, the #1 Global Leadership Guru and #1 Global Executive Coach. 
---
Healthy Well-Being Leads to a Happy Life 
Most of us want to be happy and live a satisfying life. However, many people frequently are overwhelmed with negative emotions, and do not seem to be able to overcome the stress associated with daily life. What would life be like if, instead of feeling negative and stressed, we felt more positive, engaged and resilient? How can we experience more happiness and inner peace in our lives?
In this workshop, participants will learn various practical ways to help them increase positivity, and have a greater sense of happiness.
Speaker : Joy Hou
Joy Hou is a Registered Psychologist and a Full Member of the Singapore Psychological Society. She takes a special interest in the mental and emotional well-being of individuals. Her work experience includes providing counselling services for individuals who seek emotional and psychological support. She has worked in both clinical as well as non-clinical settings, including schools, voluntary welfare organizations and the Institute of Mental Health. In addition, Joy also regularly conducts mental health-related talks and workshops in schools, and corporate and community organizations. She is an approved trainer of the SME Health+ programme, which is an initiative by the Health Promotion Board to support Small and Medium Enterprises (SMEs) in their health promotion journey. 
---
BRIM is an initiative developed by IWFCIS. 
As female entreprenuers / business owners, we understand the journey of being in business hence we developed BRIM to help women strive better in their BUSINESS but not forgetting the importance of RELATIONSHIP & IMAGE building as well as how to keep sane with the right MENTAL ATTITUDE.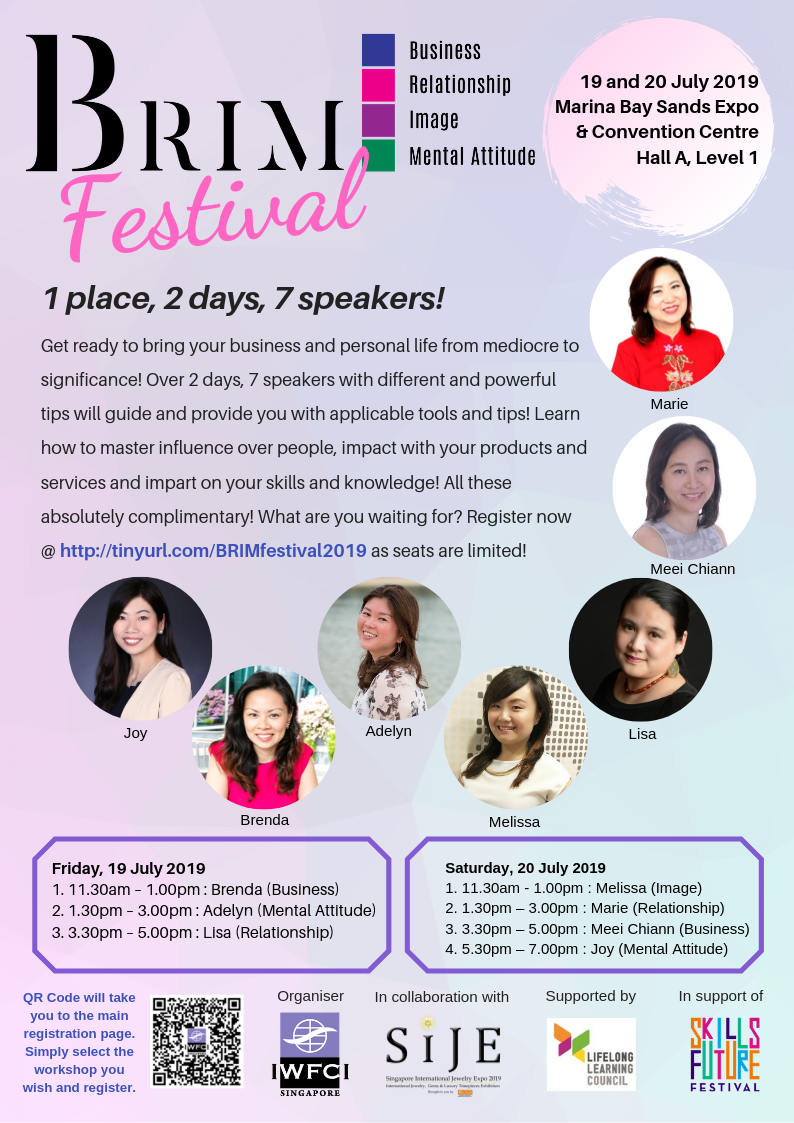 When & Where

Marina Bay Sands Expo & Convention Centre Hall A, Level 1
10 Bayfront Avenue
Singapore, 018956
Singapore

Organiser
The International Women's Federation of Commerce and Industry (IWFCI) provides women entrepreneurs access and resources to participate in business and networking opportunities in an ever changing growing global marketplace. IWFCI is a global business network made up of international trade opportunities of over 2 million affiliated members worldwide. IWFCI gives businesswomen access to global markets through this unique chamber of commerce platform.