Event Information
Refund Policy
Contact the organiser to request a refund.
Eventbrite's fee is nonrefundable.
Brand Protection through Trade Marks
About this Event
Brand is a Foundation and Reputation is a journey. 
Imagine you have spent a tremendous amount of time, cost and effort to develop a brand and reputation, is it not dangerous to leave your brand unprotected and fully naked to the risks of being stolen and infringed? 
It happens almost every day. Someone has a great brand and another person who is unoriginal steals that brand. In some occasion, it can be a coincidence that the two parties simply have similar brand without realizing it.
Worst case scenario is if you fail to protect your brand and your business have been running for years, you may then be in a state of panic trying to figure out what to do. 
Your brand is a business asset of your company. Learn how to protect your brand, understand and secure your
intellectual property rights. This sets the foundation to succeed in your business.
Trademark can work effectively across borders, cultures, and languages. It can protect your market share, support and raise your business growth and expansion from local to international.
3 key takeaways:-
Introduction to brand protection through Trade Marks
Importance of securing brand protection
How business can expand through intellectual property?
AVAILABLE DATES
Each workshop will comprise 2 half days and 6 group mentoring sessions (dates of mentoring sessions will be advised by trainer during workshop).
Date options:-
5, 6 November 2020; 2-6pm OR
11, 12 March 2021; 2-6pm
Note : -
When registering, please note that only the first date of each set of date is reflected. The workshop is a 2 half day workshop.
Upon registration and payment, the zoom link will be emailed to you nearer the date
THE TRAINER - CHRISTY LEE (Founder & Director; Leblossom Consulting Pte Ltd)
Christy Lee, the founder and director of Leblossom Consulting Pte Ltd, a corporate services company that provides corporate secretarial services, contract management and brand protection (trademark consulting) services. Christy Lee is a lawyer by training. She has accumulated years of legal experiences, focusing in corporate and business projects including million dollar business transactions, from start-up enterprise to prestigious law firms and multinational companies.
Christy has a vision to support 1 million entrepreneurs in 10 years down the road. Aside from her work, she enjoys travelling and see the wonders of the world, cultivate spiritual practice such as meditation and yoga. She is also a Tibetan singing bowl practitioner where whenever possible she will practice meditation and singing bowl on her daily routine. 
WHAT IS BRIM SERIES 2020
BRIM Series 2020 brings you 5 powerhouse trainers in the areas of Business, Relationship, Image and Mental Attitude. These workshops are specially curated as part of the project supported by the Seeds of Change Fund* and are targeted at providing ladies with the relevant knowledge and skills to scale up in both their professional and personal developments.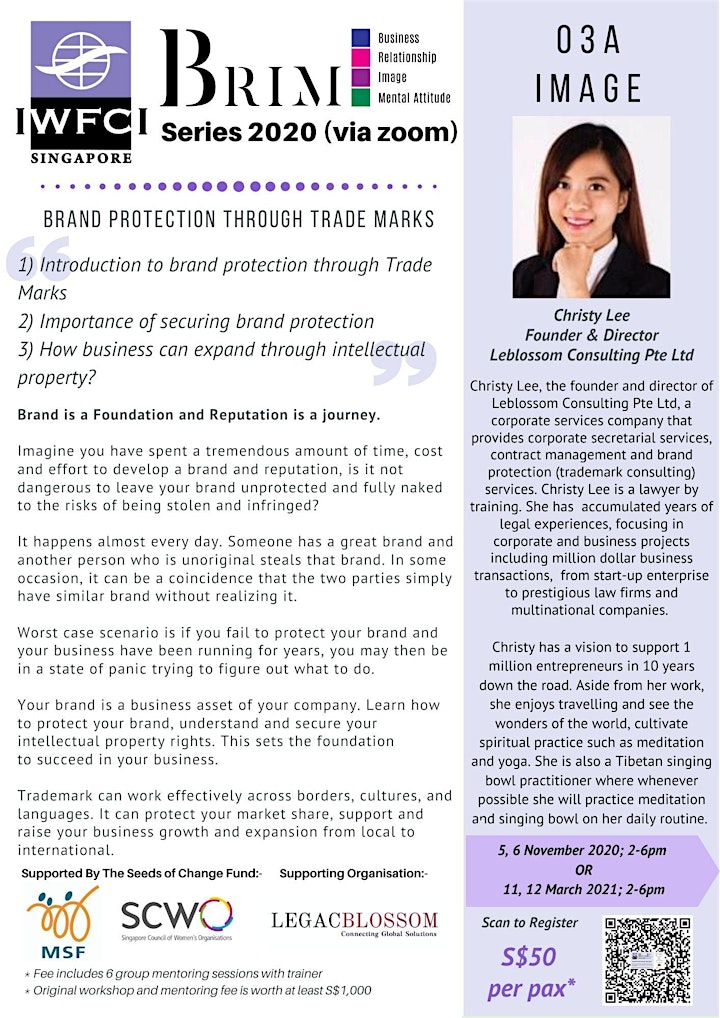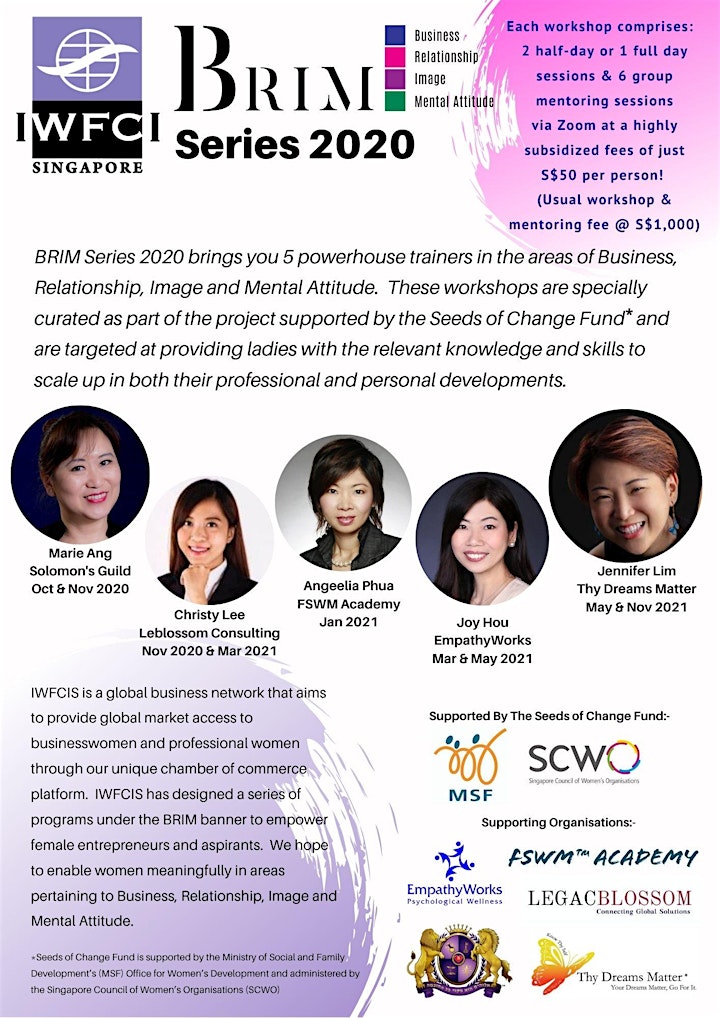 Date and Time
Location
Refund Policy
Contact the organiser to request a refund.
Eventbrite's fee is nonrefundable.