Co-Organized by Synthetic Biology Australasia and Singapore Consortium for Synthetic Biology (SINERGY)
About this event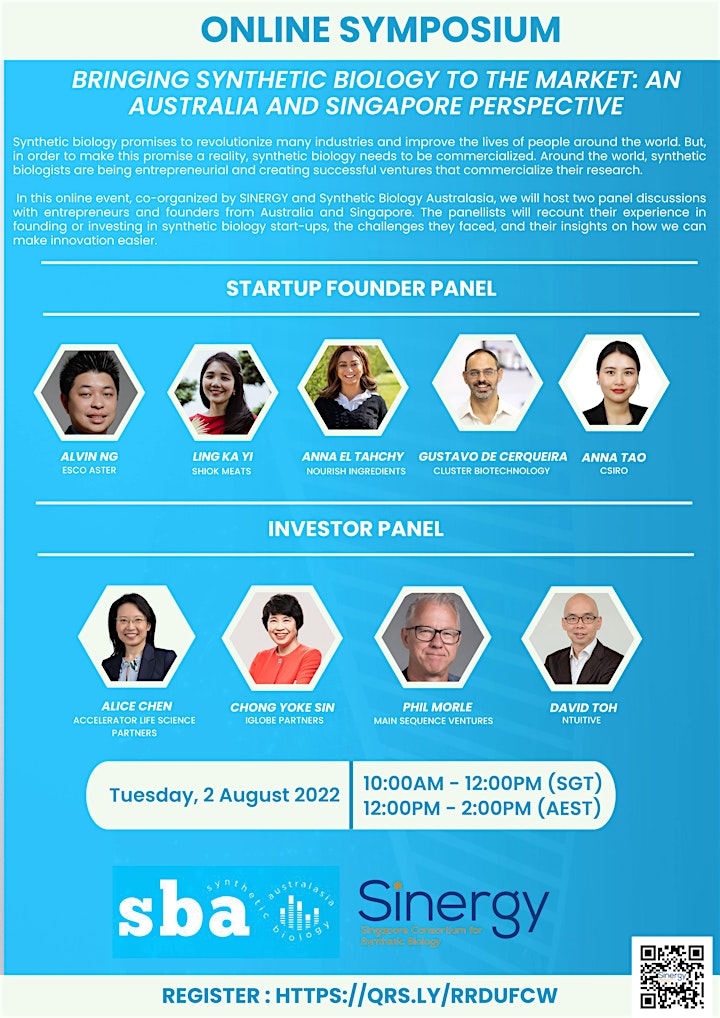 Title: Bringing Synthetic Biology to the market :Australia & Singapore perspective
Date: 2 August 2022, Tuesday
Time: 10am to 12pm SGT / 12pm to 2pm AEST
Synthetic Biology promises to revolutionize many industries and improve the lives of people around the world. But, in order to make this promise a reality, synthetic biology needs to be commercialized. Around the world, synthetic biologists are being entrepreneurial and creating successful ventures that commercialize their research.
In this online event, co-organized by SINERGY and Synthetic Biology Australasia, we will host two panel discussions with entrepreneurs and founders from Australia and Singapore. The panellists will recount their experience in founding or investing in synthetic biology start-ups, the challenges they faced, and their insights on how we can make innovation easier.
Tentative Schedule:
10.00am SGT / 12.00pm AEST : Welcome by SINERGY and Synthetic Biology Australasia
10.10am - 11.00am SGT / 12.10pm - 1.00pm AEST : Startup Founder Panel
Startup Founder Panel:
Alvin Ng, ESCO Aster
Ling Ka Yi, Shiok Meats
Anna El Tahchy, Nourish Ingredients
Gustavo De Cerqueira, Cluster Biotechnology
Anna Tao, CSIRO (Moderator)
11.00am - 12.00pm SGT / 1.00pm - 2.00pm AEST : Investors Panel
Investor Panel:
Alice Chen, Accelerator Life Science Partners
Chong Yoke Sin, iGlobe Partners
Phil Morle, Main Sequence Ventures
David Toh, NTUitive (Moderator)
Profiles of Startup Founder Panel:
Alvin Ng, ESCO Aster
Alvin Ng has more than 10 years of experience in enabling innovation and commercialization. He enacted public policies and managed large-scale national R&D initiatives at the Singapore Government's Prime Minister's Office (National Research Foundation). He also facilitated industry-academia collaborations at the Singapore Institute of Technology, and worked closely with senior management at Singapore Airlines to co-launch Singapore's first aviation/travel-tech startup accelerator at NUS Enterprise. He was an active bio/health -tech investment manager at Sunbo Partners, a global DeepTech investment fund headquartered in South Korea. More recently, he spearheaded business development efforts at a foodtech startup and a biotech spinoff. Alvin has a Bachelor of Biomolecular Science from Griffith University, and a PhD in Medicine from the University of Melbourne.
Ling Ka Yi, Shiok Meats
Dr Ling Ka Yi is a developmental and stem cell biologist with over 10 years expertise in tracing and studying stem cells during development. Ka Yi received the prestigious A*STAR's National Science Scholarship and graduated with a Bachelor's and PhD degree from the University of Wisconsin-Madison. She worked closely with stem cell and developmental biology experts like James Thomson, Davor Solter and Barbara Knowles. Following graduation, Ka Yi did her postdoc at IMCB, A*STAR in Singapore. She is an active science communicator since her days in Madison; and frequently takes part in science outreach and speaks at food sustainability and career management events. She also did a podcast called "Science Now" and "Life after PhD" with fellow colleague/scholar. Ka Yi is passionate about marrying her experience in biotech research and her love for food to produce sustainable food products. In August 2018, she co-founded a cultivated crustaceans startup called Shiok Meats, along with Dr Sandhya Sriram. She is currently an advisor to North Mountain Consulting, Cell Ag Australia, Luyef Biotechnologies and other cultivated meats and seafood initiatives. She is a new angel investor to sustainable ventures. She was recognized as one of the MIT Tech Review's "Innovators under 35 in Asia" 2020, the "Women and the Ocean: Changemakers" challenge 2020", the Great Women Of Our Times 2020 by Women Weekly, and Gen T list 2020.
Anna El Tahchy, Nourish Ingredients
Anna El Tahchy, Chief Technical Officer: Dr Anna El Tahchy is an innovator in agriculture and food, with extensive experience in lipid engineering and food chemistry, as well as complex R&D projects, including the creation of new concepts for the engineering and production of novel food ingredients. As Chief Technical Officer at Nourish Ingredients, Anna applies her extensive biochemistry experience to drive continued innovation at Nourish and build breakthrough products for their customers that not only work in the lab but also drive market impact.
Gustavo De Cerqueira, Cluster Biotechnology
Dr Gustavo De Cerqueira runs Cluster Biotechnology as a startup R&D hub, accelerating the execution of industry projects in collaboration with Australian universities. Cluster has also led to the establishment of spin-offs that use probiotic synthetic biology to promote sustainability, while leveraging future exports through Australian iconic brands and International startups. Gustavo is also a Venture Partner at the Provisio Ventures Investment Fund, working closely with Australian universities and startup groups to identify Early Stage synbio investment opportunities, and in 2022 he has also joined the University of Sydney as an Academic Researcher, using insect cell synthetic biology to develop novel food ingredients for an ARC-funded industry partnership.
Anna Tao, CSIRO (Moderator)
Anna is the Innovation Manager, Company Creation for CSIRO, where she design innovation projects to co-create new Agri-food companies that can take science and technology innovation to the market at pace and solve global challenges. Previously, She was the Operation Director at an energy startup. Anna has extensive experience in commercialisation and commercial strategy across food, agriculture, energy, and advanced manufacturing.
Profiles of Investor Panel:
Alice Chen, Accelerator Life Science Partners
Dr. Chen is an experienced life sciences operating executive and investment professional. In her role at ALSP, Alice has been actively involved in sourcing and evaluating emerging biotechnology investment opportunities and has played an instrumental role in the formation and oversight of several Accelerator portfolio companies, including Acylin Therapeutics (asset acquisition by a global pharmaceutical company), Petra Pharma (acquired by a global pharmaceutical company), Nemean Pharma, Rodeo Therapeutics (acquired by Amgen Inc.) and Magnolia Neurosciences. Prior to joining ALSP, Dr. Chen served as a scientific consultant and drug development project leader for several venture-backed biotechnology companies. She also served as Director of Technologies at Qwell Pharmaceuticals, a venture-backed biotechnology company developing novel, small-molecule drugs focused on cancer and inflammation.
Dr. Chen received a Ph.D. in Chemical Engineering from Stanford University and a B.S. degree in Chemical Engineering from U.C. Berkeley. She served as an Engineering Fellow at Merck & Company and is a graduate of the Kauffman Fellows Program (Class 19). Dr. Chen currently serves on the board of Life Science Washington, the life science trade association for the State of Washington, and on the governing boards of several technology review committees in the U.S. and Singapore.
Chong Yoke Sin, iGlobe Partners
Dr Chong Yoke Sin is the Managing Partner of iGlobe Partners, a venture capitalist firm with interests in early growth companies. For her portfolio of companies with iGlobe Partners, Dr Chong sits on the boards of HUUE Inc, a biological Dye product company, in the Silicon Valley, Anacle Ltd, an Internet of Things company listed on the HK Stock Exchange, and Docquity, an Asian doctors' portal. Dr Chong 's expertise covers the Deep tech, Biotech, Cybersecurity and Digital Platform investments for the venture capital firm.
Dr Chong is also Board member of the public listed Wilmar International Holdings and also of the SGEnable organisation under the Ministry of Social and Family that looks after the needs of the People with Disabilities.
Yoke Sin is also a member of the Portfolio Management Committee of A*Star, in addition to being Chair of the Singapore Management University Advisory Council for the School of Computing and Information Sciences.
Dr Chong is the Immediate Past President of the Singapore Computer Society and is also Chair of the SCS AI Ethics and Governance Committee and a contributing author to the SCS Body of Knowledge for Ethics in AI.
Yoke Sin was the founding CEO of Integrated Health Information Systems which delivers highly integrated and automated systems for the clinical and patient-administration systems for the entire public healthcare system in Singapore. She oversaw the attainment of the seamless Health Record across Singapore's public healthcare clusters. As the past president of HIMSS Asia Governing council and board member of the US HIMSS organization, she contributed to the IT standards for primary care, analytics and decision support for healthcare in Asia.
Prior to her stint at IHIS, Yoke Sin was the CEO of NCS, a Singapore Systems integrator spun off from the Singapore Government, that specialized in applications and infrastructural solutions for the government, finance and banking industries. She was involved with the development of the national e-government Masterplan and SME technology adoption at the national level.
She holds a PhD in Chemistry (NUS) and attended the Advanced Management Program of the Harvard Business School.
Phil Morle, Main Sequence Ventures
Phil is a producer and a maker.
His career began as a theatre director teaching him how to build something from nothing, how to build tightly unified teams and how to tell a story.
His career transitioned from making tech-heavy art into making tech with a producer mindset. This phase of his career culminated in his role as CTO at the massive file-sharing company - Kazaa. At its height, this company was the majority of data travelling through the internet and played a material role in the emergence of how media is shared today.
After Kazaa, Phil co-founded the first tech incubator in Asia Pacific - Pollenizer. Here he played an instrumental role in developing the startup ecosystem across Asia Pacific and advised some of the world's biggest organisations on practical ways to deliver new growth and the cultural change that is required to get there.
In 2016, he led and designed the program for ON, CSIRO's national deep tech accelerator program.
‍David Toh, NTUitive (Moderator)
David Toh is Director and CEO of NTUitive, a wholly owned subsidiary of the Nanyang Technological University of Singapore responsible for commercialising the university's scientific research and incubating startups. Prior to his promotion, he was the Chief Technology Officer of NTUitive when he joined in 2013.
Before joining NTUitive, David spent 20 years in the finance industry at ING Barings, Lehman Brothers and DBS Asset Management as a top rated technology sector analyst and fund manager. In that capacity, David also advised listed and private technology companies in the Asia Pacific region on corporate strategy and fund raising in capital markets. After leaving investment banking, David worked as a fund manager at DBS Asset Management before setting up his own Asia Pacific focused absolute return equity fund.
Prior to the finance industry, David worked as a process engineer at Chartered Semiconductor, where he was responsible for fab wide yield enhancement activities. David is a member of the Singapore Stock Exchange Listings Advisory Committee, and is also an independent director of SGX-listed iFast Corp. David graduated from Cornell University in 1991 with distinctions in B.Sc. in Materials Science & Engineering and a B.A. in Government and Asian Studies.