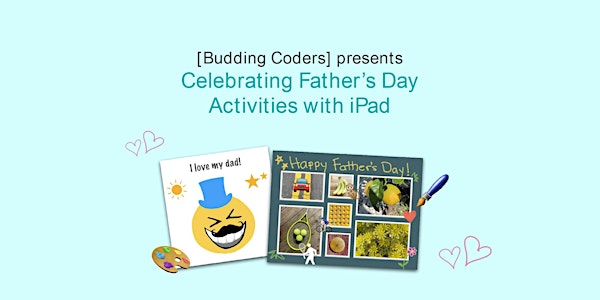 [Budding Coders] presents Celebrating Father's Day Activities with iPad
Come online and celebrate Father's Day by creating a collage of your dad's favourite activity and drawing a portrait using an iPad!
About this event
Celebrate Father's Day with Apple's creative activities for kids using iPad. Designed for kids aged 7 to 12, these online workshops conducted by MeshMinds, an Apple Professional Training Provider, will let participants explore drawing and designing with Keynote app to create their very own masterpieces.
 About Budding Coders
Budding Coders is a series of programmes on digital and technology for children ages 7 to 9 that enable them to bring their creative ideas to life. 
Please note:
•    In this Zoom workshop, you'll learn how to create a digital card of a photo collage and draw a portrait with iPad.
 •    Children aged 10 to 12 are also welcome to join.
•    There are 3 sessions in Jun 2022 and the content for each session is the same. Hence, please register for only one session.
Before the Workshop
• Participants are required to have an iPad running the latest version of iPadOS 15.5 and Keynote app version 12.0 installed. Please download here: https://apps.apple.com/sg/app/keynote/id361285480
• If possible, join the call from another device. This will enable you to refer to the instructor's screen while you create on iPad.
• You may wish to prepare a photo image of your dad or yourself ready in your iPad for one of the workshop activities.