Description
Build your own robot dinosaur with our new Hummingbird Robotics kits!
A great 3 hour introductory robotics activity through which kids learn coding, electronics and about physical prototyping. Get your kid to engage with some basic engineering and the design-thinking process in a hands on way and encourages them to learn by doing by using a combination of the Hummingbird Robotics Kit and some craft materials to build a working electronic model of a dinosaur that they're inspired by.
The Short & Sweet
For kids ages 7-13

One-time 3 hour workshop

No prerequisites

Hummingbird Kit and craft materials provided for in-class use only.

---
"My kids had a blast & came home armed with knowledge & information which they were excited to share with us!" Joanne, Parent
---
What is my kid going to be doing?
Human beings are generally curious and observant creatures and we have made so many wonderful innovations by looking to the natural world for inspiration; the first aviation designs, more than 100 years ago, looked to birds and bats to understand how flight works. So we guess you could say that Mother Nature is every engineer's first go-to for inspiration.
Likewise, for this class, we're looking to nature to speak to us, but with a twist! Go back in time and be inspired by the first creatures to walk the Earth - dinosaurs! In this introductory workshop, your kid will use a combination of the Hummingbird Robotics Kit and some craft materials to build a working electronic model of a dinosaur that they're inspired by.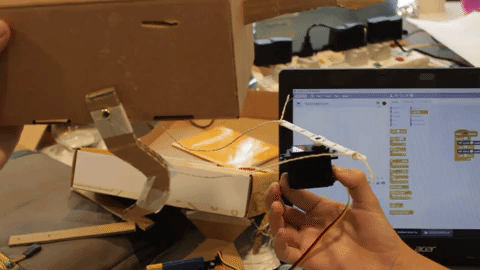 The Hummingbird Robotics Kit allows students to create and program robots built from electronic components and craft materials. Combined with a simple visual programming language like Scratch, Hummingbird is a great way to introduce kids to robotics and engineering with craft materials that they're already familiar with.
A great way to be one with nature AND to go back in time without having to (time travel!) or be outdoors!
The Stuff Kids Learn
Design Thinking
Programming (input, output, logic and sequencing)
Electronics (simple circuits, servos, LEDs, sensors)
Physical prototyping (mechanisms and structures)
The Value-Adds
Logical thinking
Problem-Solving
Self-Directed Learning
Creativity & Confidence
All transferable skills which kids can carry with them their whole lives. You know how the saying goes - give a kid a fish or teach them how to fish… (or code in this case) …well, you get the idea.
---
Pedagogy
No lectures. No memorisation. No ONE right answer. Like real life, we're all about trying things out yourself, failing, figuring what went wrong & trying again. These are the skills & mindset that will last a lifetime. Let's get kids to learn how to learn.
Because the kids who learn to learn become curious, inventive, resourceful human beings who solve real world problems to make a meaningful impact.
Parents love us!
"My children, ages 10 and 7, found the class creative and interesting, and I was impressed by the games they managed to create. Most importantly, they're now excited by the world of programming. Highly recommended!" - Maya, Parent
"Thank you for a wonderful and exciting enrichment program that is so much more than academics.. it's fun but for me as a mum, an important future skill set for my son." - Rachel, Parent


Have more questions on this awesome course?
Read our FAQ section below!
Call us & we'll call you back! +65 3159 0980
Email us! hello@saturdaykids.com



Frequently Asked Questions
1. My child is new to programming. Will he / she be able to follow?
Absolutely! No programming background is required for this course.
2. My child is younger than 7. Can he / she join?
This course is for kids ages 7-13. If your child is still in preschool, we recommend the Curious Cubs camp which can be found on our schedule page.
3. Can I bring home the Hummingbird Kit?
No. The Hummingbird Kit is provided for in-class use only. You may however purchase the Hummingbird Kit from us separately if you're interested!
4. I've enrolled my child, what will he/she need to bring?
We'll provide all equipment and materials, but you may want to bring a jacket and light snacks in case he/she gets hungry. If your child is joining the full day camp, we recommend bringing packed lunches.
Please note:
This camp will proceed with a minimum of 4 tickets sold. We will inform you in advance if the camp is cancelled. Refunds will be made accordingly. Unless otherwise notified, the camp will go ahead.
We will be filming and taking photographs of the children in our workshop. By registering a child's attendance at this camp, parents/guardians grant Saturday Kids a perpetual licence to use the student's work, photographs or videos of the student, and other materials for purposes such as publicising or promoting our workshops/events and the students' accomplishments on Saturday Kids' website or on our partners' websites.