Build and Maximize your Regular Income Portfolio with S-REITS
Description
Build and Maximize your Regular Income Portfolio with S-REITs
At 5.6% p.a., Singapore REITs offers one of the highest absolute yields compared to other regional asset classes. Join us to hear our insights from our investment specialists.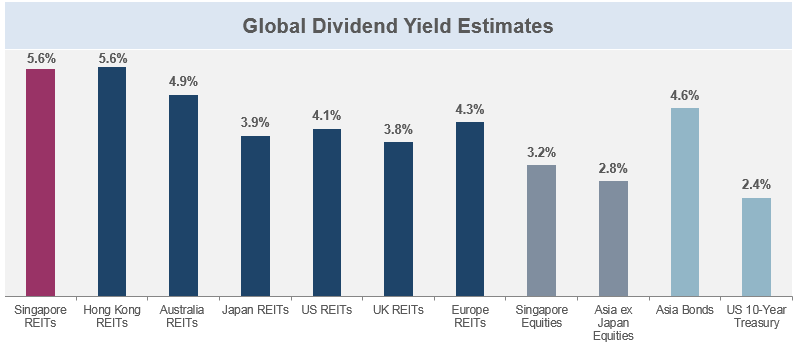 Refer to notes below for source


In this session, we will be covering:
1. S-REITs Performance and Outlook:
- Outlook for the various S-REITs sectors in 2018
- Impact of rising interest rates on S-REITs
- Our preferred S-REITs sub-sector and individual stock picks
2. Maximize Regular Income Portfolio
- Maximize your REITs returns with margin facility (as low as 2.88% p.a.)
- Positive Carry
- Share Builders Plan
3. Regular Income Tool – Lion-Phillip S-REITs ETF
- Introduction and insights of Lion-Phillip S-REITs ETF
Speakers:
Mr. Dehong Tan, Senior Investment Analyst, Phillip Securities Research
Mr. Vikramjit Singh, Margin Marketing Assistant Manager, Phillip Margin (Phillip Securities)
Mr. Martin Chong, Institutional Portfolio Director, Phillip Capital Management
Dehong covers the REITs and property developer sector and has close to 7 years' experience in equities related dealing and research roles. He has graduated with a Master's of Science in Applied Finance from SMU and Bachelors of Accountancy from NTU.
Martin is the Institutional Portfolio Director at Phillip Capital Management. Together with the management team, he covers the group's business development and facilitates alliances among the institutional channels. Started his career with Permodalan Nasional Berhad (PNB), Malaysia in 1998, Martin moved up the corporate ladders subsequently. Prior joining the company, he was with a UK fund management firm as a Senior Vice President taking charge of the business development in the Far East region. His career in sales team management spans across asset management, agency development, fund platform and online fund distribution. He holds a degree in Bsc. Agri-business (Hons) from Universiti Putra Malaysia. With more than 17 years of experience specialized in business development at financial services industry, he has an in-depth understanding of the Asian and ASEAN's Fund Management Industry.
Event Details:
Date: 27 March 2018, Tuesday
Time: 7.00pm – 9.00pm
Venue: SGX Auditorium, SGX Centre 1, Level 2, 2 Shenton Way, Singapore 068804
For further enquiries, please call 6531 1563 or email us at ferlyntanyj@phillip.com.sg
Schedule:
S-REITS Performance: 7.00pm – 7.45pm
Maximize Regular Income Portfolio – 7.45pm – 8.00pm
Regular Income Tool: 8.00pm – 8.30pm
Q&A Session: 8.30pm – 9.00pm
IMPORTANT NOTES FOR SEMINARS:
Please note that under the Singapore Personal Data Protection Act (PDPA) 2012, Phillip Securities Pte Ltd respects the privacy of all our customers and visitors, and are committed to safeguarding the personal information you provided to us. For event registrations, you will be requested to provide your personal particulars, which include but are not limited to the following:
a) Full Name
b) Contact details, including telephone number/s and/ or email address
Please note that Phillip Securities Pte Ltd will send out "Email Confirmation", Short Message Service (SMS), and events/seminars via email to all registrants for all Phillip Securities Pte Ltd events. All personal data held by Phillip Securities Pte Ltd will be kept confidential, will not use and disclose to third parties.
Notes:
Based on yields as at 31 December 2017. REITs' and equities' yields based on Bloomberg forecast, while bonds' yields are based on spot rates.
Representative indices used: Singapore REITs: FTSE Straits Time REIT Index; Hong Kong REITs: Hang Seng REIT Index; Australia REITs: S&P/ASX 200 A-REIT Index; Japan REITs: Tokyo Stock Exchange REIT Index; US REITs: MSCI US REIT Index; UK REITs: FTSE EPRA/NAREIT UK Index; Europe REITs: FTSE EPRA/NAREIT Europe REITs Index; Singapore Equities: FTSE Straits Times Index; Asia ex Japan Equities: MSCI Asia ex Japan Index; Asia Bonds: J.P. Morgan Asia Credit Index.
Yields are non-guaranteed. Past performance, as well as any prediction, projection, or forecast are not necessarily indicative of future or likely performance.
Source: Bloomberg, Lion Global Investors; as at December 2017.