About this Event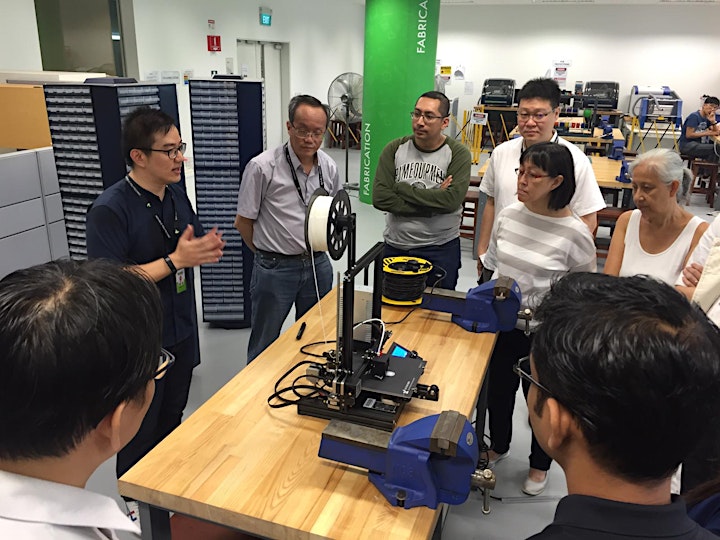 3D printers allows user to create prototypes and actual parts without the need of expensive tooling or post processing. Learn the basic of 3D printing through the building of a 3D printer and learn to print through user friendly software.
The course provides hands-on session on building a 3D printer and basic 3D printing set-up. You will:
•Guided to assemble parts and build the 3D printer with tools
•Learn the electrical, mechanical and structural components of the 3D printer
•Learn how to print using the 3D printer and its applications
•Bring 3D printer home after the course
**Please note: There will be a charge of course fee. This platform is only for RSVP purpose (therefore stated as free). More details on course fees, training venues, and how to apply will be send out to RSVP parties within 1 week after registration on eventbrite.
FAQs
Is this course free?
No, there will be a funded course fee charge. You will receive more details on the course fees and actual registration after RSVP on this eventbrite site.
Course Fee :
S$96.30 for Singapore Citizen above 40 years old.
S$63.90 for Singapore Citizen with Workfare Training Scheme Letter.
S$288.90 for Singapore Citizen below 40 years old.
S$288.90 for Singapore Permanent Resident.
S$108.90 for SME Company Sponsored Singapore Citizen and Singapore Permanent Resident. (Employer does not need to submit Training Grant.)
How can I contact the organiser with any questions?
You can reach us at Help-SEG-CET@rp.edu.sg if you have any other enquiries.
What can I bring into the event?
Please bring along your laptop for the course.
**This is a SkillsFuture Approved course, subsidy up to 95% funding; as low as $63.90. And, you still can use your $500 SkillsFuture Credit to pay for the course. Register to find out more!