Building a Digital Health Innovation Ecosystem Using Real World Data
Description
Startups and corporations alike are typically challenged by a dearth of healthcare data when determining pricing models and a unique value proposition to health systems. Hosted by ACCESS Health and SGInnovate, this event will discuss how data-driven partnerships can benefit startups in Singapore and discuss the features of a symbiotic relationship between healthcare operators, industry, and governments. The event aims to bring together all ecosystem stakeholders for knowledge sharing and networking purposes.
The talk will feature Health Catalyst, a US-based data science company which IPO'd in July 2019. Elia Stupka, SVP and General Manager of Life Sciences at Health Catalyst, will describe how their data, health systems insights, and approach to healthcare transformation can help nurture an ecosystem for digital health innovation. He will also share the company's vision for working with startups, offering an opportunity to learn from a former digital health unicorn and now listed company on how it grew from a two-person ICT team from Intermountain Healthcare into a 700-strong team centred on the values of integrity, humility, and outcomes.
Date: 10 October 2019, Thursday
Time: 4:00pm – 6:30pm
Venue: BASH, Level 3, 79 Ayer Rajah Crescent, Singapore 139955 via Lift Lobby 3
Programme Details:
4:00pm – 4:30pm: Registration
4:30pm – 5:30pm: Building a Digital Health Innovation Ecosystem Using Real World Data
- Speaker: Elia Stupka, Senior Vice President and General Manager of Life Sciences, Health Catalyst
5:30pm – 6:30pm: Networking
Speaker's Profile:
Elia Stupka
Senior Vice President and General Manager of Life Sciences, Health Catalyst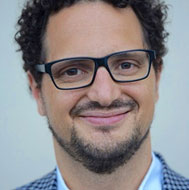 Elia is a visionary leader in digital health with a passion for innovation in health and life sciences and 20 years of experience across industry, academic and clinical settings. He started his career as a member of the first team that annotated the human genome in Cambridge, U.K. in 1999-2001. He then worked with Nobel Laureate Sydney Brenner to build the first genome research group in Singapore. His work since then has contributed to the understanding of the human genome and transcriptome, the diagnosis of rare disease patients, the development of gene therapy and novel drugs on the market and the development of ethics frameworks pertaining to the fast-changing world of big data in health and biology.
Organiser of Building a Digital Health Innovation Ecosystem Using Real World Data