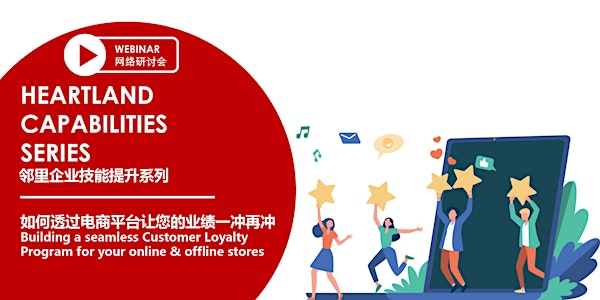 如何透过电商平台让您的业绩一冲再冲 Building a seamless Customer Loyalty Program
Heartland Capabilities Series Webinar tailored for SMEs. Learn how a Customer Loyalty Program is important in managing your customers.
About this event
We bring you the Heartland Capabilities Series Webinars catered to Small and Medium Enterprises.
新加坡邻里企业中心和新加坡全国商联总会举办的一系列专为邻里企业和中小型企业量身定制的网络研讨会。内容包括科技系列和策略系列等。
Organised by the Heartland Enterprise Centre Singapore and The Federation of Merchants Associations Singapore, understand which E-Commerce platform is suitable for you and how to create a seamless Customer Loyalty Program for your online & offlline stores.
如何透过电商平台让您的业绩一冲再冲
主要内容 Key Content
•电商平台模式解析
Analysis of E-Commerce Platforms
•您的企业适合哪个电商平台模式呢?
Which E-Commerce Platform is suitable for your business?
•库存管理优化
Inventory Management Optimisation
•政府津贴
Making use of grants
Guest Speaker:

Calvin Ong
Senior Business Development Manager
高级商务发展部经理
Edgeworks Solutions Pte Ltd
Calvin负责推动公司在东南亚地区的发展,监督区域客户关系并通过与战略合作伙伴建立网络来开拓新的商机。
在数字营销,软件,零售和餐饮等行业拥有超过15年的经验。Calvin 对数字转换充满热情,并致力于与中小企业合作进行数字转换之旅。
Calvin is the senior business development manager at Edgeworks Solutions Pte Ltd. Responsible for driving the company's growth in the SEA region, Calvin oversees regional client relationships and open new businesses opportunities through the building of networks with strategic partners.
Calvin has more than 15 years of experience in industries spanning from digital marketing, software, retail to F&B. A passionate believer in digital transformation, Calvin is committed to partner with SMEs in their digital transformation journey.