| | |
| --- | --- |
| BUSINESS BUILDERS'MASTERCLASS: LEGO SERIOUS PLAY TEAM DEVELOPMENT: BUILDING TEAMS TO BUILD BUSINESS SUCCESS | |
Event Details
HALF DAY TO FULL DAY WORKSHOP
How to get people to work exceptionally well together? CLIA BUSINESS BUILDERS help organisations bring about business transformation through accelerated learning and productive human engagement. Most aspects of the business start to be driven through discussions, dialogue and training. The way we run our discussions, dialogues and training play a huge part in how we run our businesses, department, units and teams…. How much do get done or not, how much do we pay attention or not, how much do we commit or not…at the end, people and people only are leading change and making decisions and implementing these
PURPOSE: 
Build a deeper shared understanding of what the individual members of the team enjoy and what they find challenging
Give each member the opportunity to reflect on his/her personal work aspiration and share this with other team members
Create a team aspiration telling the story about what the team would like to have accomplished in a year from now with regards to how they get the job done best
Formulate a few simple guiding principles that on a daily basis can remind the team of what to keep top of mind to achieve top team performance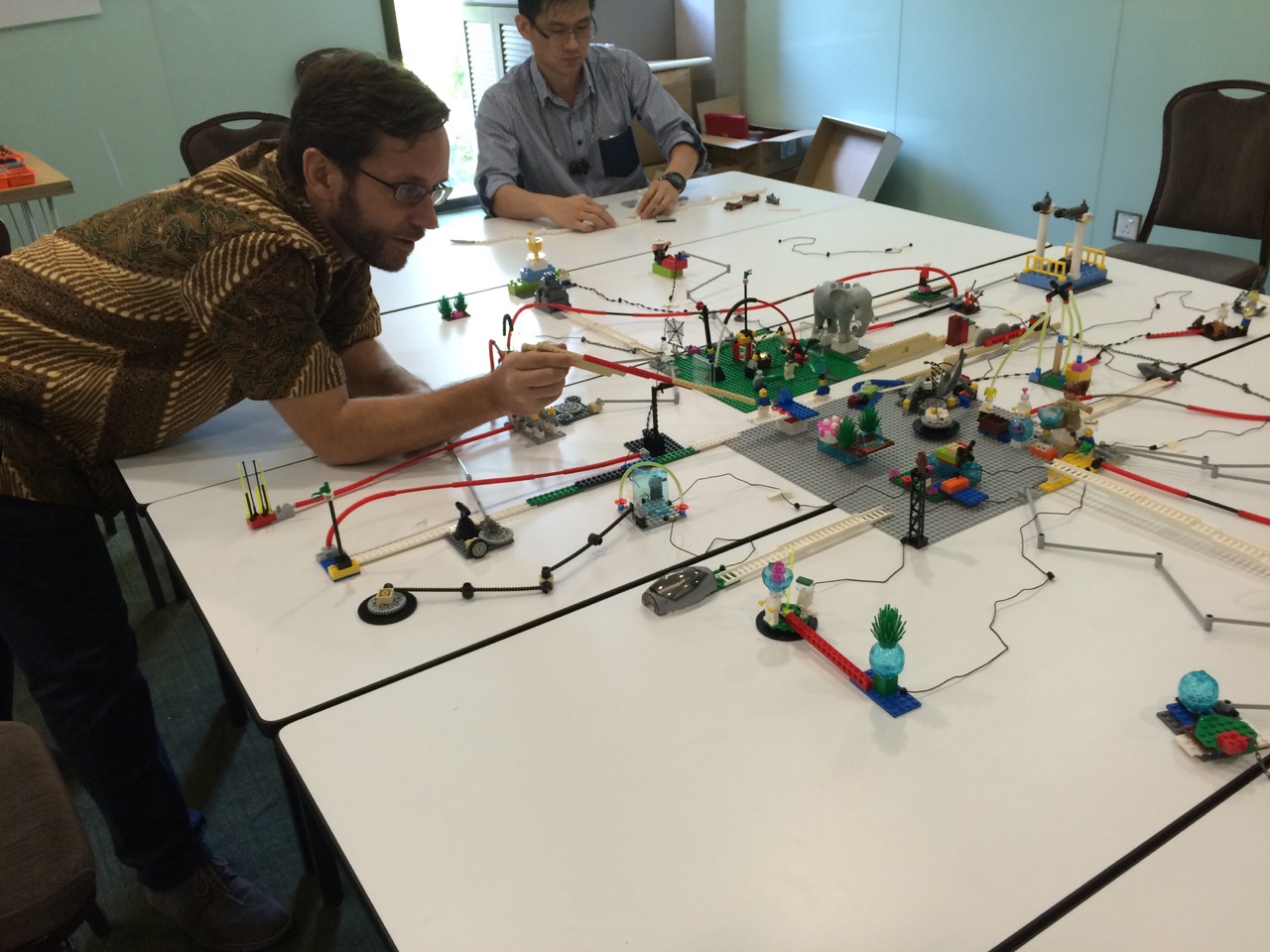 PROCESS
Action-learning Methodology: CERTIFIED LEGO® SERIOUS PLAY® BUSINESS BUILDER™ Use the Knowledge already in the Room to unlock hidden assets //Construct new knowledge by understanding the Metaphors used in Stories // Gather intentionally to apply your imagination. Generate options and develop new understandings together //Think with your hands // Build individually, Share with the group –
Workshop flow
Part 1: Introduction Part 1: The TEAM Part 2: My Personal Aspirations Part 3: Our Team Aspiration Part 4: Our Operational Wisdom Principles Facilitation
Who should attend? 
The program work well with groups of 6 to 16 participants (or up to 32 participants with 2 facilitators). Participants should have a common purpose in working together. In particular if they are part of a
Regional Team, 
Leadership team,
Project team,
Virtual team, or
Any group of people working together with a common purpose. 
Deliverer(s):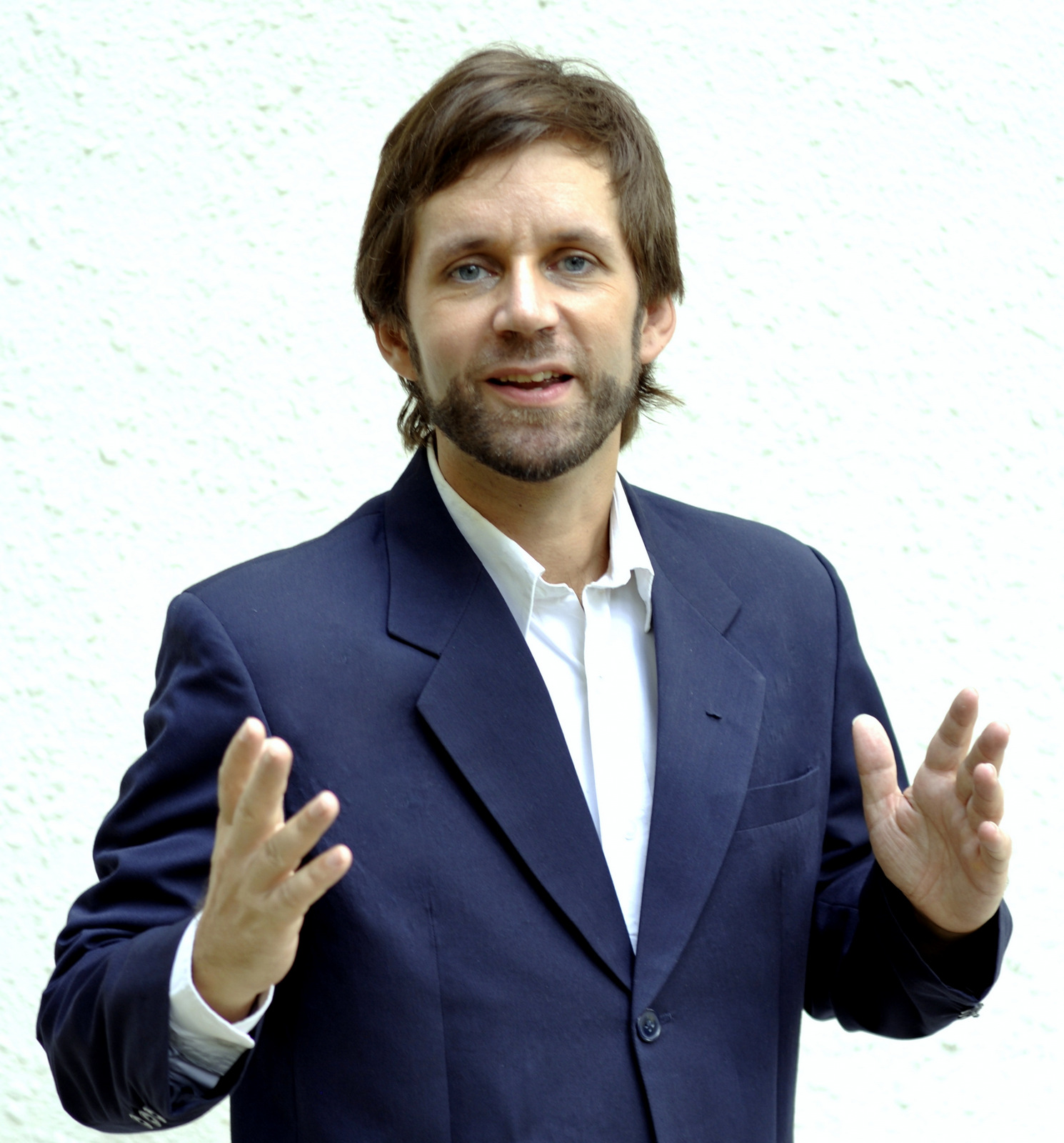 LUDOVIC ODIER (MR)
Founder and CEO of OIA, Ludovic Odier has been running over 200 training and teambuilding programms. Ludovic was awarded with the title Best French Entrepreneur of the year in Singapore in 2004. Ludovic is a certified LSP facilitator.

His passion is personal development, through discovery and education. He graduated from ESSEC Business school of management with an MBA in France and from Nanterres University with a Master in Philosophy. 
Engaging and dynamic, he is a creative facilitator with years of experience developing and executing fun, creative learning programs. Ludovic excels at running OIA creative and action-learning training, where both interaction with and understanding the clients needs are essential in bringing each participant to new heights.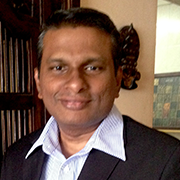 SUDHIR NAIR (MR)
Currently, Director of Leadership learning and Development with CLIA - OIA Pte. Ltd, Sudhir Nair is a Corporate facilitator , coach and consultant; He helps Managers and Executives to activate behavior change at the office and in their personal lives through learning and development and coaching. 
 His educational background has been in human resource development, having also achieved ACTA certification and Diploma in human Resource Development, As a life - long learner, he believes that learning is an on - going process and recently graduated with an Executive MBA, with Birmingham Business School. 
His delivery style is highly interactive and facilitative. Believing strongly that human behaviour drives processes, his workshop and training sessions are delivered to maximise learner development, and creating positive behaviour changes, especially in the workplace. 
When & Where

CLIA Learning Lounge
62 Koon Seng Rd
Singapore, 426997
Singapore

Organiser

CLIA is a Learning & Development training and consultancy business using primarily Serious Play, Arts and Drama within innovative, action-learning methodologies.
 CLIA Purpose: 
"We bring about Serious Play & Joyful Learning into adult training and organisation Learning & Developmen".
CLIA mission: 
"CLIA's mission is to Activate Behaviour Change Through Creative Engagement and Human Integration"
 CLIA vision:
In CLIA vision, we focus on 3 playing fields:
Youth:

Discovering your inner career compass for satisfying life and work 

Enterprise

: Values based leadership to improve employee engagement, innovation and strengths-based diversity 

The larger community

: Improving relationships in life, business and the community to achieve longer-lasting prosperity
CLIA BUSINESS BUILDERS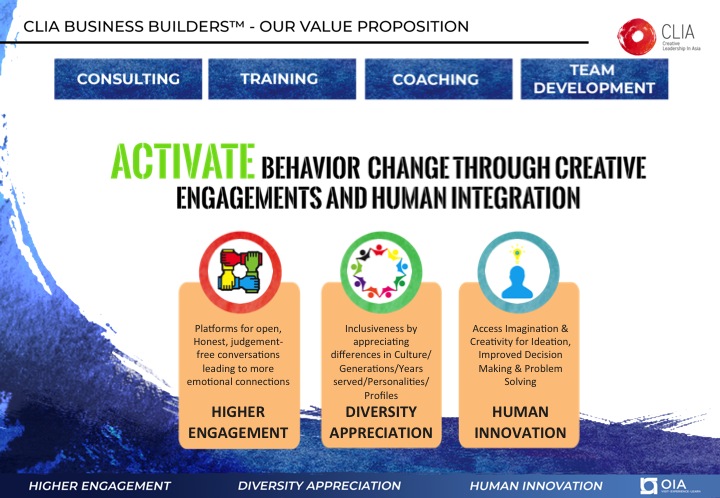 CLIA METHODOLOGIES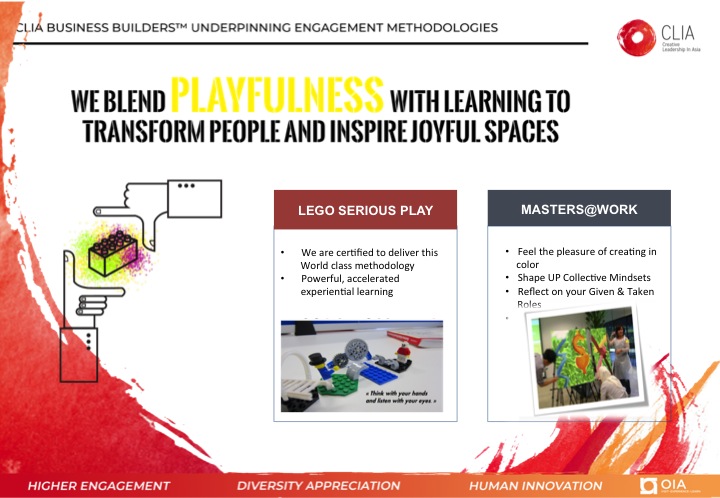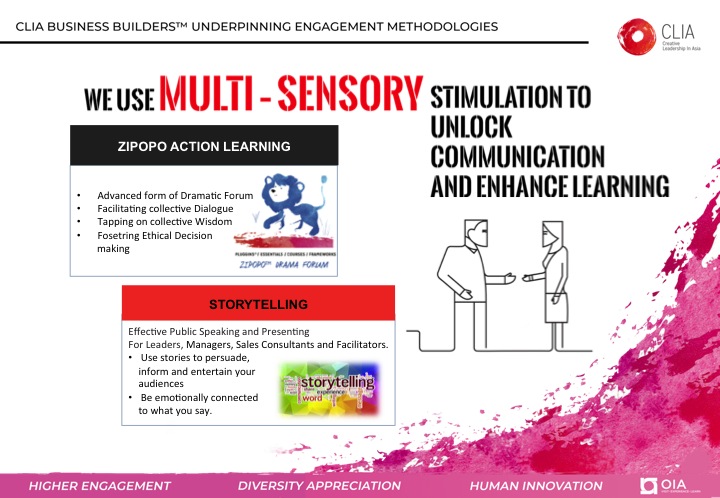 CLIA TRAINING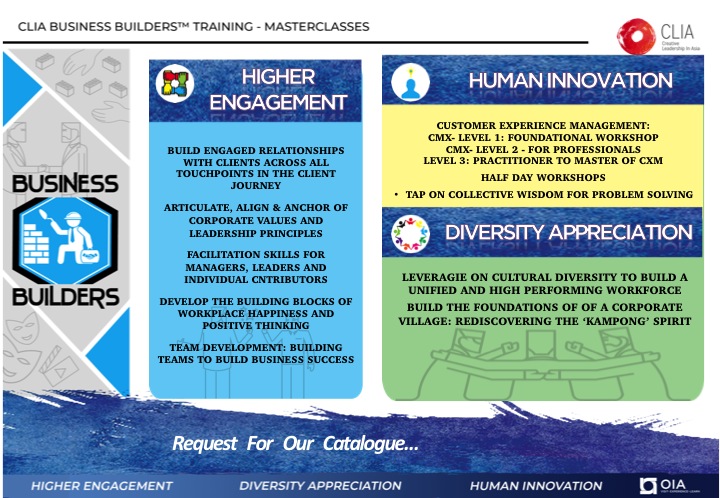 Websites
http://www.creativeleadershipinasia.com
http://www.outdoorinasia.com