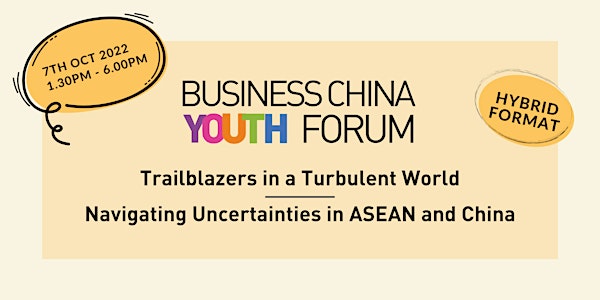 Business China Youth Forum 2022 通商中国青年论坛
Business China Youth Forum 2022 通商中国青年论坛
When and where
Location
Singapore Marina Bay Expo & Convention Centre 10 Bayfront Avenue Singapore, 018956 Singapore
About this event
Business China Youth Forum 2022
Trailblazers in a Turbulent World: Navigating Uncertainties in ASEAN and China
通商中国青年论坛 2022
动荡中的先行者: 引领亚细安与中国稳中求进
-
Panels
Dawn of the Metaverse: Applications of Web 3.0 in Forging Opportunities 元宇宙的黎明:Web 3.0 的运用与机遇
Putting the Wind in Youths' Sails: Efforts in Driving Environmental Sustainability 乘风破浪的新青年:为环境永续发展扬帆起航
A New Alternative: Insights from Youths Leveraging Technology to Improve Food Security 殊途同归:科技提升粮食安全之青年说
-
Synopsis
The theme for the BCYF 2022 is "Trailblazers in a Turbulent World: Navigating Uncertainties in ASEAN and China". The discussion will revolve around these three key trends:
1. Opportunities for Youths in Metaverse and Web 3.0
2. Youth Efforts in Environmental Sustainability
3. Leveraging Technology to Enhance Food Security
Having emerged from a global pandemic, youths have explored novel ways to approach new problems, and have harnessed new opportunities that champion social good and economic advancements. They are well-set to be the trailblazers of our increasingly volatile world, where regional ties are scrutinised, business landscapes reimagined and societies change at an unprecedented rate.
What does Web 3.0 have to offer to youths? What are the opportunities of the metaverse? Conversely, what are the challenges of the metaverse? What are some key policies adopted by governments in promoting sustainability? How can technology be leveraged to enhance food security? This year's theme reflects the pertinence of these questions, especially in a post-pandemic era. More than ever, the youth have firmly demonstrated that they are not just the "nation's future", but also a generation who can shape the present. Join us as we delve into the complexities of our volatile region as global citizens.
BCYF 2022 marks the return of physical attendees; limited seats are available, so register now. There will also be a concurrent Zoom broadcast.
-
简介
通商中国青年论坛(BCYF)2022的主题为"动荡中的先行者:引领亚细安与中国稳中求进"。此次活动将围绕以下三个热门话题展开讨论:
1. 元宇宙和Web 3.0技术为青年所带来的机遇
2. 青年在环境可持续发展领域的努力
3. 以科技提升粮食安全
经历了新冠疫情,当代青年们更勇于探索以新颖的方法应对复杂的挑战,更善于把握具有社会公益和经济发展的新机遇。在区域与国家关系风雨飘摇,社会发展日新月异,商业环境一再重塑的今天,青年们已准备好成为这动荡趋势中稳中求进的先行者。
Web 3.0和元宇宙技术能为青年带来什么样的机遇和挑战?各国政府在促进永续发展方面出台了哪些重要政策?青年如何通过这些倡议实现志向?又如何运用科技提升全球的粮食安全?
本届通商中国青年论坛将深入探讨以上课题。着全球逐渐步入后疫情时代,我们也引来了一个新世界。今日的青年不仅仅是 "国家的未来",也具备了改善现状的能力。在本论坛精心安排的活动中,你将有机会聆听业内专家的独特见解,并参与探讨身为全球公民的我们该如何在这个充满不确定性的世界中稳步向前。
2022年通商中国青年论坛首次线上线下同步进行。若你无法到场出席本论坛,亦可通过我们的Zoom平台同步直播参与。名额有限,欲报从速!我们期待你的加入!