Business Growth: Experts' Exchange on Lead Gen, Sales Closing & Coaching
Description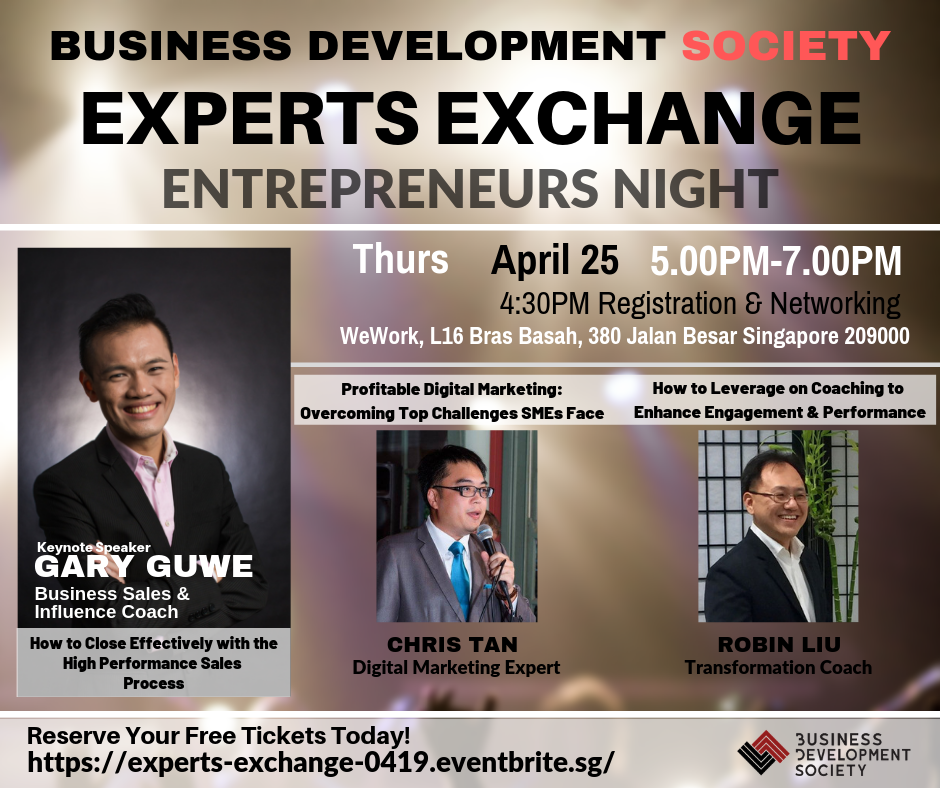 ---
Keynote Speaker
GARY GUWE
Business Sales & Influence Coach
Founder, Catalyst Empowerment Academy
Founder, Business Development Society
Associate Lecturer, ESSEC Business School
Topic: How to Close More Business Effectively with the High-Performance Sales Process
Sales is the lifeblood of any business; the ability to sell and close deals is not only critical for any business to survive, but also essential for all businesses to thrive.
A business may have a great product, but unless trust is built and the customer is convinced that you have what they want, they're unlikely to buy from you.
Some may even struggle with fear and uncertainty with how to go about engaging their customers, which causes them to stumble in their sales process.
In this session, we will introduce you to the High-Performance Sales Process Model, and how you can use it to navigate the sales conversation and get more customers to say "Yes"!
About the Speaker:
Gary is a multiple-award winning speaker and entrepreneur who brings with him 13 years of experience in the areas of public speaking, influential communications, high-performance sales & strategic team building.
He is the founder of corporate training & consultancy company – Catalyst Empowerment Academy – and the founder of the Business Development Society – a growing community of over 3500 SME owners that strives to grow together via community building & knowledge-sharing.
More than just an educator, Gary is a keen student of the science and art of communication and how one may use it to enhance both personal branding and one's sphere of influence in work, business and life.
Beyond mere theoretical knowledge, Gary's strengths lie in his ability to analyze patterns to distil and decipher critical insights, connect the dots, and share tools & principles that are practical and applicable to both work and life for his participants. His adaptability and ability to relate deeply with his audience and create a safe, comfortable environment are also some of the key reasons why he's sought after by business leaders in training and coaching their teams.
---
ROBIN LIU
Transformation Coach

Topic: How to Leverage on Coaching to Enhance Engagement & Performance
Coaching is utilized to help a person to grow and learn how to tap into his / her potential. While coaching is often used as a means to help a person to grow, develop and attain success, it can also be used as a tool for development and engagement of your staff.
By leveraging on some simple coaching skills, managers and leaders, whether they are first-timers or experienced, will help them to manage staff performance, development, engagement and team building, as well as better time management.
In this session, the participants will walk away with:
A better understanding of what coaching is;

Understanding the difference between mentoring, counselling and coaching;

A simple coaching model that is easy to understand and apply; and

How to engage the right coach to work with you.
About the Speaker:
Robin is a transformational life coach who is passionate about making a difference in the lives of others. He specialised in stress management and resilience training. He has been coaching people on leadership, stress and emotional management, as well as working towards goal achievements and team building. Robin has also been teaching and guiding private clients in non-religious and result-based meditation techniques, guiding them towards a happier and more fulfilled life.
Robin has more than 19 years of corporate experience in Public, Private and Non-Profit organisations holding various leadership roles in strategic and resource planning, operations, budgeting, facilities management, people and change management and business continuity management. He completed his training with SMU's International Corporate Coaching Certificate, and obtaining a Graduate Diploma in Applied Positive Psychology and certification in Positive Psychology Coaching under Dr Robert Biswas-Diener. Robin obtained his coaching credentials from the Worldwide Association of Business Coaches and membership in Asian Pacific Alliance of Coaches and International Coach Federation. He also studied to be a meditation teacher with Vikas Malkani, World's No.1 Wisdom Coach.
---
CHRISTOPHER TAN
Digital Marketing Expert

Topic: Profitable Digital Marketing - Overcoming Top Challenges SMEs Face
In this day and age, hitting internal KPIs may not be enough without keeping an eye on your competitors' growth.
Ever asked the tough questions like whats your online marketing's Return on Ad Spend (ROAS) and Cost Per Acquisition (CPA) and actually get answers? What is your real market share online? How can you outperform your competitors with an ad budget several times yours? How to achieve all this with an agency or internal team? Get answers to these and more with this sharing session.
About the Speaker:
Dissatisfied by the glacial pace his MNC employers take to transform digitally, Christopher left the cushy bank job to advise startups and SMEs.
He's helped (the ones that would listen) them on using an integrated slew of best of breed cloud software, enabling two to fivefold improvement in productivity even to doubling of revenues.
He eventually discovered his knack at Digital Marketing; finding success for over a dozen e-commerce businesses including generating SGD1 million last year via his own online store (and still growing).
He now consults with SMEs to create profitable e-commerce and digital marketing strategies whilst teaching Digital Marketing part-time to seed the next generation of Digital Marketing heads.
---
Note:
Please note that no dinner will be served; and only water, tea and coffee will be available at this event.
Getting There:
Public Transport/MRT
ARC 380 is within walking distance from Bendemeer MRT Stn (DT23), and about 10-15 mins walk from Lavender MRT Stn (EW11) and Farrer Park MRT Stn (NE8)
Location Map URL: https://goo.gl/maps/pCfDYkEs4ot
Driving & Parking
Street parking and multi-storey parking options available in the immediate vicinity.