Event Information
Refund Policy
Refunds up to 1 day before event
About this Event
THIS CONSULTATION IS VALUABLE FOR FOUNDERS / CEO'S / BUSINESS OWNERS
CONSIDER THIS CONSULTATION FOR YOU & YOUR BUSINESS:
1. To understand the Customer Behavior Modeling & corresponding strategies.
2. To Understand the internal structure with or without the help of KAM and the KPI's
3. For the optimization of Resources (Man & Machine) with detailed SOWT analysis and the enterprise resource planning techniques.
4. To Understand the market trends for better decision making. Market trends gives a better idea on future of Customer Acquisition & Retention to channelize sales & marketing strategies.
5. To understand the CLV based on which MRR/ARR/IRR can be analyzed & predicted
6. To understand the CAC that can be used in correlation with CLV (LTV) for recurring business and its growth.
7. To Understand and implement or troubleshoot the NPS (Net Promotor Scale) to understand the Business (Future) Sustainability
8. If you want to optimize the Operational, Analytical & Collaborative CRM's along with CAC
9. Whether implementing BANT (for Customer Acquisition) will actually help your business or not & if yes, then how.
10. If you don't know whether or if you need to analyze the SPC for getting more optimized results
11. If there are issues in either planning or execution of MIS, ERP & EIS for better optimization and you want to know how to fix them.
12. If you are unable to determine the actual value of your product that customers would love to pay for
13. If you are facing financial, operational, customer problems in your business
14. If you are unable to grow your business or unable to expand your business
15. When planning a new business what would be the best strategy to launch your product or GTM's
16. To understand how to Determine or give a WoW factor to your customers
ABOUT:
I am Lakshman Singh (Angel Investments, Business Advisor, Business Consultant, Business Auditor, Startups Mentor, Entrepreneur, CEO & Founder)
I have over 15 years of relevent experience and help people in business through Consultations, Advices & by Auditing the Businesses. I also help businesses by investing in them, mentoring them and giving them exposure of my network.
Web : https://www.lakshmansingh.com/
Blog : https://www.lakshmansingh.com/blog
Linkedin : https://linkedin.com/in/iamlakshmansingh
Email : Connect@LakshmanSingh.com
THE FOLLOWING ELEMENTS ARE THE BACKBONE OF EVERY BUSINESS, HOWEVER NOT ALL ARE REQUIRED FOR EVERY BUSINESS:
CAC, CLV, MRR, ARR, SQL'S, MQL'S, MODEL CANVAS, CUSTOMER BEHAVIOR MODELING, CUSTOMER ACQUISITION & RETENTION, ERP, CRM, KPI, KAM, MIS & EIS, BANT FRAMEWORK, SWOT ANALYSIS, ORGANIZATIONAL STRUCTURE, BUSINESS AUDIT & COMPLIANCES
-------------------------------------------------------------------------
THIS IS AN ONLINE CONSULTATION THROUGH VIDEO CONFERENCING FOR EVERYONE FROM ANYWHERE
-------------------------------------------------------------------------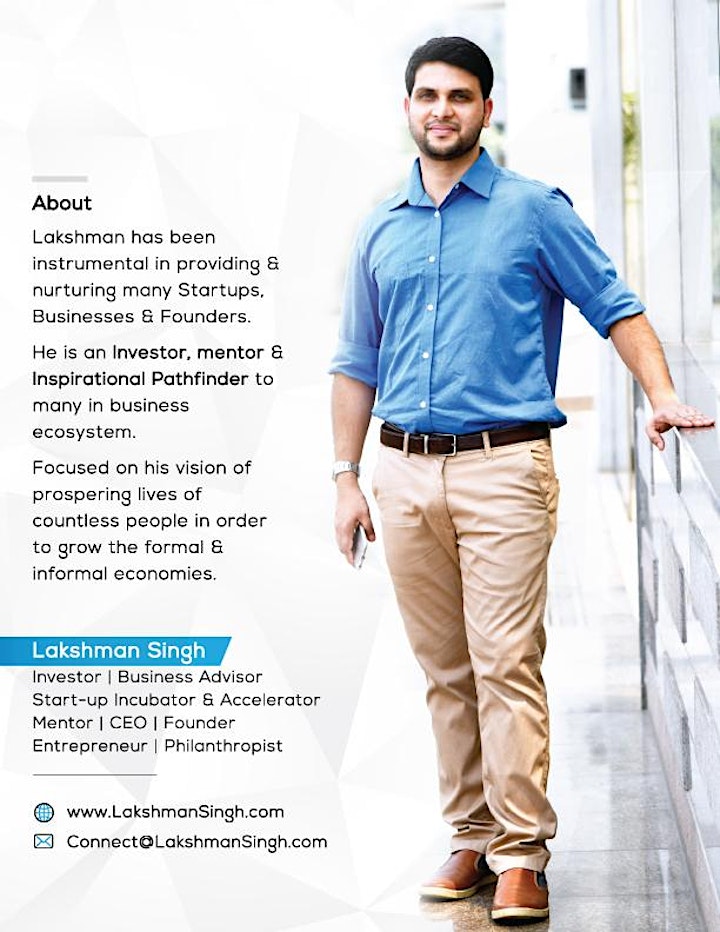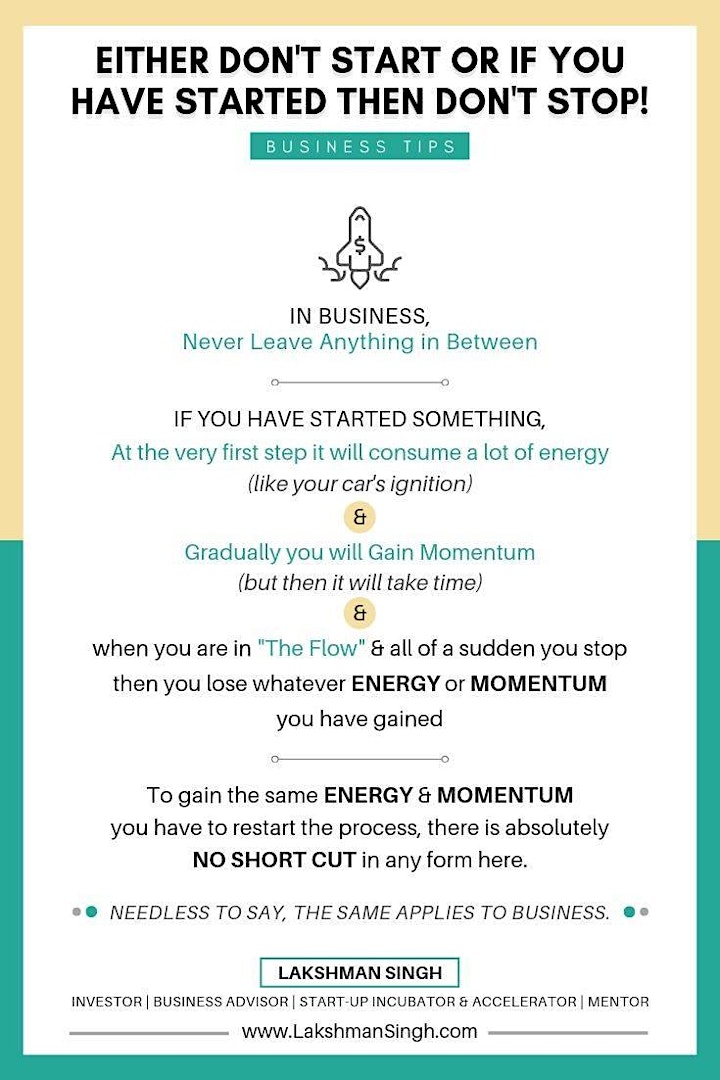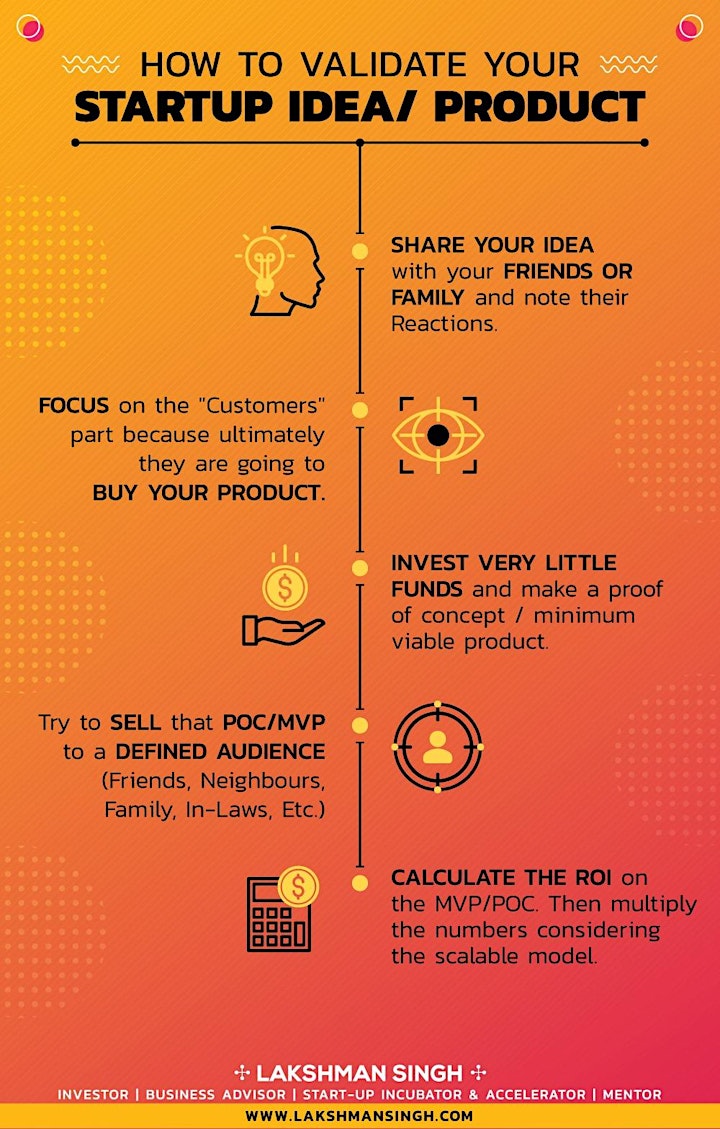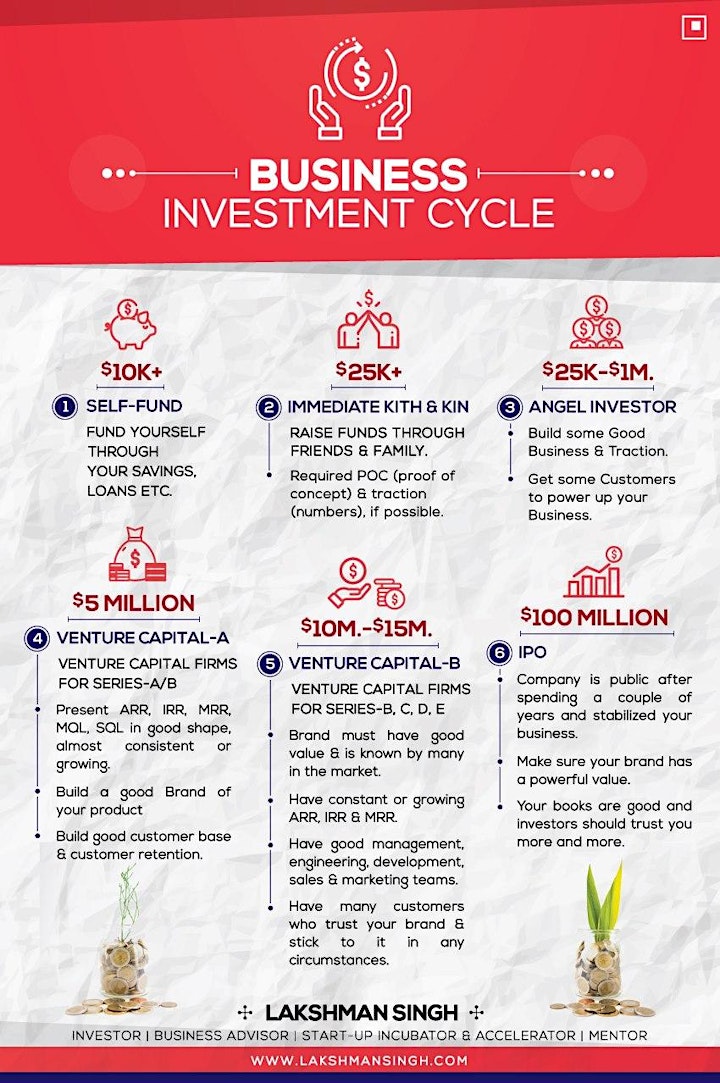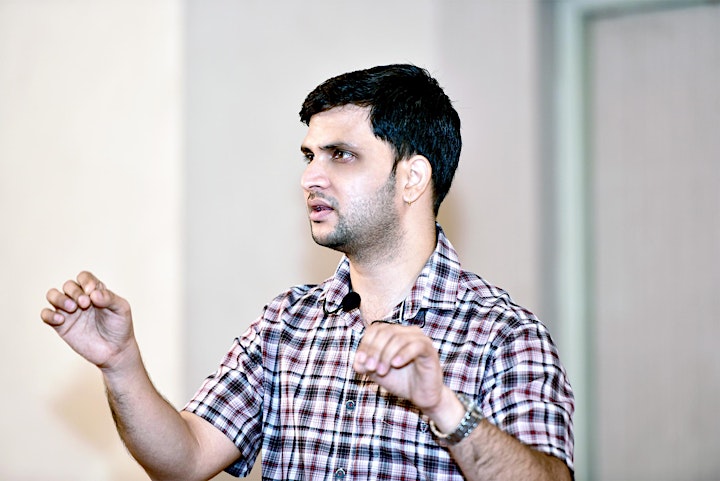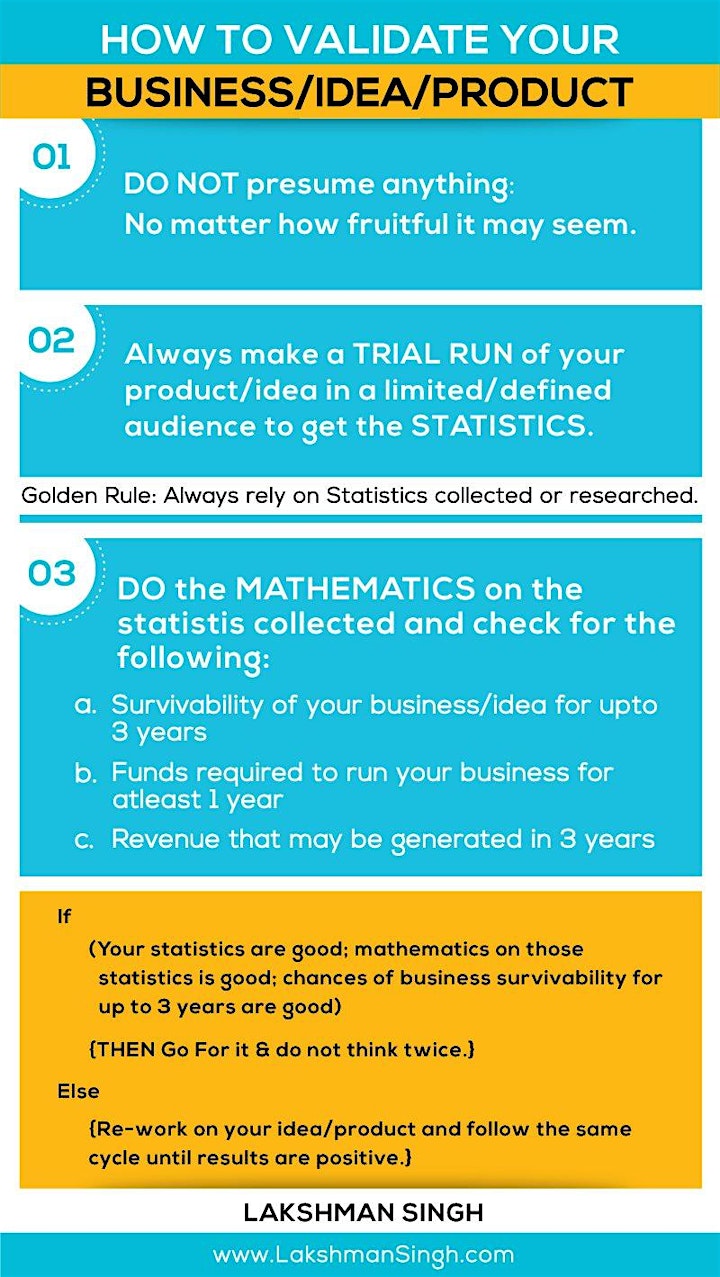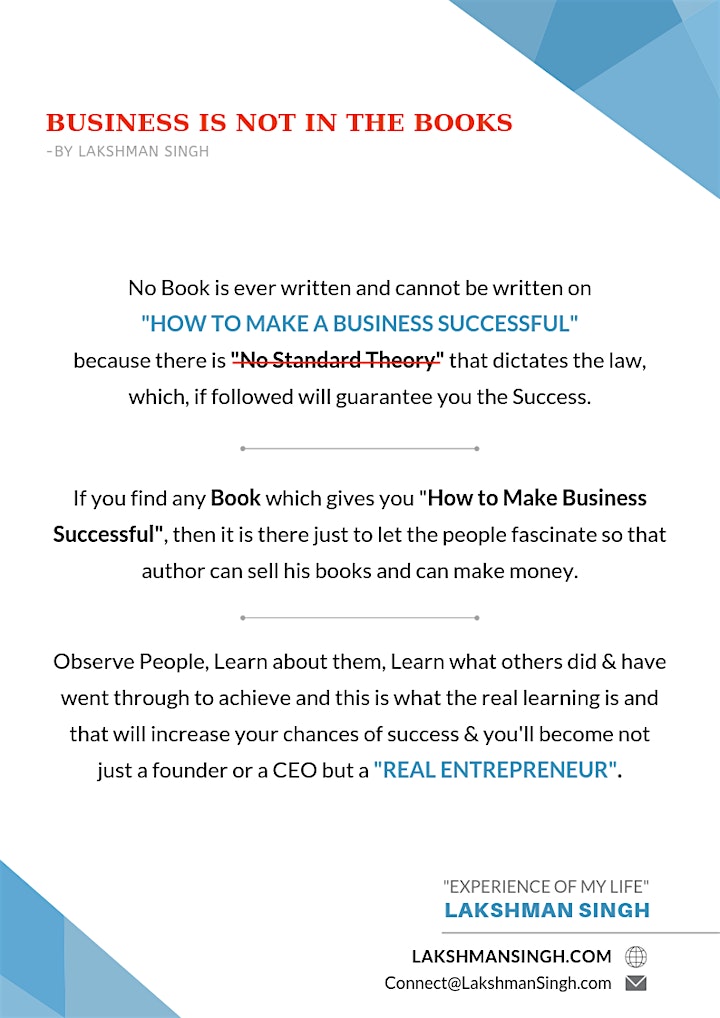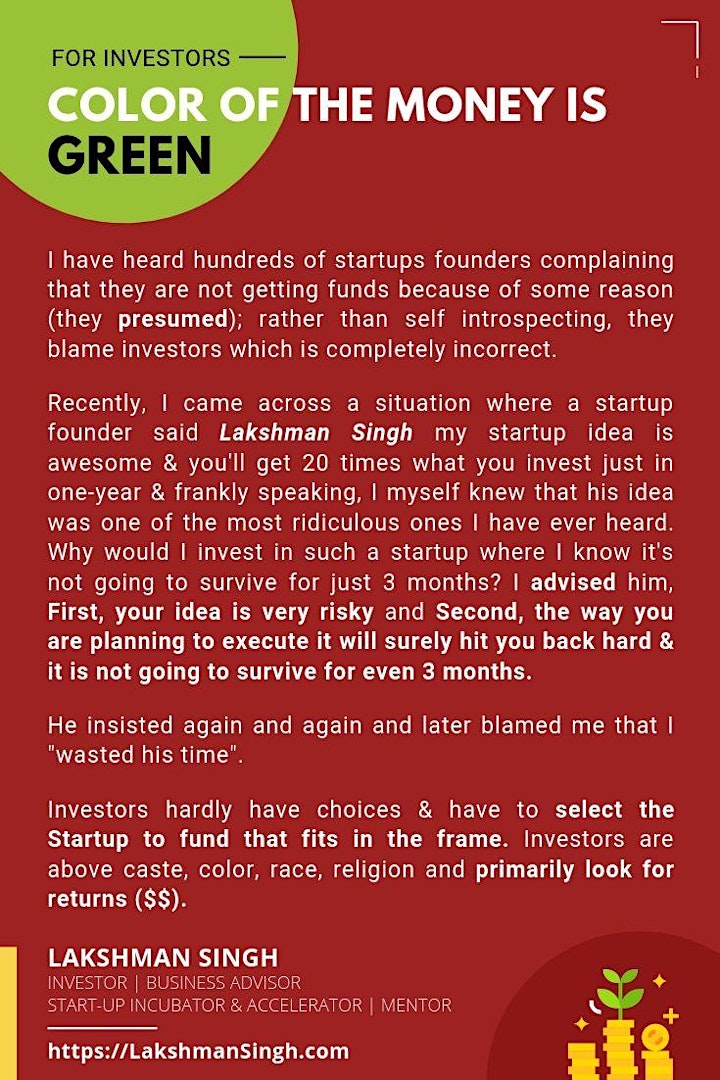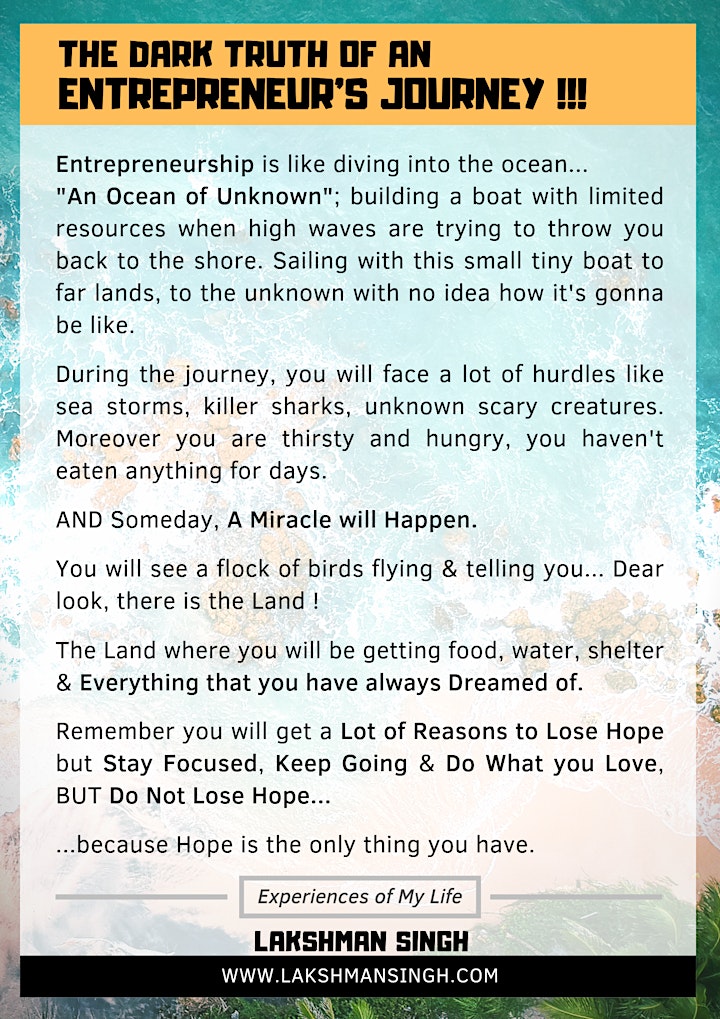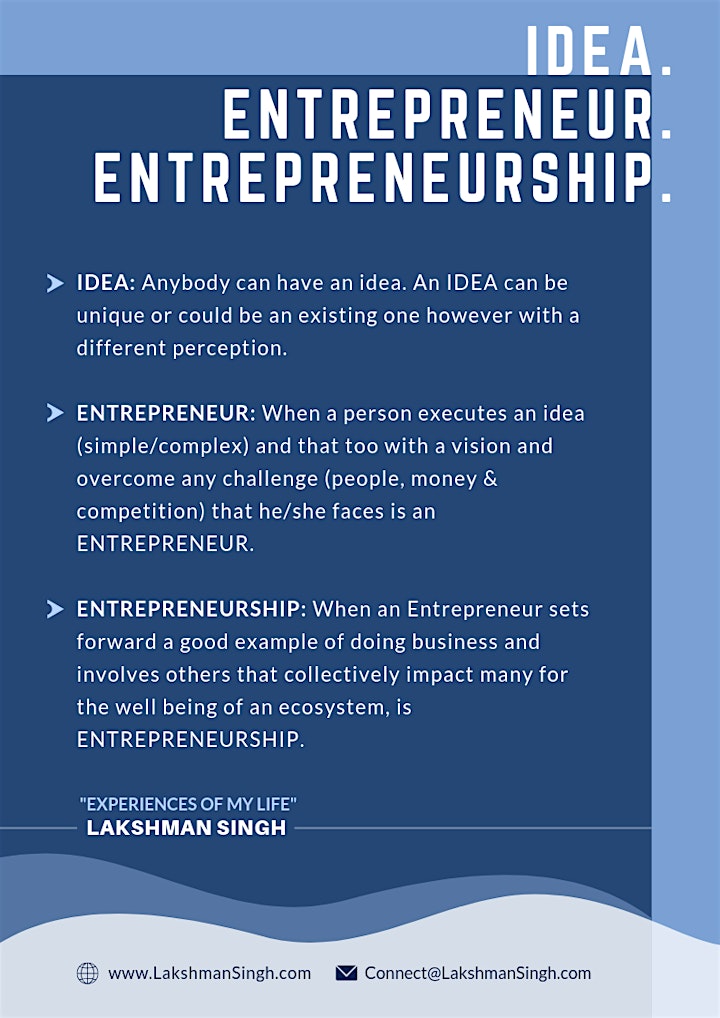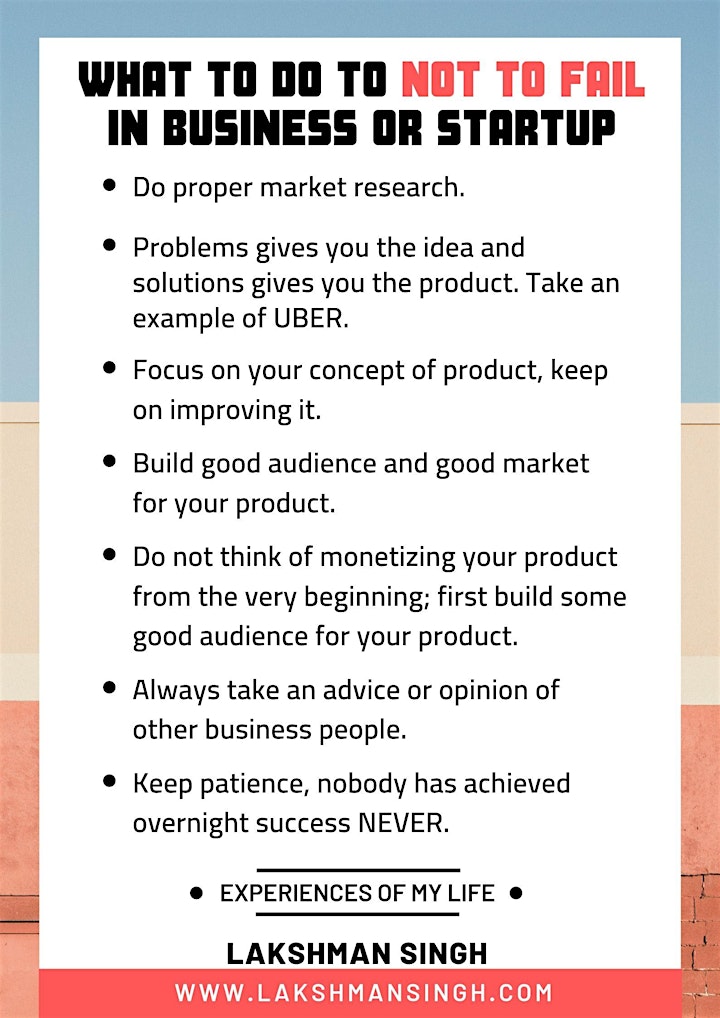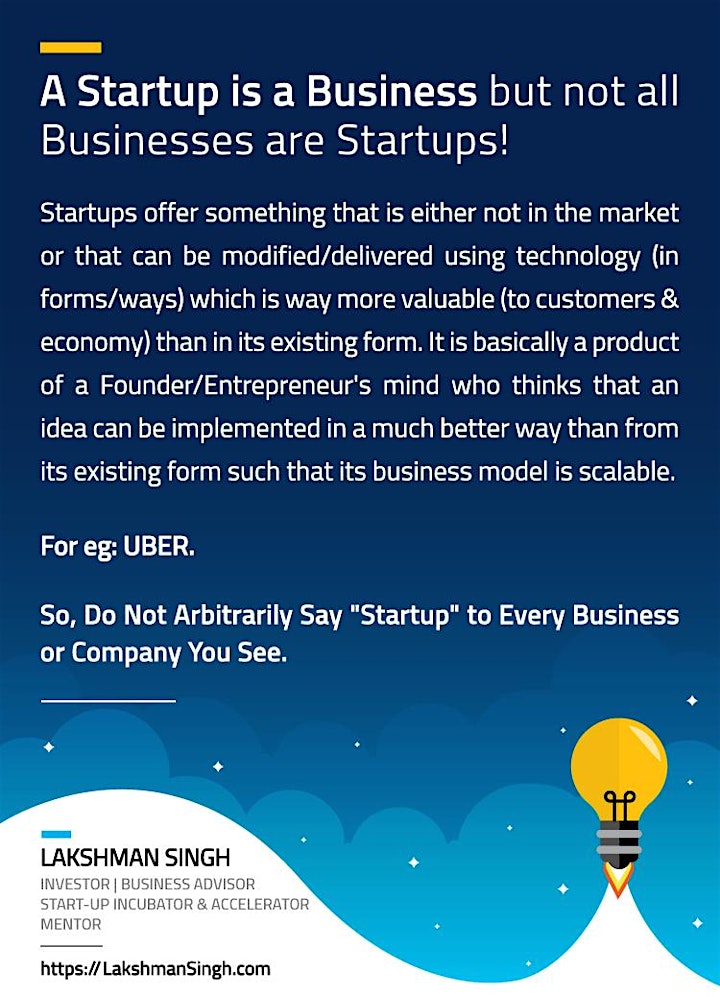 Date and Time
Location
Refund Policy
Refunds up to 1 day before event