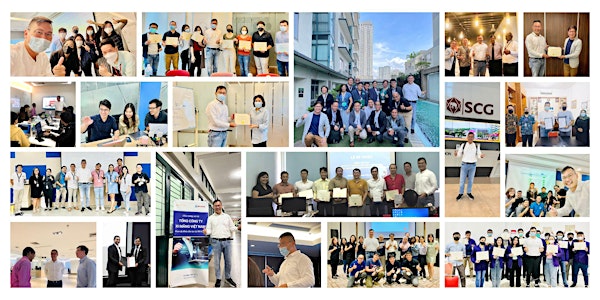 Business Strategic Intelligence Professional - Onsite @ Singapore
Acquire advanced knowledge on how to work with data from different business units to achieve business strategic intelligence using Python
Date and time
August 16 · 9:30am - August 18 · 5:30pm +08
Location
CASUGOL 1 Fullerton Road #02-01 Singapore, 049213 Singapore
Refund Policy
Contact the organizer to request a refund.
About this event
2 days 8 hours

Mobile eTicket
For more information: www.casugol.com/caai
International Acclaimed Certification. 5-Star Reviews
Suitable for everyone. Learn in an Interactive, Supportive, and Encouraging Environment.
Duration: 3-Day (Onsite) / 18 Hours (Online via Zoom)
Certification: Participants will receive a Certificate of Competency upon successfully completing the course and passing the examination
Who Should Attend: CIO, CTO, CISO, Information Specialist, Data Analysis, Data Scientist, Information Analysis, Marketing, HR, and Anyone interested in acquiring the advanced knowledge and skills in Business Strategic Intelligence using Python Programming.
Course Objective
Designed to develop your analytical, critical thinking and advanced problem-solving skills within workplace.
Acquire advanced knowledge on how to work with data from different business units to achieve business strategic intelligence using Python Programming.
Pre-Requisite
No pre-requisite. Business Strategic Intelligence Professional (BSIP) is suitable for anyone with no prior technological experience
Examination
Participants are required to attempt an examination upon completion of course. This exam tests a candidate's knowledge and skills related to Data Analytics and Business Intelligence using Python Programming based on the syllabus covered
Participants are expected to score a minimum of 70% to pass the examination
Module 1 - Introduction to Business Intelligence / Data Analytics
Overview on Business Intelligence
Relationship between Business Intelligence and Data Analytics
Key Components of Data Analytics
Advantages of Data Analytics
Business Intelligence Strategies
Module 2 - Business Intelligence Strategies and Application
Understanding Data Analytics Maturity Model
Descriptive, Diagnostic, Predictive and Prescriptive Analytics
Text Analytics vs. Web Analytics
Module 3 - Data Warehouse, ETL vs. ELT
Introduction to Data / Information Architecture
What is a Data Warehouse?
ETL vs. ELT Architecture
Application of Data Analytics in Business Processes
Module 4 - Deep Dive into Python Programming for Data Analytics
Introduction to Python Programming
Setting up Python IDE and Programming Environment
Understanding Structure of Python Programming
Python Variables: Integer, Floats, Strings
Using of List vs. Dictionary
Operators and Loops: If-Else, For, While, Break, Continue
Types of Functions in Python
Introduction to Built-In Functions in Python
Introduction to Classes in Python
What is Object-Oriented Programming (OOP)
Module 5 - Working with Key Modules / Packages for Data Analytics
Understanding Modules in Python
Working with NumPy Module
Using Python Pandas Module
Data Pre-processing, Data Cleaning, and Data Engineering
Introduction to MatPlotLib in Python
Data Visualization using Python Programming
Module 6 - Sales and Marketing Analytics
Introduction to Sales and Marketing Analytics
Estimation of Customer Demand
Establishing Sales Metrics for Performance Review
Understanding Social Media Metrics
Module 7 - Customer Behavioural Analytics
Understanding Customer Behavioural Analytics
Techniques for Measuring User Experience / Customer Experience
Establishing a Customer Satisfaction Metrics
Designing and Administration of Survey
Uncovering Insights from Customer Survey Data
Module 8 - Business Operation Analytics
Introduction to Business Operation Analytics
Identifying the Probabilities of Unprecedented Events
Evaluating the Magnitude of an Impact
Using Critical Thinking Techniques to Solve Problems
Identifying the Root Cause of a Problem
Module 9 - Human Resource Analytics
Introduction to Human Resource Analytics
Using KPI / Metrics to Evaluate Performances
Analysing Staff Attrition Rate
Designing Staff Satisfaction Metrics
Appraisal of Current Workplace Dynamics
Module 10 - Financial Analytics
Introduction to Financial Analytics
Application of Financial Analytics for Businesses
Understanding the Different Forecasting Techniques
Use of Variances (Actual vs. Budget) for Critical Review
Business Strategic Intelligence Professional (BSIP) involves rigorous usage of real-time case studies, hands-on exercises and group discussion
About the organizer
"The duty of helping one's self in the highest sense involves helping of one's neighbours" – Samuel Smiles
CASUGOL is an international certification body offering a wide-range of professional training and certification programs designed for all industries and verticals.
Participants attending our programs will develop the skills and knowledge in their chosen area of professional, personal or academic interest. Programs are constantly reviewed by educators who are industry experts in their chosen field to ensure that they remain current, relevant and consistently high quality.
CASUGOL strives to be a contemporary international neighbourhood where individuals gather to learn, be inspired, share ideas, knowledge, and resources to acquire all that necessary to pursue and advance in a career of their passion. Training and certification programs are also being offered in 25 Countries including Singapore, Canada, France, Thailand, Vietnam and Malaysia through our global Certified Training Partner (CTP) network.
Empowering people to be their best by making education, knowledge, and resources accessible has always been our commitment. With programs that cover a diverse range of interests, participants can certainly learn update their knowledge, gain new skills, or unleash their creativity.