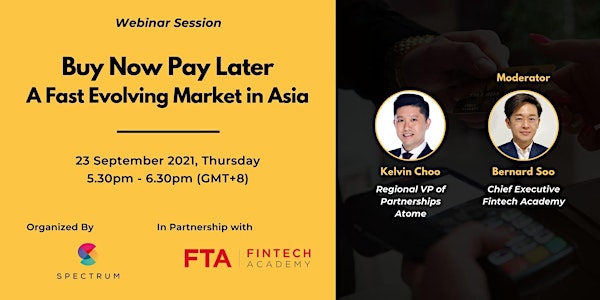 Buy Now Pay Later - A Fast Evolving Market in Asia
Join our webinar to discuss the opportunities and trends of the fast-growing "Buy Now Pay Later" (BNPL) movement.
About this event
"Buy now pay later" (BNPL) is the fastest growing online payment method globally, and expected to grow by 43% annually until 2024 (FIS WorldPay, Global Payments Report 2021). Here in Asia, the nascent buy now pay later landscape is rapidly evolving as banks and financial services look to enter the space. What will the future hold?
Join us in our upcoming webinar with Kelvin Choo, Regional VP of Partnerships at Atome, and Bernard Soo, Chief Executive of FinTech Academy, as they discuss the opportunities and trends shaping this fast-growing BNPL movement.
About the Speaker
Kelvin Choo, Regional VP of Partnerships , Atome
Experienced in local and regional sales, business development, and account management, Kelvin has a strong business acumen and working experiences that span across multiple industries - financial/payments, utilities, and telecommunication industries.
He has a good understanding in the digital, credit cards and Payment & loyalty space. He acquires partnerships with merchants in both B2C & B2B across different industries to drive new business development opportunities and strategies and revenue streams.
Through merchant and partners acquiring, he drives negotiations on commercials and agreements with financial associations/schemes and banks to formulate new business development opportunities and solutions selling with retailers and merchants.
Kelvin drives partnerships with financial institutions/banks and merchants on engagements with credit card Issuers and marketing on usage, card acquisition and tactical campaigns for digital platforms to promote deals and offers.
Moderator
Bernard Soo, Chief Executive, FinTech Academy
Bernard has more than 17 years experience in the wealth management industry, digitalising, designing and spearheading wealth management proposition initiatives, advocating and championing financial literacy and wealth management practices for high net worth customers to mass affluent customers across Asia.
Most recently, he helms the FinTech Academy, to champion and advocate Fintech Literacy, Digital Mindset and Financial Literacy in Asia.
Bernard also currently serves as an Executive Committee Member on the Singapore FinTech Association to continue growing SFA's role as a center of Singapore's fintech ecosystem to foster collaboration, innovation and partnerships among the members and industry at-large, with the goal of strengthening Singapore's position as a global fintech hub. His role is to further foster business growth with simplified access to capital and to drive talent development initiatives in the FinTech space.