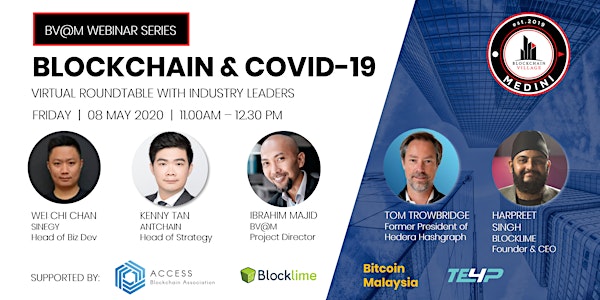 [BV@M Webinar Series] Blockchain & Covid-19 | Virtual Roundtable
Virtual Roundtable with 5 Thought Leaders in the Blockchain Industry
About this event
Blockchain Village @ Medini (BV@M) - one of the largest local initiatives launched last year promoting blockchain adoption - is putting together a virtual roundtable bringing 5 industry leaders together to lend insight how blockchain technology is playing its role in a post COVID-19 era.
ANTCHAIN - Kenny Tan, Head of Strategy ASEAN
SINEGY - Wei Chi Chan, Head of Biz Dev
BV@M - Ibrahim Majid, Project Director
TRITERRAS - Tom TrowBridge, President
BLOCKLIME - Harpreet Singh, Founder & CEO
Moderated by BitcoinMalaysia.com, we will be discussing
Data sharing
International Collaboration
Infrastructure Changes
Crisis Response & Delivery
Talent Building & Policy
Who is this event for
This event is suitable for people with basic knowledge about blockchain technology and will be extra beneficial for you if:
You are interested to learn how blockchain is used in the era post-COVID19.
You understand the difference between cryptocurrencies and blockchain. (Yes. Although related, they are not the same thing).
You understand the difference between blockchain and databases.
You understand the difference between permissionless and permissioned blockchains.
Moderator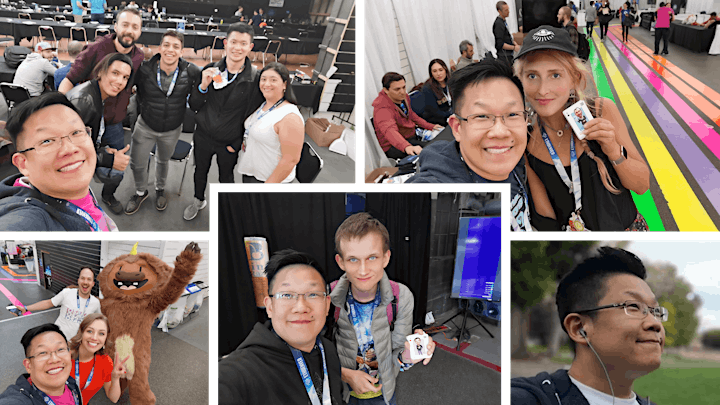 Jason Chew, Managing Partner, BitcoinMalaysia.com
Jason is a community builder and also manages BitcoinMalaysia, the largest cryptocommunity community built since 2012.
Jason's first experience in the cryptocurrency rabbit hole began with Celebrus Advisory, a recognised Top 10 blockchain consulting company in Asia Pacific. Jason has played an extensive role advocating the safe and responsible use of cryptocurrencies, helping new entrants differentiate the real and fake through his easy to understand talks. Originally from the renewable energy sector, Jason is also the founder of EMPOWER - a startup that is developing a blockchain-based decentralised finance (deFi) product for the renewable energy sector, that issue loans so that more people can install solar panels for their residential rooftops.