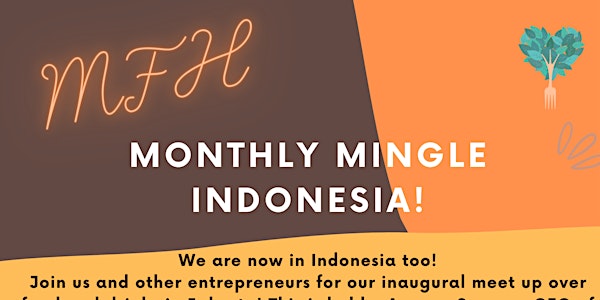 By Invite only: MFH comes to Indonesia - Join our first Monthly Mingle!
We are pleased to share that we are now in Indonesia! Join our very first Monthly Mingle led by Aparna Saxena and sponsored by AWS.
When and where
Location
Flow Jakarta Jalan Doktor Ide Anak Agung Gde Agung Kecamatan Setiabudi, Daerah Khusus Ibukota Jakarta 12950 Indonesia
About this event
We are pleased to invite you to our very first MFH event - Monthly Mingle in Jakarta! This is led by Aparna Saxena, our organising committee member in 2020 and sponsored by AWS.
We thank you for being so supportive of MFH events over the years and hope to see you at this special event!
Expect a lovely afternoon of networking with other entrepreneurs, delightful food and drinks and lots of laughter, catching up over the past 2 years of virtual meetings.
We thank AWS for sponsoring and Vertex Ventures Southeast Asiafor supporting the program.
Only 24 physical seats available on a first-come-first-serve basis, join us by signing up now!
About AWS:
Whether you're looking for compute power, database storage, content delivery, or other functionality, AWS has the services to help you build sophisticated applications with increased flexibility, scalability and reliability.
https://aws.amazon.com
About Aparna Saxena:
Aparna Saxena is the CEO of TORAJAMELO, Co-Founder of Vriksh Impact Partners, and ASEAN Lead of She Loves Data.
Aparna Bhatnagar Saxena is an unapologetic feminist, a vegan, an environmentalist, and a student for life.
An Indian, now based in Jakarta, and have now lived and worked in 4 countries in Asia. She is now a social entrepreneur, and has worked in start-ups, SMEs, larger corporations and impact businesses.
Under her leadership, TORAJAMELO aims to cement its identity as a slow ethical lifestyle business and foundations that works on environmental, social, and cultural sustainability of indigeneous communities of Indonesia.
Aparna is also co-founder of Vriksh Impact Partners, a boutique investment and advisory firm in India that is focussed on supporting early stage plant-based businesses, part of the advisory team of Next Billion Advisors.
At She Loves Data, she is the ASEAN lead and mentors and guides chapters across ASEAN and India on their endeavour of enabling more women to enter the world of data and pursue careers in the same.
More about Asia Startup Network (ASN):
ASN's mission is to help promising companies to leapfrog and realise their potential on the global stage. Mentor for Hope (2020) and Makan for Hope (2021) initiatives are non-profit initiatives of ASN. Visit www.makanforhope.org for more information.
Makan for Hope Festival (2021):
Co-founded by Elise Tan and Andrew Tan, and in tandem with Fei Yue's 30th anniversary, Makan For Hope Festival was a month-long festival of 30 virtual Makan For Hope sessions which raised > S$121,000 and impacted the lives of >1,500 like-minded change makers, entrepreneurs and aspirants across the SE Asia startup and tech ecosystem.
Each session saw 10 Participants hosted by a Host, together with a Shepherd moderating it. Each attendee of the session donated $100 (Early Bird) or $150 (Normal) for a time of networking and learning together. Hosts each donated $1000 - $3000 for their session as well.
Mentor for Hope (2020):
Co-founded by Elise Tan and Janet Neo in 2020, Mentor for Hope is a startup mentoring and charity fundraising campaign supported by over 250 VC investors, family offices, ecosystem partners, tech industry leaders (e.g. Google, Facebook, AWS), Temasek Foundation. More than 200 tech entrepreneurs benefited from a cumulation of 520 hours of mentorship
It raised over S$43,000 for Beyond Social Services and Willing Hearts Soup Kitchen, providing more than 20,000 lunch meals to persons in need, and helped more than 20 families affected by COVID-19 Pandemic for three months.
Visit www.makanforhope.org for more information.