CAGEMATCH! 2022 - Season Finale (Two Guys vs NKP vs Friends with Benefits)
Three improv teams battle to the death for your votes! Who's kicked out? Who's coming back? You decide! Blood! Blood! Blood! Blood! Blood!
When and where
Location
The Nook Studio (The Improv Company) #02-05 Aliwal Arts Centre 28 Aliwal Street Singapore, 199918 Singapore
Refund Policy
Contact the organiser to request a refund.
Eventbrite's fee is nonrefundable.
About this event
Show Synopsis
Two kickass improv comedy teams brawl for your LOLs! Strap in and prepare to be blown away by an electrifying evening of on-the-spot intrigue and super-weird hilarity. When it's over, you choose who returns next week to defend the crown against an ALL-NEW TEAM!
Contenders
Why will Two Guys win?
"Two guys use the power of ✨friendship✨ to do the best fookin improv."
Cast: Jovi Tan | Zhiming Chen
Friends with Benefits
Why will Friends with Benefits win?
"Sizzling 🔥, ruthless chemistry"
Cast: Shulin Tay | Victoria Ong
New Kitten Party
New Kitten Party message of revenge?
"We swept the first half of the season, and now we're back to settle unfinished business. The road to the title goes through New Kitten Party."
Cast: Luke Yu | Beixian Tang | Jon Cancio | Lakshmy Priya | Prescott Gaylord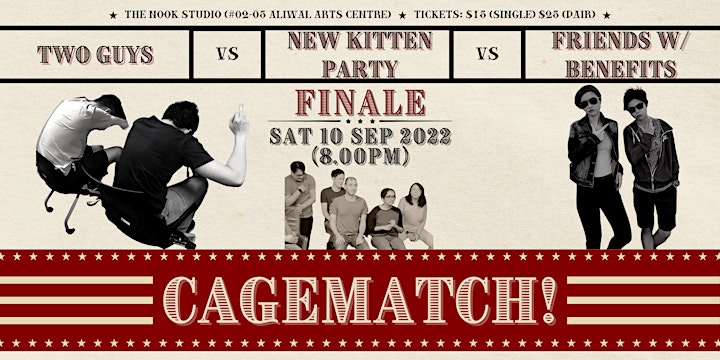 Event Details
Timing
Sat 10 Sep 2022 (8.00pm - 10.00pm)
2-hour performance (no intermission, but audiences will vote near the end of the show)
Doors open 10-15min before showtime
Venue
The Nook Studio (TIC)
#02-05 Aliwal Arts Centre (S199918)
We regret that this venue has no lifts and is not wheelchair-accessible
Price
S$18.00 (Single Admission)
S$30.00 (Pair Admission)
Discounts
TIC Vouchers - Please remember to enter your voucher code when selecting your tickets
Early-Bird Discount (20%-off) - Use Promo Code 'pineapple' when selecting your tickets - Ends Tue 6 Sep 2022 (11.30pm)
Other Details
Performed in English
Rating: Advisory-16 (Some Mature Content & Coarse Language)
What is 'Cagematch'?
Cagematch!SG is a wrestling-themed showcase of Singaporean improv troupes. Each night, two teams will each perform a half-hour set of long-form improv, before letting the audience vote on which was the better set. Whichever team wins that night gets to come back the following weekend to face off with a brand new team! Cagematch is a gritty yet fun way for improv teams to 'fight' each other on stage while making new friends after a show.
Past Cagematch Winners: ASAP Improv (2018), Mind Your Language (2019), ??? (2022)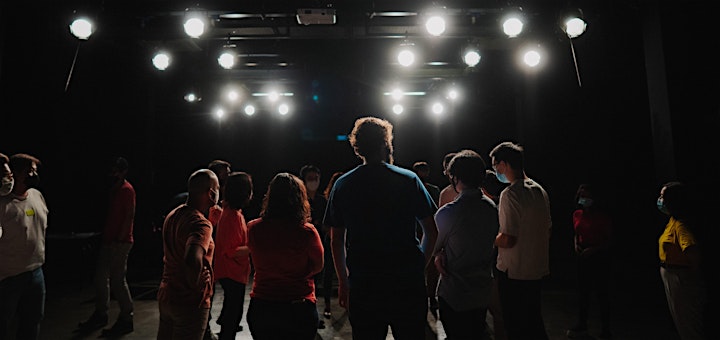 What's 'improv'?
'Improv' is short for 'improvisational theatre and comedy'. As the name implies, improv is a special form of theatre wherein no scripts are involved! Rather, the performers have to create their stories on the fly, usually with the help of their audience. This creates a unique experience where no two shows are the same, and where both performers and audiences actively collaborate as part of the storytelling.
About The Improv Company
Founded in 2013, The Improv Company is Singapore's first and biggest school of improvisational theatre and comedy. We welcome dozens of new students every month, imparting the positive values of "Yes, And" to every new cohort.
Over the years, we've also produced and performed in hundreds of improv shows. Our coaches have supported a handful of performing groups; some have gone on to grow as independent troupes, while others stayed as TIC's House Teams. Internationally, we've represented Singapore at numerous festivals around the world. We even host the Singapore Improv Festival, which we produce biennially since 2016.
Ultimately, we hope to keep advancing improv as an applicable approach to daily life as well as a staple form of community theatre in Singapore!