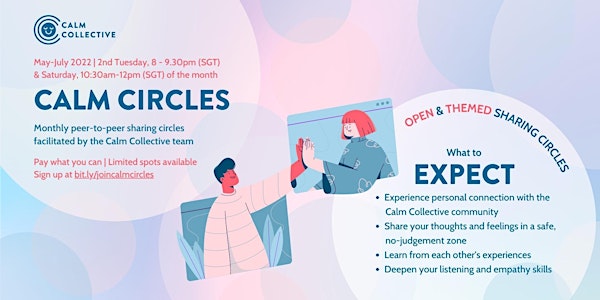 Calm Circles 2022: Saturdays
Join us at Calm Circles - a safe, non-judgemental space for open conversations where you can connect with the Calm Collective Community.
Refund Policy
Contact the organizer to request a refund.
Eventbrite's fee is nonrefundable.
About this event
Calm Collective presents: Calm Circles - a safe space to connect, share, and learn with your peers.
What to expect:
Experience personal connection with the Calm Collective community, a community for good mental health in Asia
Share your thoughts and feelings in a safe, no-judgement zone
Learn from each other's experiences
Deepen your listening and empathy skills
*Disclaimer: Calm Circles are not a replacement for any existing/ongoing therapy or any professional mental health care.
Following our first themed Calm Circles on 14 May, where we took some time to reflect on our relationship with ourselves, in our next themed Calm Circles on Saturday, 14 June, we'll be taking some time to reflect on setting healthy boundaries.
While it's not easy to identify our personal boundaries and then communicate them to others, doing so is key in maintaining our well-being and enjoying healthy relationships in our personal lives, at work, or in any other areas of life. Join us to take a pause and learn more about yourself while connecting with others in our community.
During group conversations with our trained facilitators, we will hear from one another on:
Challenges we face in communicating our boundaries to others
Common and relatable consequences of not setting boundaries, such as burnout
The process of figuring out and adjusting personal boundaries by looking within
Experiences that have empowered us to make changes to prioritise our wellbeing
For our next themed Calm Circles sessions, we will be sharing about:
July 16: Coping with change
More details on the above theme coming soon! In the meantine, do learn more about Calm Circles here: https://www.blog.calmcollective.asia/blog/introducing-calm-circles
Reviews from our past participants:
"Calm Circles is a great space for people who need the human touch to come and connect, especially during this time when we need to be kind to ourselves and each other."
"I was also very encouraged and pleasantly surprised at what an authentic and respectful conversation about feelings we can have with strangers in an Asian context."
How our participants felt at the end of the 1.5h session: