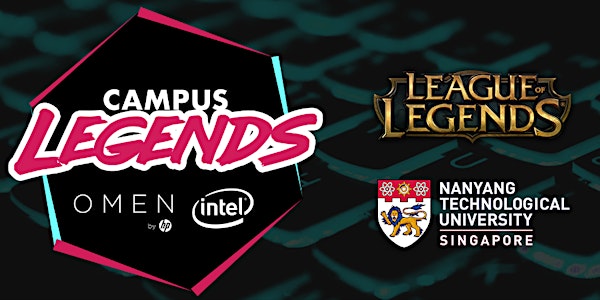 Campus Legends 2019: League of Legends - NTU Qualifiers
Location
Singapore
Singapore
Sales Have Ended
Ticket sales have ended
Thank you for your registration. Your primary contact will receive a confirmation email closer to the date. Please join our Discord channel at: http://discord.gg/wkKE3pz
Description
Campus Legends 2019: League of Legends - NTU Qualifiers

The Campus Legends: NTU qualifiers are open to all current NTU students up until June 2019.

One team will advance and represent NTU to square off against 13 other institutions for a shot at a prize pool of SGD$7,000 worth of cash and scholarship!

Looking for a team in your institution? Join our community Discord server @ https://discord.gg/gujVJJj !

Registration Details
Registration Period: 24th April 2019 - 19th June 2019 (23:59)
Registration Fee: $10 per team
Any Registration after registration is closed will not be entertained.
Any enquiry or changes in the roster? Email tournament@scoga.org and we will get back to you shortly.
Rosters will be locked once registration is closed. Roster changes may be requested, but may only be approved in a case by case basis.
Tournament Details
Tournament Rulebook
Tournament rules and regulations can be found here: https://campuslegends.sg/wp-content/uploads/2019/04/CL-LoL-Handbook.pdf
Prize Pool Breakdown
Champions - $3,500 ($1,750 Cash + $1,750 Scholarship)
1st Runner-up - $2,000 ($1,000 Cash + $1,000 Scholarship)
2nd Runner-up - $1,500 ($750 Cash + $750 Scholarship)
Tournament Format
The tournament will be held in 3 phases:

1) Campus Qualifiers
Teams will be split up into two even groups and face off against teams in their campus in three rounds under the swiss format. The top 2 teams of each group will advance into a single elimination bracket. The top team will qualify for the group stages.

2) Interschool Group Stage
Institutions will be split up into two even groups. Each team will play every other team once in a Best-of-1 matchup, and the top 4 teams of each group will qualify for the playoffs.

3) Playoffs
Teams will seeded according to their performance in the group stages and face off in a single elimination bracket. All matches will be played in a Best-of-3 series, except for the finals which will be a Best-of-5 series.


The tournament organizer reserves the right to amend the rules and formats without prior notice.