Description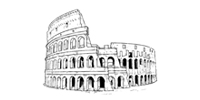 Every generation in the history of the church has acknowledged the pivotal place of Romans. Martin Luther considered Romans to be… the purest gospel. He went on to say that it is worthy that every Christian should know it word for word, by heart, but also that he should occupy himself with it every day, as the daily bread of the soul. John Calvin, another Reformer, wrote that if we have gained a true understanding of this Epistle, we have an open door to all the most profound treasures of Scripture.
Paul's chief emphasis in Romans is God's justification of sinners by grace, in Christ, through faith. The sweep of Paul's gospel is cosmic and eternal, and yet reaches to the existential and the individual. Its repercussions ripple from time to eternity, transform people and society, bear implications for personal conduct and social behavior. Paul's letter plumbs the depth of Divine Rationale and yet lifts the human soul to the bosom of God, to be released back to transform life on earth.
No wonder Paul asserts he is not ashamed of the gospel for it is the power of God… How long has it been since you felt the explosive power of the gospel in your soul? How conscious are you of the guiding pull of the gospel in your life choices and direction? It may be time to re-order our lives by yielding to the Cosmic Shattering Power of the Gospel and stand firm and tall in the Grace of God!
Here are the details:
Saturdays, 4 - 6 pm (Tea fellowship starts 3.30 pm)
July 2017 - 1, 8, 15, 22, 19
August 2017 - 12, 19
Venue:
The Goh Ewe Kheng Auditorium @ Eagles Center
166 Bukit Merah Cenral #04-3531
Singapore 150166
How To Get There:
By Car
Park at Multi-storey carpark at Blk 119 Bukit Merah Central. Walkway to Blk 166 is on deck 4A.
By MRT
Alight at Tiong Bahru MRT, and take buses 5, 16, or 851 from bus stop opposite Tiong Bahru Plaza
By Bus
Buses from bus stop Opp Tiong Bahru Plaza (10161) to Bukit Merah Interchange: 5, 16, 851
Buses from Bukit Merah Bus Interchange: 5, 16, 57, 123, 131, 132, 139, 153, 167, 176, 198, 272, 273, 275, 851 Buses from bus stops near Blk 162 Jalan Bukit Merah (10091 and 10099): 14, 147, 196, 197, 855, 961, 961C
About the Speaker:

Peter Chao is the Founder of Eagles Communications. He is keenly interested in discerning hope in human predicaments. Peter enjoys a well-received speaking and preaching ministry in Asia and the US. His Bible teaching is known to be insightful, inspiring as well as practical.
Free Admission. All are welcome. Sign up now!