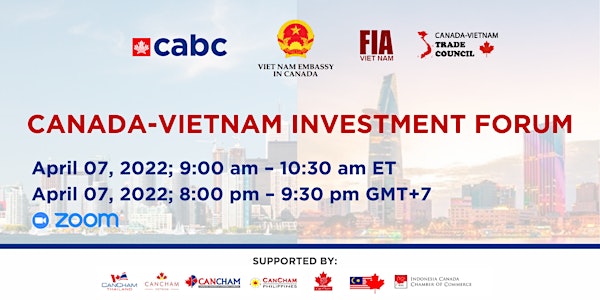 Canada-Vietnam Investment Forum
Join the Canada-Vietnam Investment Forum on April 7, 2022!
About this event
You are cordially invited to the Canada - Vietnam Investment Forum on April 7th, 9:00 - 10:30 am ET/ April 7th, 8:00 - 9:30 pm GMT+7 jointly hosted by the Embassy of Vietnam in Canada, the Canada-ASEAN Business Council, the Canada-Vietnam Trade Council and the Vietnam Ministry of Planning and Investment.
This event is part of the CABC's Canada-ASEAN Business Leaders Series 2022.
The objective of this event is to provide a platform to facilitate increased investment flows between Canada and Vietnam by showcasing success stories from both the Vietnamese and Canadian private sectors, and providing high-quality networking opportunities to connect the two countries' business and policy leaders to foster partnerships.