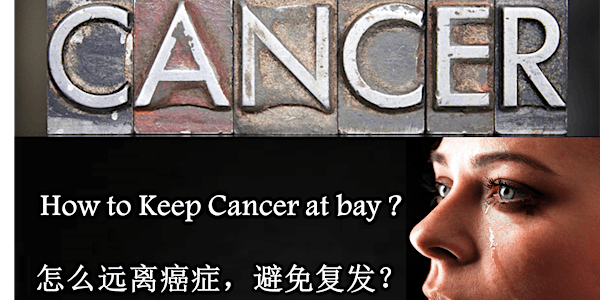 预防癌症,从"气"开始 Cancer Prevention start with "Qi" (Chinese Seminar)
练气,防癌,防病 Practice "qi", Cancer prevention, Disease prevention
About this event
全世界只有5%的人拥有健康的身体。75%的人属于亚健康状态,20%属于患病者。
人们起居无常,饮食不节,缺乏健康养生知识,于是健康逐渐远离大家。人老了,体弱多病,人之常情,可是有些老年人却身体硬朗,生龙活虎。因为懂得呵护"气"的人,就能让健康追着他。
任何疾病、身体不适,都离不开"气"。气的多寡,气的运行通畅与否决定我们的健康。根据"元气论",解释气的存在和气的运用。
人们要怎么补足元气,才能让身体百岁不衰,防止癌细胞生长?
Only 5% of the world's population has a healthy body. 75% of the people belong to the sub-health group and 20% belong to the sick.
Hectic lifestyle, unhealthy diet and lack of correct health knowledge lead to poor health. We all knew we will become old, frail and sick as we age.
Is this "human nature"? But we can see there are always a handful of elderly who are tough and healthy. These are the people who know how to take care of their "qi" , that enable them to have a healthy body.
Any disease or physical discomfort is inseparable from "Qi". The amount of qi and smooth flow of qi determine our health. According to the "Original Qi Theory", it explain the existence and application of Qi.
How can people replenish their vitality so that their body can last a hundred years without any mutated cells that transformed into cancer cell?