Candid Confessions is an open and engaging forum tackling pertinent issues in our larger Singapore society.
About this event
[This is a CLOSED DOOR session and Chatham House rules will apply]
The world has changed a lot in the past year since the COVID-19 pandemic started. The pandemic has changed the way we work and live. It has also brought many social and political issues to the forefront. These issues may have always been present but the turmoil caused by COVID-19 has shone a brighter light on these matters.
In keeping with those ideals, we invite you to join us at the latest instalment of Candid Confessions, focusing on empathy during a crisis. Join us as we engage in spirited dialogue with each other and our panelists! Do not be afraid to speak your mind but also be prepared to listen to the views of others. When people face difficulties, displaying empathy is one of the most important ways to show care and concern.
But how do we show empathy to different groups of people, some of whom may be almost alien to us?
What constitutes empathy?
Is empathy enough when structural and societal change is needed to help those most affected?
Who are the most affected and how do we show empathy most effectively?
These are just some of the questions we'll dive into in this edition of Candid Confessions.
Candid Confessions is an open and engaging forum tackling pertinent issues in our larger Singapore society. In the first two sessions, we tackled the issues on race, which may be considered taboo, but with openness and empathy, to hear and understand perspectives from different people in society.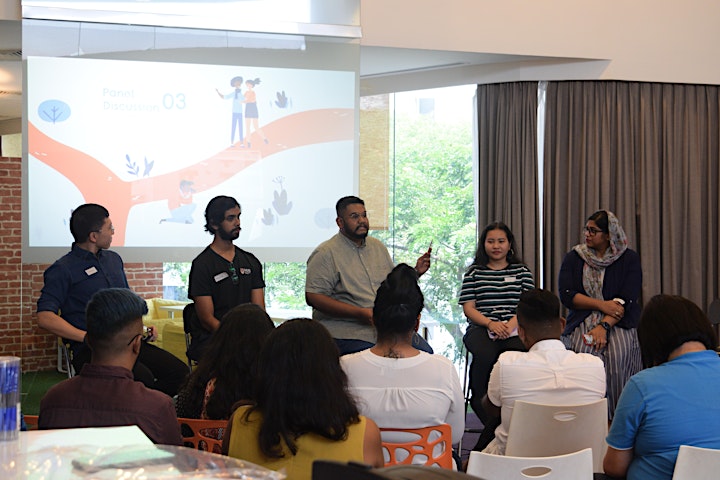 Guest Panelists
Devan (Mental A.C.T)
Devan is one of the two founders of Mental ACT and a Social Worker with a local Social Service Agency. As an individual, Devan has been working in the field of mental health for the past 5 years. He has been piloting various mental health programmes such as #ifonlyyouknew and Project Leggo.
Mental ACT is a non profit community organisation that champions Mental Health programmes and services in the Indian Community. It was founded in 2017 to address the increasing needs and issues related to Mental Health within the Indian community. ACT stands for Advocate, Care and Train which serve as our pillars of action. Our vision is a stigma-free & empowered community where every individual's mental health is supported and cared for.
As an individual, who has had suicidal ideation in his past and also lost a friends to suicide, Devan inspires the community through his own mental health journey and advocacy efforts to make mental health services accessible and available to the Indian Community.
In the CC3 session, Devan hopes to bring information and theoretical models on empathy. He also hopes to share best practices on empathy and how it can benefit and support the community.
Krithi Pushpanathan
Krithi has been a volunteer at TWC2 for 1.5 years and is involved in The Cuff Road Project where free meals are given to workers seeking formal redressal and also supports the social workers in their casework.
Transient Workers Count Too (TWC2) is one of the few non-governmental organisations that promotes equitable treatment for migrant workers in Singapore.
In Candid Confessions 3, Krithi will talk about the issues migrant workers in Singapore faced pre-covid, how some of these were exacerbated during the pandemic and how we can help this vulnerable group.
Be ready to engage in a mindful discussion with other individuals and see the possible ways we can show empathy during such crises.
Date: 26th June 2021
Time: 2pm-4:30pm
Platform: Zoom
Who can attend: Anyone from any race and religion between the ages of 17 - 35, with an open and empathetic mind
More information on our speakers and the programme will be released on our Instagram profile @trcyouthwing.
For more information or if you have any questions, please email us @ youthwing@trc.org.sg
Organiser of Candid Confessions 3
As TRC Youth Wing, we aspire to be the voice for not only the Tamil youth in the community but also act as a platform for Tamil youth to take part in and excel in various fields. We seek to adopt alternate perspectives in pursuing community initiatives and hope to instill in our Tamil youth the importance of service to the community.
The TRC Youth Wing aspires to inspire, to be an enabler of positive change within our Tamil youth and encourage them to be active contributors to both the Tamil community and the larger Singaporean society.