Description
Innovation theatre. Defined as an organization that puts on a show on the surface to be perceived as innovative without being it. Well. We try to be innovation competent since our Founder Serge Kampf kickstarted Capgemini in a 2-room apartment in the town of Grenoble, France in 1967.
Since then, innovation has been inherent in us. Head down to Capgemini's Applied Innovation Exchange Lab Crawl, in conjunction with the Monetary Authority of Singapore's Fintech Festival Week. For a second time, Capgemini will be opening its doors during the Fintech Fest to bring you:
Reinvention within Reach.
To better serve our clients, we drive corporate reinvention at our Applied Innovation exchange (AIE) by identifying new opportunities and technologies to cater to emerging markets. With 13 exchanges worldwide, deep tech expertise, and immersion in the tech ecosystem worldwide, we help businesses achieve competitiveness and growth in the age of digital disruption. Interact with guest speaker Andrea Hajdu-Howe, who comes with 20 years of experience in financial services, now a partner at Antler, a venture firm helping entrepreneurs become great founders of companies.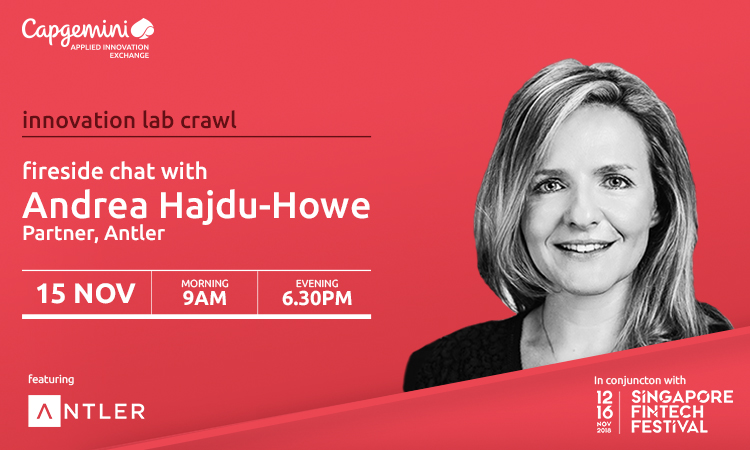 If listening bores you, just head down to check our experiential set of fintech demos ranging from AI, ML, Blockhain, Data Visualization and more. Details below. Be bold. Be different. Reinvention is within Reach. See you there.
Partner fintech demos:
1) Appnomic
Appnomic provides Application Performance Management & Cognitive Automation Solutions to digital enterprises. The solutions are designed to help enterprises minimize and prevent business outages, preparing companies for exponential growth by using machine learning and patented Application Behavior Learning techniques.
2) Taiger
Taiger is the market leader and pioneer of Knowledge Work Automation(TM). Taiger helps organizations optimize operational efficiencies by automating complex cognitive tasks with their patented information access systems. Their solutions provide unparalleled accuracy in information extraction for industry leaders in financial services and the government sector.
3) Alpha Fintech
Alpha Fintech is a global leader in providing third party payment, risk, commerce and digital banking solution. Their enablement and management platform, introduces a single interface to virtually any fintech vendor, unlocking new productivity gains that are only achievable through its smart routing engine.

4) Gramener
Gramener is a design-led data science company focusing on domain-led analytics approach to derive insights as data stories. Gramener has worked with over a 100+ enterprise clients, across multiple verticals. Their platform builds data applications rapidly which can be embedded into an existing platform. Their expertise is drawn from a team of over 200 people with a rare skill combination of analysis, coding, consulting & design.
5) NOS
NOS leverages blocklattice technology to enable fair global USD access and transfer with their settlement currency NOLLAR. NOLLAR is backed 1:1 by USD, audited, fully redeemable, transferable within 1 second without any fees, based on green technology which uses 8 million times less energy than Bitcoin. NOLLAR aims to give people in emerging market access to a stable currency as inflation protection, fully decentralized, reduce waiting time for international money transfers and remove payment fees altogether.
Two session timings to choose from:
15 November 2018, Thursday
9:00am to 11:00am

6:30pm to 8:30pm
Programme:
5 mins: Innovation is key, An introduction to Capgemini's Applied Innovation Exchange
5 mins: The world is changing, Exploring Capgemini's latest thinking on FinTech
15 mins: Fireside chat with Andrea Hajdu-Howe, Antler, Innovation in the banking industry and the key to entrepreneurship
40 mins: Inspire people and change the world, 4 demos to inspire your creativeness
10 mins: Bringing it all together, How have we helped our clients and Q&A