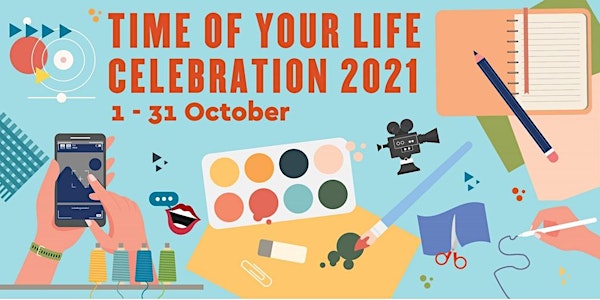 Capturing Sounds of Singapore with SoundscapeSG | TOYL Celebration
Learn how you can record and archive your favourite sounds in Singapore on SoundscapeSG!
About this event
[Programme Update]
Please note that due to unforeseen circumstances, this programme has been shifted to the Zoom online platform.
This programme is suitable for those aged 50 and above, and is organised as part of the Time of Your Life Celebration 2021 (TOYL 2021).

 Important Notice
This programme/event is open to members of the National Library Board, Singapore. Please ensure you have your myLibrary username on hand before proceeding with the registration. If you do not have a myLibrary username, you can create one here: https://account.nlb.gov.sg/.
About the Programme
Do you have a familiar sound that you look forward to every day? Learn how you can record and archive your favourite sounds in Singapore on SoundscapeSG! From dialects to sounds of the heartlands, the workplace, to nature as well as celebrations, this workshop will (i) showcase the myriad of recordings in the SoundscapeSG collection (ii) guide you on how to contribute and upload your favourite sounds to the platform.
----------------------------------------------------
Preparations before the programme:
Please have your mobile device with myLibrary ID / Google / Facebook details on hand for the workshop. Applications that will be in use during the workshop are:
- An internet browser
- Voice recorder (via your phone / computing device)
Please ensure that you have the above applications installed on your mobile device before the workshop.
Pre-workshop activity:
You are encouraged to record sounds in your surroundings, with the voice recording application on your mobile device. Some of the sounds that you can record are the sounds of nature, people in the neighbourhood or the sounds from activities at home, such as cooking. Each soundbite should feature a specific subject.
For more ideas, you may listen to the contributions of others at this link: https://www.nas.gov.sg/citizenarchivist/SoundScape/describe
We would also like to encourage everyone to share with us their recorded sounds at the workshop!
About SoundscapeSG
SoundscapeSG is a crowdsourcing platform that encourages the community to contribute sounds from their daily lives and surroundings, integrating them into a sound map for archiving and preservation of Singapore's sound heritage. We aim to archive sounds of the present for future generations to understand the intangible form of cultural heritage and identities over the years.
About Time of Your Life Celebration 2021
A narrative is a personal story that conveys who you are and the forces that shaped you. It can also be a powerful tool to frame events and make sense of changes that take place in your life. At this year's Time of Your Life Celebration 2021, explore your personal narratives with us through talks and workshops. Try your hand at new skills and weave your narrative threads into different forms of artwork that expresses who you are.
Visit https://go.gov.sg/TOYL2021 for the full programme listings.