Description
CAREER SUCCESS 101 SERIES PACKAGE (4 SESSIONS)
ENTRY FEE: SGD$40.00 ONLY (U.P $2000)
SIGN UP NOW !!
Dates: 7, 14, 20, 21 July 2018
Time: 2p.m - 4p.m | 7p.m - 9p.m ( on 20 July only )
Venue: GUOCO TOWER, 1 WALLICH STREET #37-01 SINGAPORE 078881 (ABOVE TANJONG PAGAR MRT STATION)



** Refreshments will be provided
** Interested attendees are strongly encouraged to attend all 4 sessions. Min 3 sessions.
** Selected Candidates will be sponsored for an overseas conference trip !!
** Please fill up this questionairre before signing up: https://bit.ly/2L9Wlvr
For enquiry, please contact us at: info@fitnessmovement.com.sg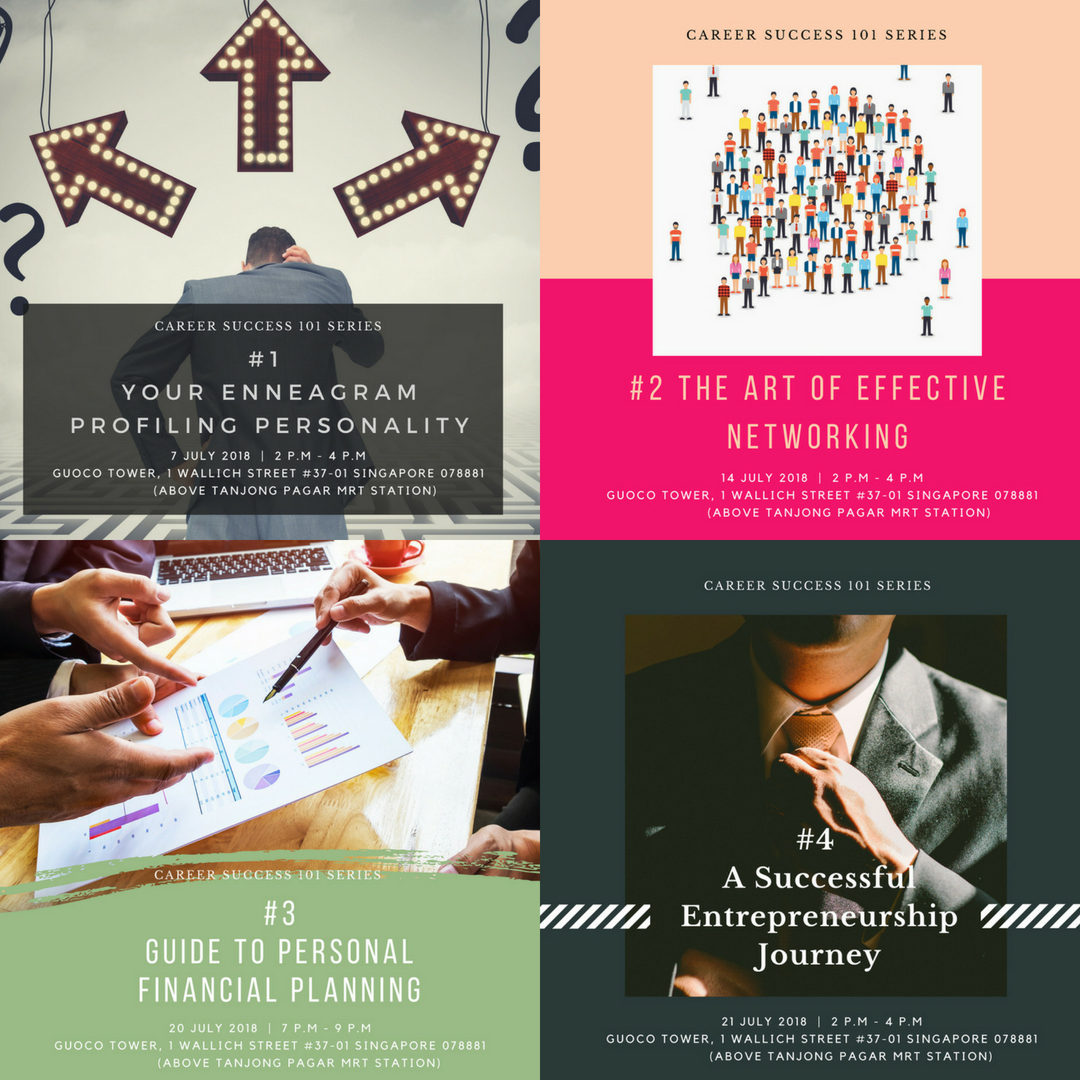 ---

WORKSHOP INFORMATION

#1: YOUR ENNEAGRAM PROFILING PERSONALITY
Date: 7 July 2018 (Sat)
Values and ideals motivate and guide our choices. Some are attracted to goodness, others to love, still others to action, beauty, wisdom, loyalty, joy, strength, and peace. In this session, you will get a brief overview of the Enneagram system. We will go over the three centers of intelligence: the heart, head and body. We will touch upon the nine types and where they place their focus of attention, as well as their strengths and challenges.

You will leave with a better understanding of how the Enneagram works and how it can benefit you in your life and career.
#2: THE ART OF EFFECTIVE NETWORKING
Date: 14 July 2018 (Sat)
Building a network that works is both an art and a science. It is an art in that it requires basic human skills in communication, connection, authenticity and the ability to be 'in the present' and engaged with people and conversation. In this session, you will have the following takeaways:
Gain an appreciation of the importance of building positive and lasting relationships with people

Differentiate the Do's and Don'ts in networking events, especially during campus employers' events

Be equipped with techniques in starting, sustaining and ending a conversation during networking event
#3: GUIDE TO PERSONAL FINANCIAL PLANNING
Date: 20 July 2018 (Fri)
One out of 10 Singaporeans is a millionaire. Singapore is a rich country indeed. Despite living in such a wealthy country, many people are still living paycheck-to-paycheck without proper financial planning in Singapore. Many working adults are simply too busy with work that they have no time to take care of their own finances.
With proper financial planning and sound decision making, one can really save on expenses and achieve higher returns on investments. To find out more about making your money work harder for you, this is the session when you can get a good overview of personal financial planning and its process. I am confident that you will gain knowledge which will benefit you for life.
#4: A SUCCESSFUL ENTREPRENEURSHIP JOURNEY
Date: 21 July 2018 (Sat)
The journey of success for any entrepreneur is always filled with ups and downs, and that's part of what makes the rewards at the end so sweet. But any seasoned entrepreneur will tell you that those moments of doubt, failure, and almost giving up were not easy to swallow at the time.
Join us in this sharing session by entrepreneurs who will share their secrets and setbacks encountered on their journey to entrepreneurial success.

REGISTER NOW !!