Carnatic Music & Bharatanatyam – A Confluence, from heroine's perspective
About this Event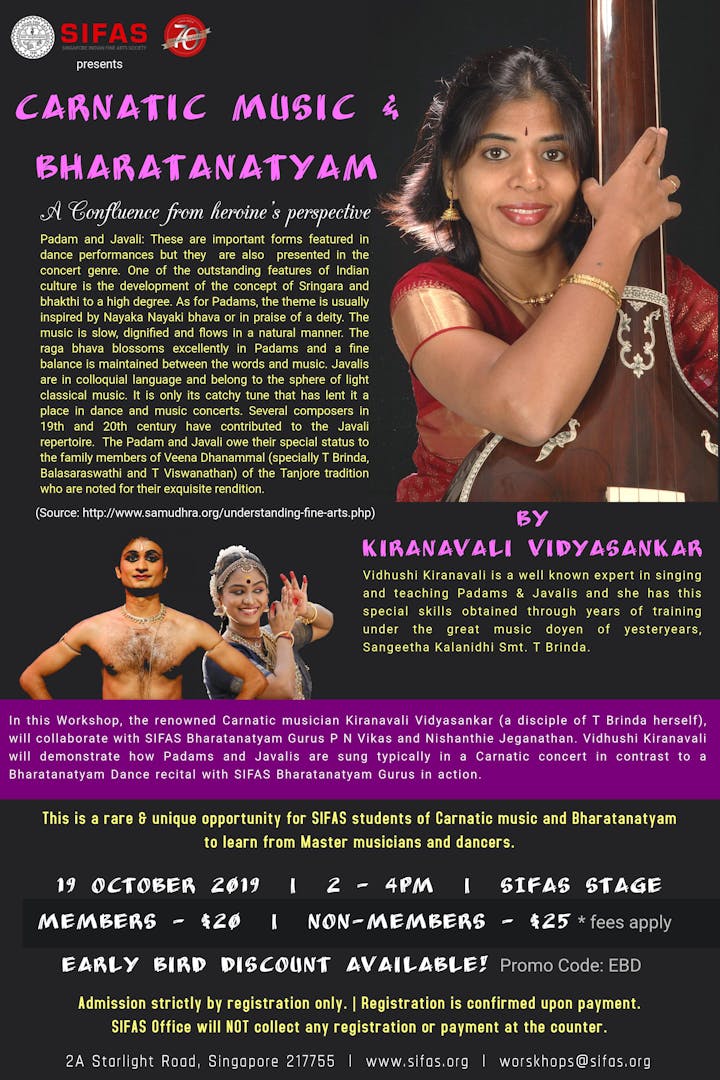 Padam and Javali Workshop - 2pm on 19/10/19 (Sat) @ The SIFAS Stage!
Members - $20
Non-Members - $25
Processing fees apply
Padam and Javali: These are important forms featured in dance performances but they are also presented in the concert genre. One of the outstanding features of Indian culture is the development of the concept of Sringara and bhakthi to a high degree. As for Padams, the theme is usually inspired by Nayaka Nayaki bhava or in praise of a deity. The music is slow, dignified and flows in a natural manner. The raga bhava blossoms excellently in Padams and a fine balance is maintained between the words and music. Javalis are in colloquial language and belong to the sphere of light classical music. It is only its catchy tune that has lent it a place in dance and music concerts. Several composers in 19th and 20th century have contributed to the Javali repertoire. The Padam and Javali owe their special status to the family members of Veena Dhanammal (specially T Brinda, Balasaraswathi and T Viswanathan) of the Tanjore tradition who are noted for their exquisite rendition.
In this Workshop, the renowned Carnatic musician Kiranavali Vidyasankar (a disciple of T Brinda herself), will collaborate with SIFAS Bharatanatyam Gurus P N Vikas and Nishanthie Jeganathan. Vidhushi Kiranavali will demonstrate how Padams and Javalis are sung typically in a Carnatic concert in contrast to a Bharatanatyam Dance recital with SIFAS Bharatanatyam Gurus in action.
This is a rare & unique opportunity for SIFAS students of Carnatic music and Bharatanatyam to learn from Master musicians and dancers.
EARLY BIRD DISCOUNT AVAILABLE FOR THE WORKSHOP!
Key in EBD as promotional code before choosing ticket quantity to enjoy the discount.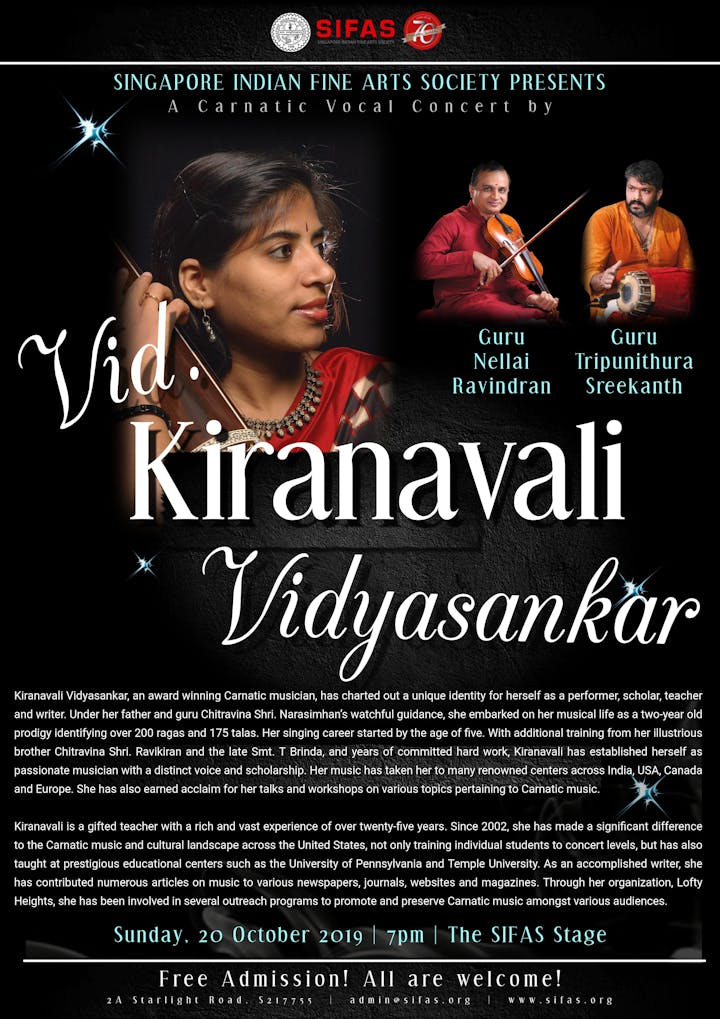 Kiranavali Concert - 7pm on 20/10/19 (Sun) @ The SIFAS Stage!
Free admission to the concert for all!
Kiranavali Vidyasankar, an award winning Carnatic musician, has charted out a unique identity for herself as a performer, scholar, teacher and writer. Under her father and guru Chitravina Shri. Narasimhan's watchful guidance, she embarked on her musical life as a two-year old prodigy identifying over 200 ragas and 175 talas. Her singing career started by the age of five. With additional training from her illustrious brother Chitravina Shri. Ravikiran and the late Smt. T Brinda, and years of committed hard work, Kiranavali has established herself as passionate musician with a distinct voice and scholarship. Her music has taken her to many renowned centers across India, USA, Canada and Europe. She has also earned acclaim for her talks and workshops on various topics pertaining to Carnatic music.
Kiranavali is a gifted teacher with a rich and vast experience of over twenty-five years. Since 2002, she has made a significant difference to the Carnatic music and cultural landscape across the United States, not only training individual students to concert levels, but has also taught at prestigious educational centers such as the University of Pennsylvania and Temple University. As an accomplished writer, she has contributed numerous articles on music to various newspapers, journals, websites and magazines. Through her organization, Lofty Heights, she has been involved in several outreach programs to promote and preserve Carnatic music amongst various audiences.
She will be accompanied by our SIFAS Gurus Nellai Ravindran on Violin and Tripunithura Sreekanth on Mridangam.