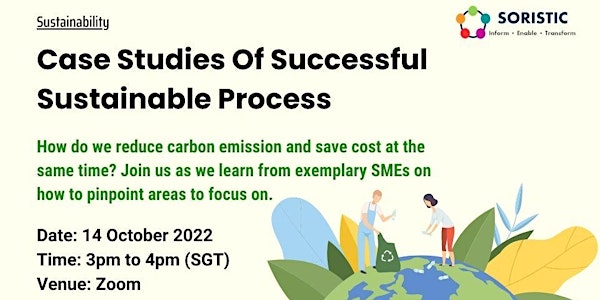 Case Studies Of Successful Sustainability Process
How do we reduce carbon emission and save cost at the same time?Join us as we learn from exemplary SMEs on how to pinpoint areas to focus on
Date and time
Fri, 14 Oct 2022 00:00 - 01:00 PDT
About this event
Sustainability may not necessarily be costly for businesses. There are numerous initiatives businesses can undertake to do their part for the environment, while reaping financial rewards. This workshop will introduce and breakdown the who, what, when, where, whys and how's' of some of these initiatives, along with case studies of successful sustainable processes which benefit both the environment and the profit bottom-line
Speaker: Maggie Lee
Maggie led environmental sustainability initiatives across the Asia Pacific at WWF, the United Nations Environment Programme, and Verra. Previously a scientist at multiple Fortune 500 companies, Maggie brings in experience in corporate sustainability, policy influencing, impact monitoring, and project management from the private-sector, civil society, and intergovernmental bodies. A published scholar, Maggie also conducts environmental research and frequently speaks in public-facing panel discussions.
Event details:
Date: 14 October 2022
Time: 3pm to 4pm (SGT)
Venue: Zoom
Workshop fee:
This workshop is free
About the organiser
Soristic Asia is a Singapore-based non-profit organisation that is committed to enabling individuals and organisations to alleviate inequality within their communities in Singapore and the rest of Southeast Asia. We strive to be the enabler for social change through our social impact developmental and impact consultancy work. To date, Soristic has organised numerous Social Connex talks, public and customised workshops which has reached out to more than 400 individuals from all walks of life but especially, people who are passionate about social issues and keen to find out how they can create social impact.