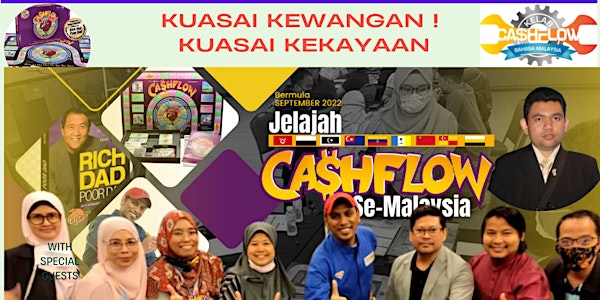 CASHFLOW WORKSHOP - JELAJAH MALAYSIA
Masih lagi dalam kemelut Kewangan , Masih berusaha untuk bangkit dari pendemik kewangan , Mari AbangAbu tunjukkan jalan nya , Garaj Wang
About this event
KLIK FOR THE WEBSITE and DETAILS ----> https://wealthcircledna.com/garajwang
Pelaburan bukan skill yang boleh dapat dengan membaca buku . Tapi kalau nak terus melabur dalam dunia relaity boleh menyebabkan kerugian yang teruk sekali . Anda perlu tahu perwatakan anda dalam dunia kewangan dahulu . CASHFLOW - simulasi kewangan dan pelaburan yang di reka oleh Robert Kiyosaki. Robert Kiyoski adalah penulis buku buku yang menjadi best seller seperti Rich Dad Poor Dad yang telah di laih bahasa sebanyak 30 bahasa .
.
Cashflow di reka sebagai sesuatu yang seronok , sangat padu serta membawa banyak simulasi yang efektif dalam belajar mengenai pelaburan saham , hartanah , yang lebih menarik adalah dalam membina kekayaan , melabur dalam asset , mengawal liabiliti serta kaedah kluar dari RAT RACE ( Lingkaran Tikus- kehidupan yang berkejaran untuk membiayai segala keperluan untuk hidup )
.
Sesi ini akan membantu anda mendapatkan ilmu untuk membina kekayaan dan pasti sesuatu yang akan mengubah kehidupan - Life Changing .
Anda akan menjadi leader dan akan mula memahami diri anda sendiri , style kewangan anda . Dengan simulasi ini , anda bole tajam kan skil kewangan , belajar akan konsep pelaburan serta menjana kekayaan . Adakah anda seorang yg boleh mengambil risiko , atau yang mahukan sesuatu stabil ?
CASHFLOW ini adalah simulasi kehidupan yang sebenar ...
THE SCHEDULE AND DATES , WITH THE LOCATION .
https://wealthcircledna.com/garajwang
KELANTAN
16/9/2022
TERENGGANU
17/9/2022
PAHANG
18/9/2022
JOHOR
25/9/2022
K.L
24/9/2022
PENANG
2/10/2022
KEDAH
1/10/2022
SELANGOR
8/10/2022
PerAK
9/10/2022